No matter how many cuisines I taste, each one surprises me in its own way. Germany showed me the real essence of Christmas spirit while exploring the many Christmas markets. Walk into any of these markets is like stepping back in time. Every detail of your imagination with Christmas spirit is overflowing everywhere you look. Take your time and see the many vendors in their small wooden booths selling handicrafts. The old cobblestone walkways make each step slightly different from the last, symbolic of any memorable experience. The trees you pass are splashed with decorations, the locals are enjoying the company of friends as they sip their mulled wine, known as Glühwein. The aromas of fresh bread and meat cooking over embers fills the cool air. You can't help but feel the nostalgia of Christmas. You can see it, hear it, and definitely taste it!
We ate a lot of food while visiting several Christmas markets, and I mean a lot! Gaining weight is part of the experience during the holiday season. We spent a week exploring the markets in Frankfurt, Cologne, Lubeck and Hamburg. Its easy to find similar food at every market, however we also found unique items at each. This is the top 5 tasty treats to eat or drink while visiting the Christmas Markets in Germany.
In no particular order:
Glühwein
Glühwein is a traditional mulled wine that dates back hundreds of years. Glühwein is a must try when visiting the christmas markets. The temperature outside is chilling and the best remedy is a hot drink in your belly. Made from red wine heated with fruit and spices. Commonly used spices are cinnamon, anise, cloves, and vanilla. The ingredients are mixed in a glowing hot iron pot, hence the name gluhwein "glow wine." Sampling the drink in many cities I could taste the different ingredients used to give each vendor their own personal touch into the tradition. I can honestly say that I enjoyed the taste of Glühwein over regular room temperature red wine.
Mutzen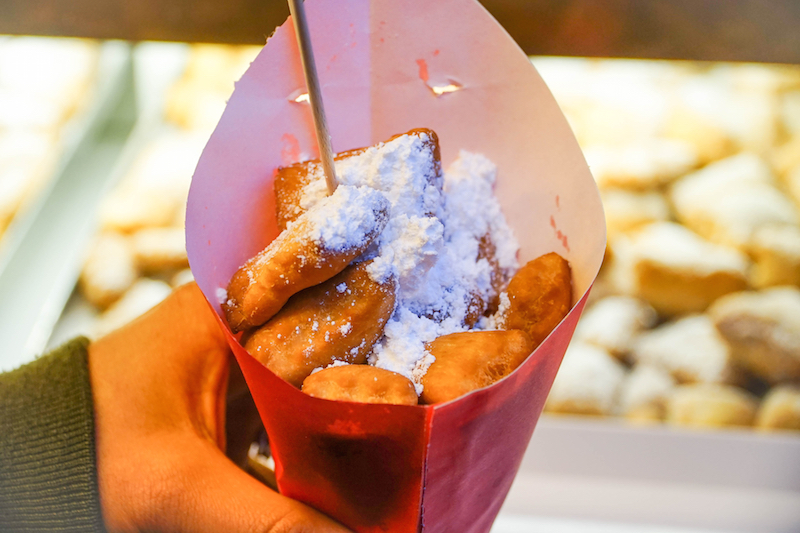 Mutzen is a simple, yet delicious warm treat to have at the markets. Bite sized pieces of pastry made from flour, egg, sugar, and spices. The dough is cut into diamond shapes then deep fried, filled into a paper cone and sprinkled with icing sugar. They're sweet, fluffy, and fun to eat. We found mutzen to be similar to what we know as "timbits" in Canada, a much younger and commercialized version of the treat. The Mutzen we had in Lubeck was actually a very light snack which made it easy to indulge in more than we originally expected.
Schmachtlappen
Schmachtlappen is a medieval pizza. Made with a loaf of bread topped with cheese, meat and vegetables, no sauce. Dozens of the loafs are placed on a long wooden spatula and slid into a cast iron oven heated by wood burning flames. As a pizza enthusiast who has travelled the world eating local variations of the dish, I was very excited to be trying medieval pizza. The dough was thick and had a thin layer of crust with a hint of campfire smell. The loaf was soft and chewy; I could have eaten it by itself. The meat was flavourful and salty while the vegetable added crunch and sweetness. I wouldn't say that this made my top pizza list, but for a festive holiday experience, the Schmachtlappen is a must try.
Bratwurst
No visit to Germany is complete without having a german sausage, known as bratwurst. Made from ground beef, pork, or veal, bratwurst is a world famous sausage with many replicas. There may be many attempts to replicate the sausage, but there is no competition once you try one in Germany. Cooked on a large circular grill suspended in the air by chains. The charcoal heat adds a prominent flavour to the meat and ensures even cooking. My favourite part were the condiment utters hanging inverted to easily apply ketchup and mustard to your sausage. Mustard only is the typical condiment we were told. German bratwurst took street meat to a whole other level for me.
Reibekuchen
Now this food I've seen before, the potato pancake. Variations of the reibekuchen are common to many cultures, I know it as a "latka." This very affordable and filling meal is made with shredded potato, egg, flour, salt and spices. Fried to a golden brown and topped with your choice of salmon and sour cream, or apple sauce. All the ingredients are fresh and flavourful.
It's better to overindulge than to miss out on a culinary experience. Germans know how to cook, so enjoy it and happy holidays!
Don't forget to click play on the video above to catch our episode of Food Porn: Germany Christmas Markets and watch us sample all of the above dishes. Enjoy!
Have you tried any of the above dishes?