We recently returned to Opemican National Park, located south of Abitibi-Témiscamingue in Québec, between Laniel and Témiscaming. This was our second time staying at the park and exploring the surrounding area as a family of four. The first time we visited was for the opening of the National Park. If you've been wondering where to spend your next family camping trip, this spot in the Canadian wilderness has plenty of lakes, dense forests, and abundant wildlife to create an unforgettable outdoor adventure. The park is open for campers to come enjoy June through October.
In this post, I'll be sharing a comprehensive guide to camping at Opémican National Park and what to do around the area, including campsite information and insider tips for a successful family trip.
---
Getting to Opémican National Park
Opémican National Park is located in the Abitibi-Témiscamingue region of Québec, just over the Ontario border. It's a 5-hour drive from Toronto and Montreal and a 3.5 hour drive from Ottawa. We drove from Toronto and the drive is absolutely stunning, with the highway lined with forest and large beautiful rock that make up the The Canadian Shield.
If you're coming from Toronto, we recommend stopping at Webers burger joint on Highway 11, just north of Orillia. This spot is an Ontario Landmark to cottage goers and travelling public. This place is so popular, a bridge was built for pedestrians to get to it. Not just that, but, it's the first and only privately owned bridge built over a public highway in the Province of Ontario. Also at this stop, is the most beautiful Starbucks I've been to, along with an open field to burn off energy. After you've fuelled up on burgers, coffee and ran a lap or two, you can hit the road for the remaining 3-hour drive.
---
Types of Campsites
We always recommend booking your campsite in advance. That way when you arrive, you know you're guaranteed a spot. The park has traditional campgrounds with amenities like showers and toilets, as well as backcountry canoe-camping and Ready-to-Camp tents. Some of the circuits for the canoe-camping include portages or lake passages that can involve some major technical challenges (high winds, deep water, long distances to cover). For these circuits, extensive experience is required.
Both of the times we stayed at Opémican National Park as a family, we chose the Ready-to-Camp option which has pretty much everything you need for a great "glamping" experience. It's a spacious accommodation option made of wood and canvas. It offers room for up to six people with three double beds, fully-equipped kitchen, fridge, heating, lighting, and a dining area. Outside, there's a propane stove, picnic table, garden chairs, and a fire pit. All you need to bring is your food and bedding, making it a convenient and comfortable camping experience for families.
---
Packing Essentials
While everyone's packing list is a bit different, here's a short list of some packing essentials I recommend for this trip:
For the campers:
Tent
Sleeping Bag
Cooking Gear
Food
S'mores Kit
Clothing: Layers are your friends – the weather can change quickly.
Bug Spray
Sun Screen
For the glampers:
Food
S'mores Kit
Clothing: Layers are your friends – the weather can change quickly.
Bug Spray
Sun Screen
Bed sheets and pillow cases
---
Family Activities
From hiking and paddling to wildlife watching and campfires, there's plenty to do as a family at Opémican National Park.
Hiking: There are 10 hiking trails to choose from within the park. Several of them are easy or intermediate level, perfect for families with younger children. You can also pick up a free scavenger hunt from the Visitors Centre and turn your hike into an extra enjoyable experience.
Water Fun: Depending on your preference, you can rent a canoe, kayak, stand-up-paddle board or pedal boat from the park. You can also fish on lakes reserved for day fishing.
Playground: There's a playground right beside the Vistors Centre.
Other: There's also a bike path, swimming area, Boutique Nature shop, and mini convenience store.
---
Other Services at Opémican National Park for Families
The park has baby carriers available free of charge, available at the Visitors Centre.
Changing tables are available at the Visitors Centre.
There are canoes, kayaks, pedalos, stand-up paddle boards and bikes (for adults and kids) for rent.
Souvenirs, clothing for adults and children, discovery products for young people, and outdoor items are on sale at the Boutiwue Nature shop in the Visitors Centre.
---
Bonfires and Marshmallow Moments
You didn't go camping unless you had a bonfire AND marshmallows…or make that s'mores! We recommend purchasing a s'more making kit at the local grocery store. Then roast marshmallows, make s'mores, share stories and soak in the cozy atmosphere around the campfire. These have always been our most cherished memories from any camping experience.
---
Pets
Opémican National Park, just like many other national parks, usually asks you to keep your pets on a leash all the time. This is to make sure that the wildlife and fellow visitors are safe. If you're bringing your pet, make sure to pack some must-haves like food, water, and poop bags.
The park has tons of awesome hiking trails, like I mentioned above, and beautiful spots where you and your pets can enjoy the great outdoors together. It's a great opportunity to create some cherished memories with your four-legged buddies.
Keep in mind, not all areas in the campground allow pets, unless they are a service animal.
---
What to Do Outside and Around Opémican National Park
If you choose to leave the park, there's plenty of fun activities you and you're family can enjoy. Here's what we got up to on our last visit:
Biking in Ville-Marie
If you don't have your own bikes, no problem! Coop de l'Arrière-Pays is a cooperative where you can rent outdoor adventure equipment. Whether you are passionate about canoeing and kayaking, paddle boarding, camping, cycling, hiking or any other outdoor activity, the coop has everything you need for a fun family outdoor adventure.
We rented two electric bikes and a Thule child trailer for two hours and it cost us $72 in total. We spent the two hours riding along this amazing bike path called The Mocassin Line, where there are no motorized vehicles and you'll discover varied landscapes; small lakes, forests and agricultural fields along the way.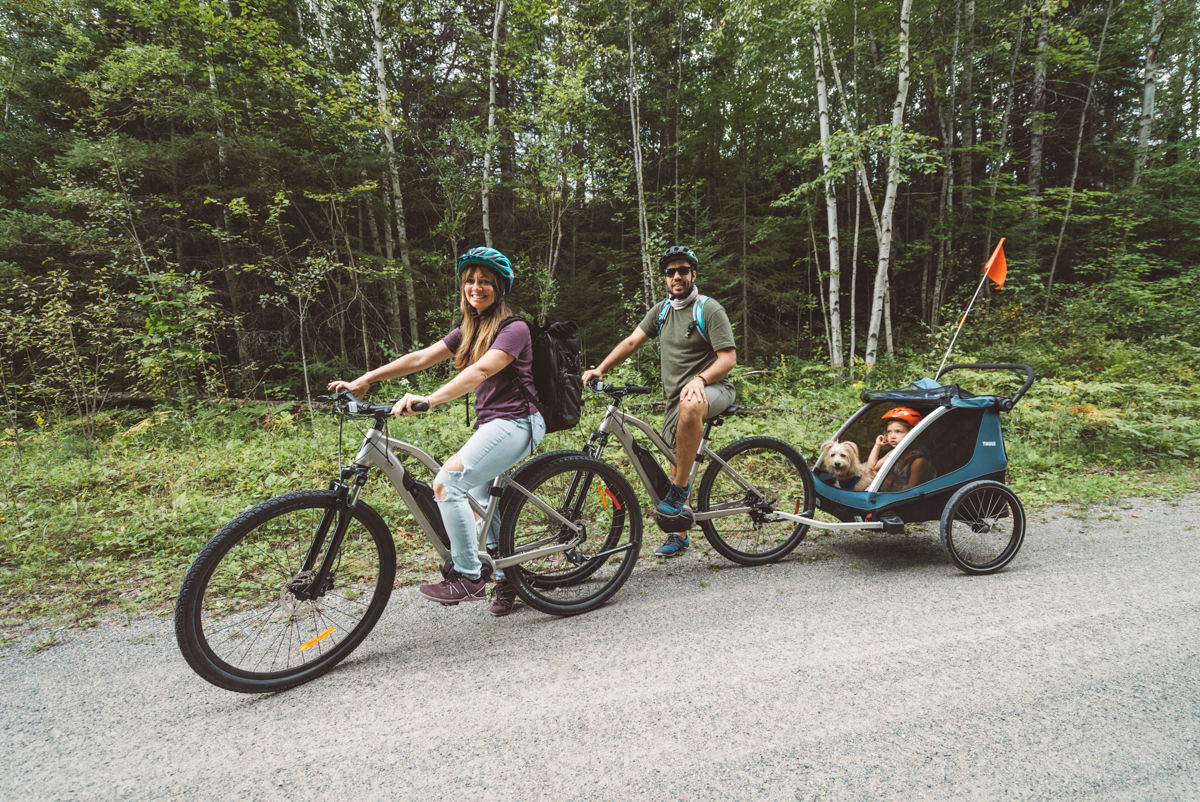 ---
Indulge in a Poutine
After a two-hour bike ride, you'll most likely be hungry. The best solution for that? Indulging in a poutine! Now, if you don't what what a poutine is, it's a dish of fries, topped with cheese curds and gravy and is a symbol of Québécois culture. It's the ultimate Canadian comfort food and something you have to try when you're in Québec.
We had our poutine at La Fringuale, a local favourite. This was our daughter's Kai's first poutine experience in Québec, and I can confidently say, it was very successful. She's a fan.
---
Visit Obadjiwan–Fort Témiscamingue
The Obadjiwan–Fort Témiscamingue is a National Historic Site that witnessed the presence of the Indigenous people about 6,000 years ago and was the scene of commercial rivalries. The former fur trading post is at the heart of regional history and is well worth the visit.
Theres a children's playground and circuit of 12 outdoor scenographic's that help tell the story of life at the fur trade post. Since it's so visual and interactive, it makes learning about history of Canada fun for all ages.
There's even an enchanted forest, which is home to a grove of irregular shaped cedar trees that are more than 130 years old. Theres are many legends surrounding this forest. Some legends say that the curvy trees are the influence of the spirits and graves of the former Catholic cemetery. Others say that a magic flute made the trees dance until they became twisted.
---
Eat Local at L'Eden Rouge and Ferme Nordvie
One of the best ways to experience a place it through taste, which is why visiting L'Eden Rouge and Ferme Nordvie, two local farms. Both of these farms offer a different experience.
L'Eden Rouge is run by a mother-daughter duo. They grow their own fruits and vegetables which they use to create gourmet farm-to-table meals for their guests. They also have a boutique where they sell their produce along with homemade specialities and other local products.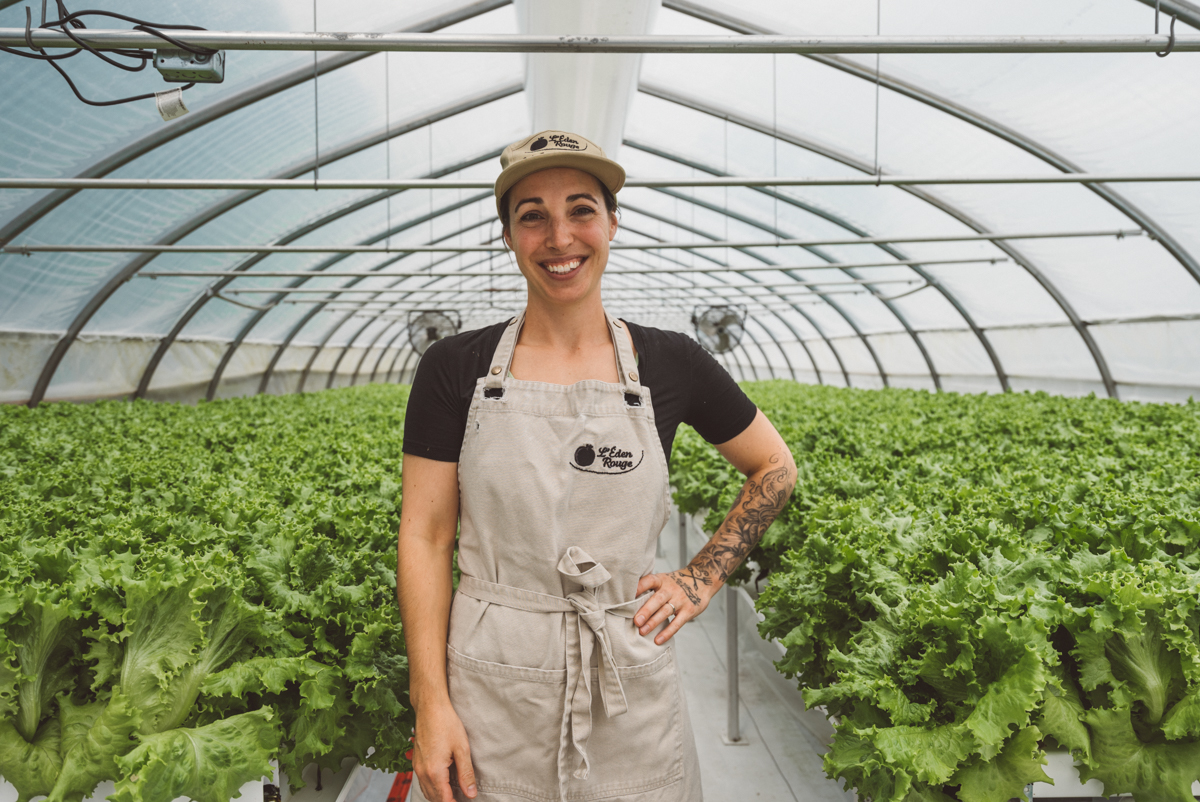 Ferme Nordvie is a farm with a boutique shop that sells homemade herbal teas, spices, soaps and fine alcohol. They also make and sell the most delicious sparkling juices I've ever had…period. Its a great place to pick up some yummy souvenirs that the whole family will enjoy.
Who's planning to make Opémican National Park and the surrounding area part of their next summer plans?
---
Full disclosure: We were invited by the team at Abitibi-Témiscamingue to visit Opémican National Park and surrounding areas and share our experiences with you. As always, our words and emotions are our own. We will always be authentic and write our personal reviews as they happen.