The process of travel planning can sometimes feel overwhelming and time-consuming. You may feel uncertain about where to start or how to organize your itinerary effectively. Enter the Travel Mapper app for Google Sheets – a powerful organization tool designed to simplify the entire travel planning process. 
What is Travel Mapper?
Imagine having a travel planning assistant right at your fingertips. That's exactly what the Travel Mapper app is all about! Travel Mapper is a travel planning add-on for Google Sheets that helps make trip planning faster and easier. The app's standout feature is its seamless integration of Google Maps right into your spreadsheet. All you need to do is add in the activity you want and Travel Mapper will create pins on a map while adding it into a customized trip itinerary. This makes it easy to see your full itinerary on the map. This way, you can plan out your travel days based on activity locations. Since each activity and restaurant is linked to Google Maps, it makes navigating while on the go easy from your phone. 
Let's break it down a bit more…
---
How to Design Your Dream Trip with Travel Mapper
The Travel Mapper user-friendly interface and various features helps you create and manage your travel itineraries effectively. The features included in the free plan include access to the basic itinerary template. This refers to the actual pre-formatted Google Sheet resulting from Generate Template. You'll also have access to the expense tracker and packing tabs. For $1 per month, you'll get access to all Travel Mapper premium features. I'll explain more about each of them below. Here's a step-by-step for designing your dream trip with Travel Mapper:
Step #1 – After installing the add-on from your desktop computer, open up Google Sheets. Then generate a new Travel Mapper template from the extensions dropdown menu.
Step #2 – Start building your itinerary by adding destinations, activities and restaurants by inputting the location names or addresses.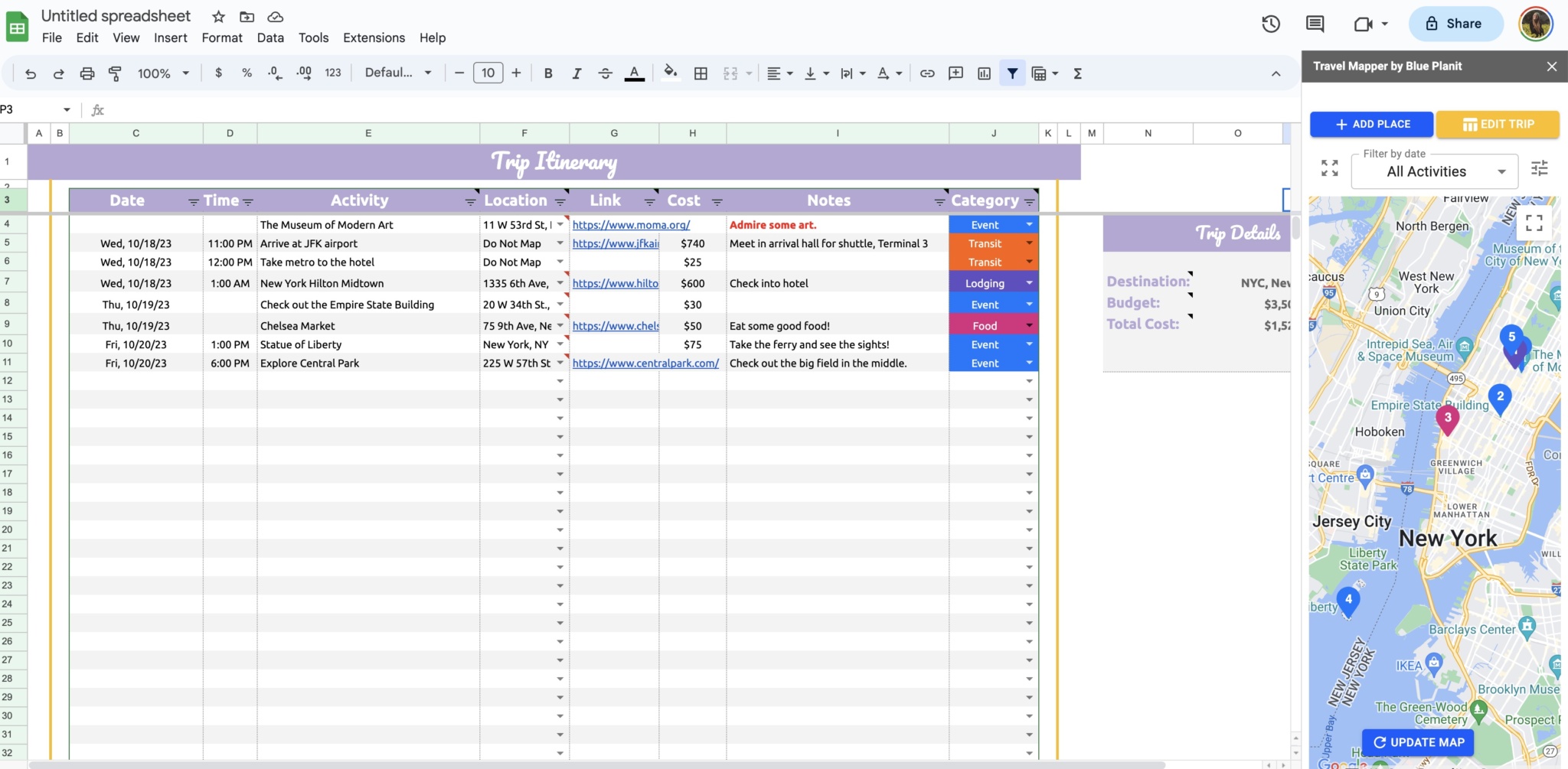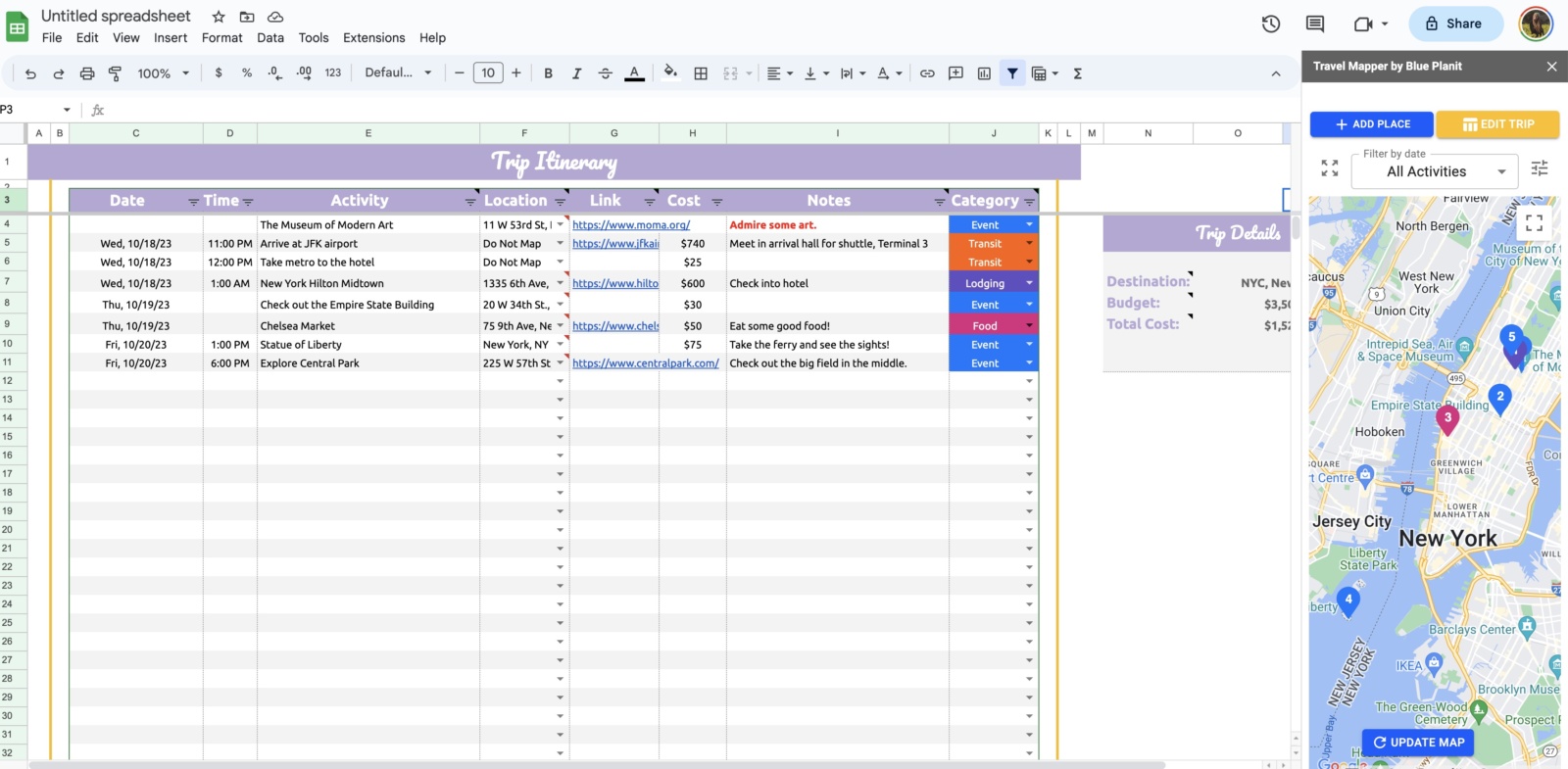 Step #3 – Customize your itinerary by adding dates, times, costs for each activity, notes and descriptions. If you'd prefer a drag and drop style rather than copy and pasting on a spreadsheet, you have this option within the Travel Mapper extension as well.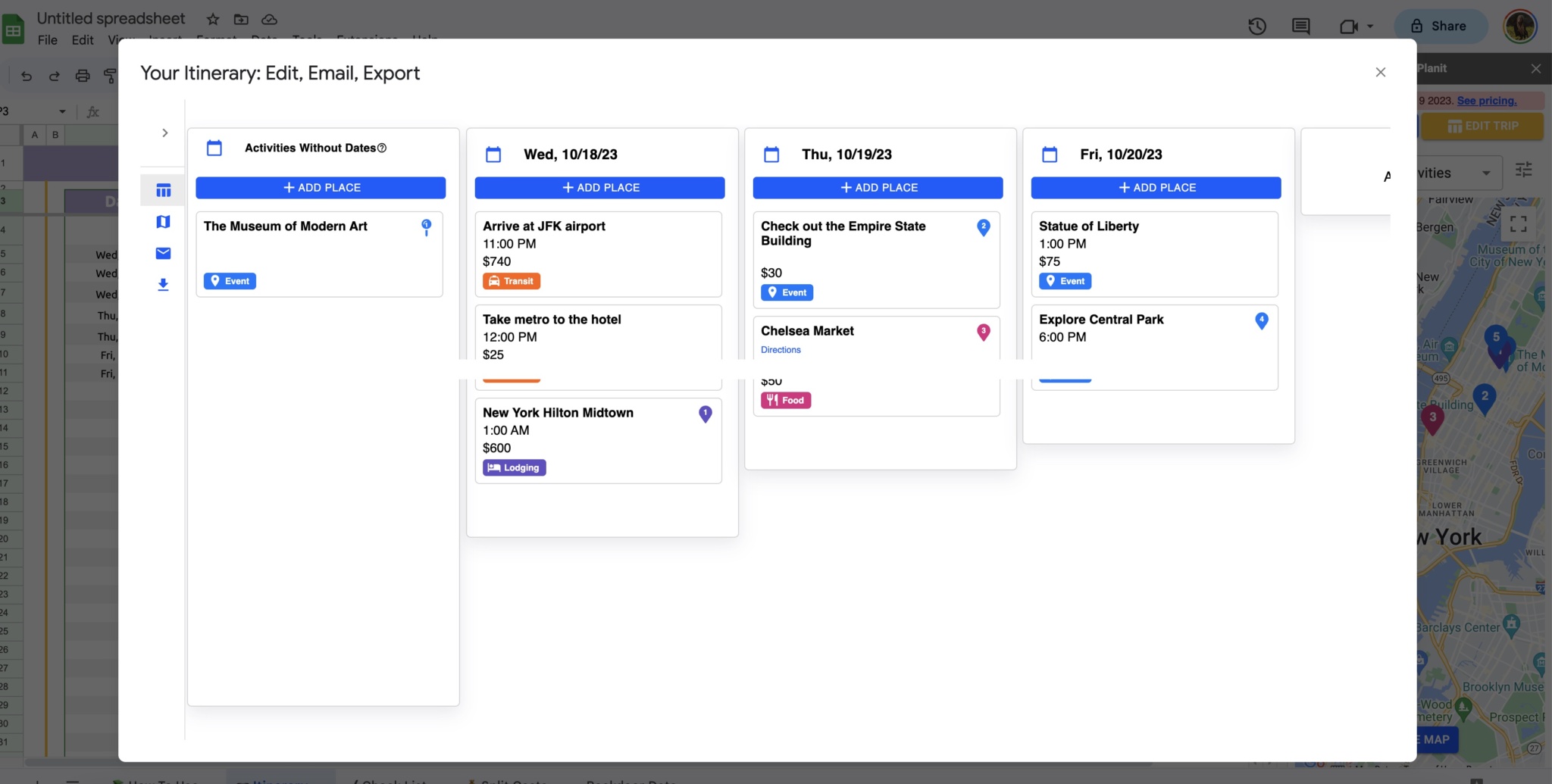 Step #4 – Use the integrated map to view your itinerary visually and make it easy to see the locations and sequence of your activities. You can drag and drop activities on the map to adjust their order or make any necessary changes.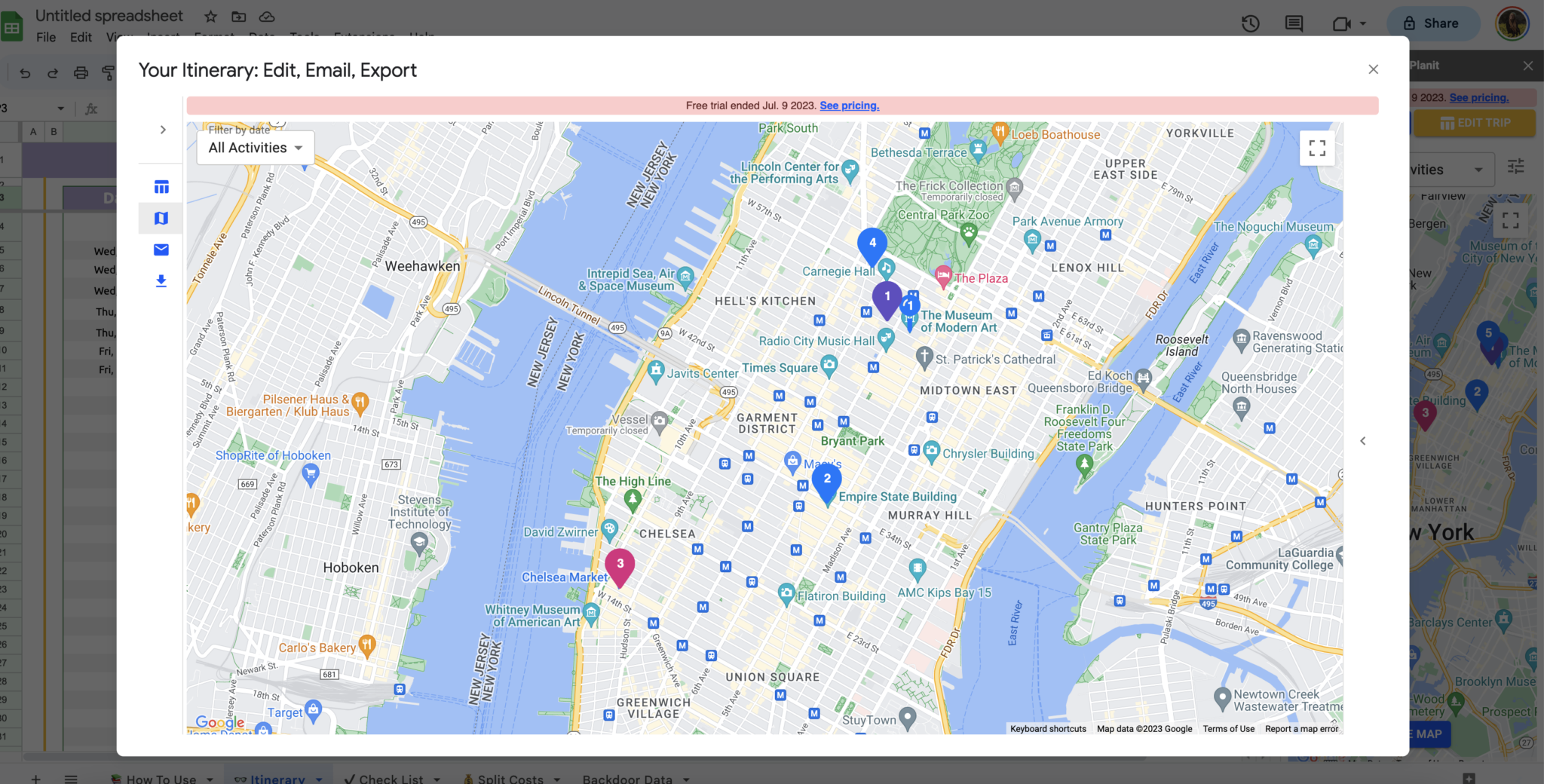 Step #5 – Use the additional features like the split-costs sheet, packing and to-do lists. The split-cost sheet is especially useful for dividing up costs after the trip between you and your travel buddies.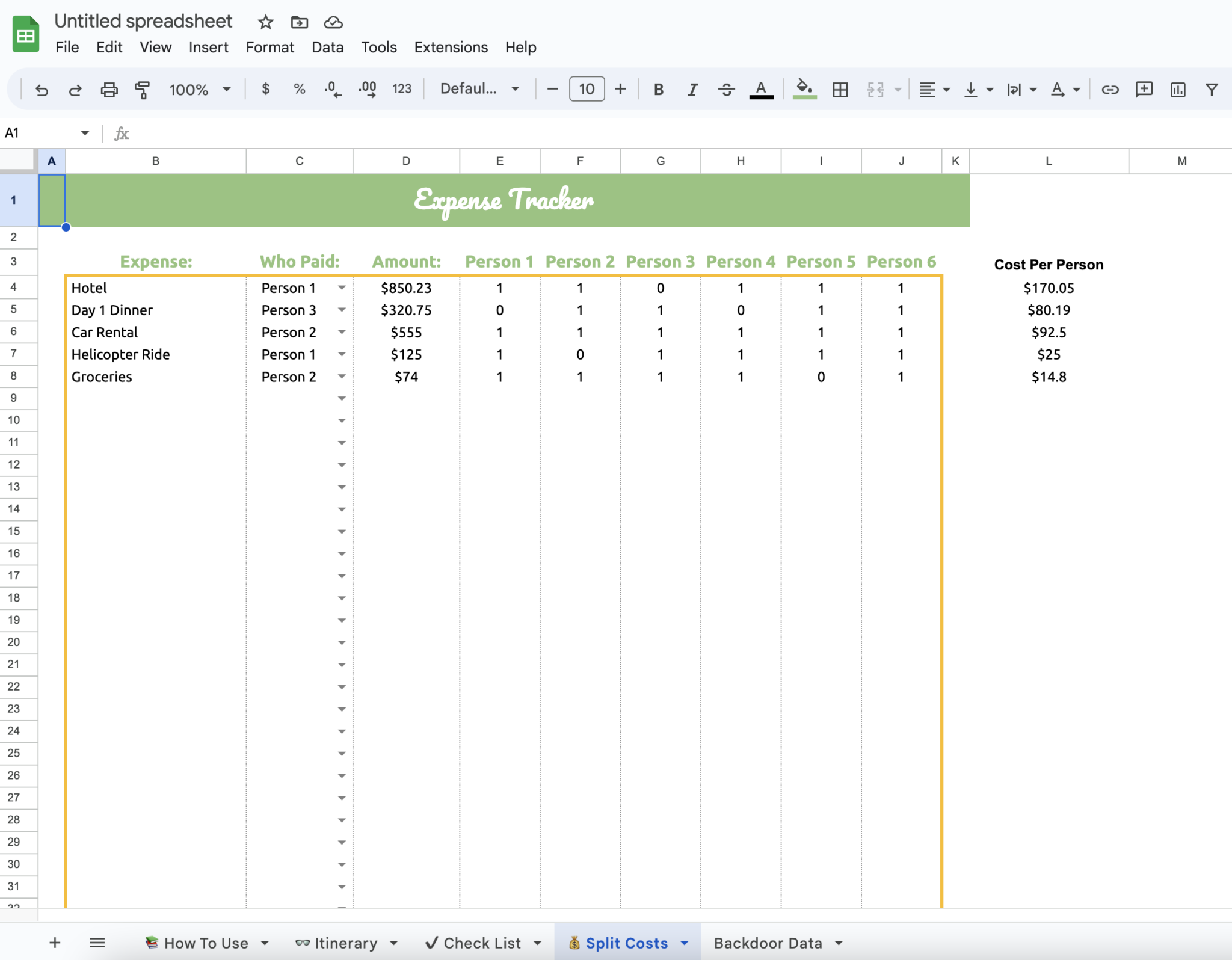 Step #6 – Invite your travel buddies to contribute in real-time with the planning process. This makes it a collaborative and interactive experience for everyone. You just simply invite them as collaborators to your Google Sheet.
Step #7 – Email your itinerary to yourself and your travel buddies so you have access to it while you're traveling. Send it out in a simple consolidated format with automated Google Map links for easy navigation during your trip. Throughout your trip planning process, update or modify your itinerary as needed. Travel Mapper gives you the flexibility to make changes, add new activities, or adjust your schedule according to your preferences.
Step #8 – Enjoy your well-planned adventure! 
---
For a more visual step-by-step guide for using Travel Mapper, check out this video:
---
Your Ultimate Travel Planning Sidekick
Whether you're a seasoned traveler or simply love staycations, the Travel Mapper app is your ultimate planning sidekick. As someone who's been planning trips for the past 18 years, this tool has been extremely useful in simplifying the process. With its easy-to-use interface, interactive map, and customizable features, you'll be crafting epic itineraries and exploring new destinations like a seasoned globetrotter. The best part? You can easily get your travel buddies on board and create unforgettable memories together. Say goodbye to the overwhelming feeling that frequently comes with travel planning and hello to the ease of well-organized adventures.
For Hopscotch the Globe readers, Travel Mapper is giving you 10% off the Premium plan using coupon code HOP10. Click here to download.
Happy Travels!
---
Disclaimer: A special thanks to Blue Planit for sponsoring this blog post. As always, all thoughts and opinions are my own.