Alberta. You heart stealer, you!
1. Take a Helicopter to the Middle of the Rockies
This makes the top of the "most epic things I've ever done" list. It's one thing to stare in awe at the Rocky Mountains from the ground and a whole other experience to see them from a birds eye view. With Rockies Heli Canada, not only do you get to fly over these majestic beasts, but you can land in the middle of them for a snowshoe tour. This experience will be one you talk about for years to come.
An experience you'll remember for years to come.
2. Cross-Country Skiing
I never thought I would be one to enjoy cross-country skiing until I spent a morning at the Canmore Nordic Centre. To be honest, I always looked at it as a nice and easy, not so active, activity older people do. Boy, was I 100% wrong and naive to think such a thing. Cross-country skiing is a work out! Not only that, but it's a hell lotta fun. Don't be surprised if you're whole body aches the next day, and especially don't be surprised if you want to do it all over again.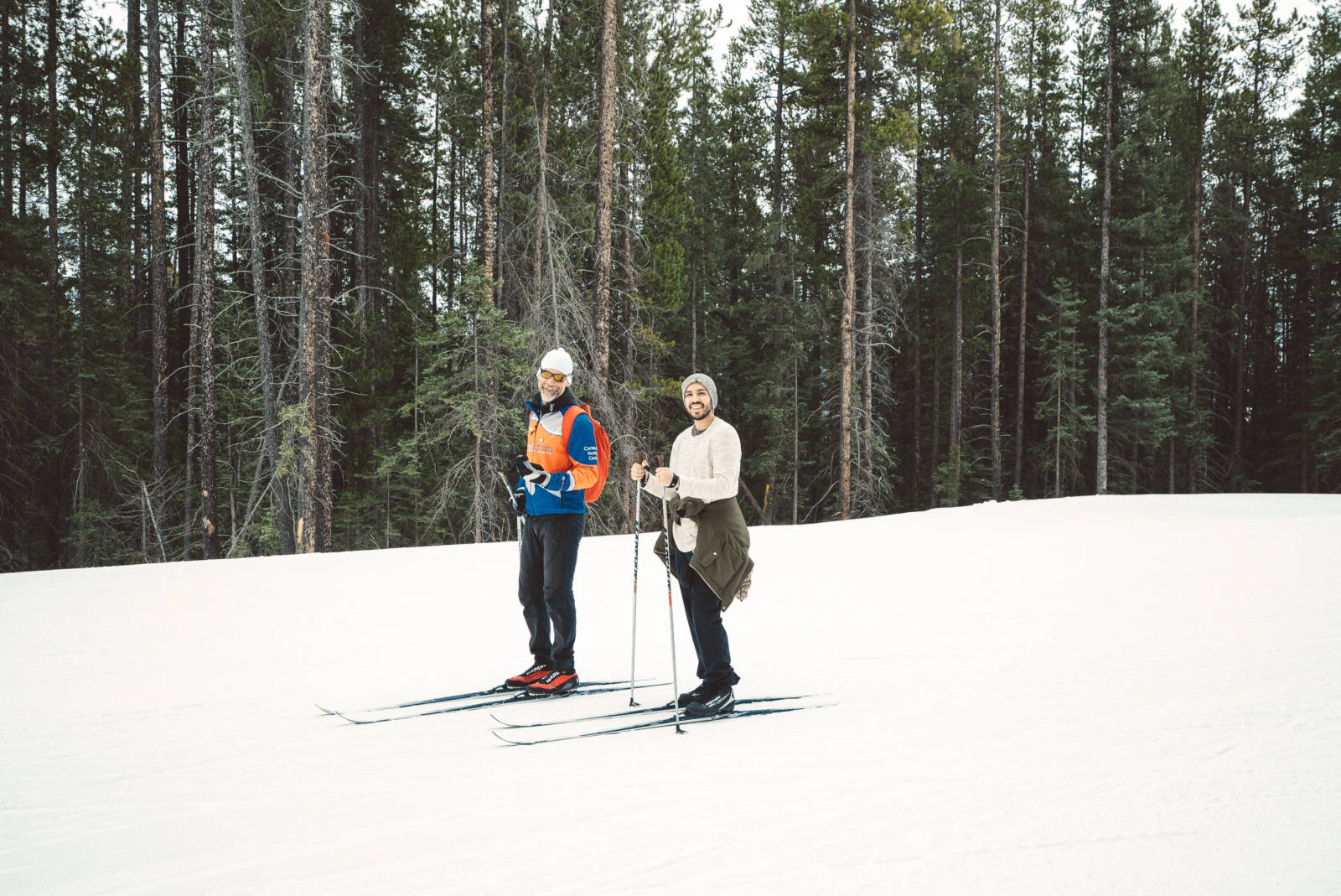 3. Visit the Yamnuska Wolfdog Sanctuary
If you're an animal lover, you need to make sure you pay a visit to this place. The Yamnuksa Wolfdog Sanctuary is a non-profit organization that shelters and cares for wolfdogs who were neglected, abandoned, or otherwise displaced. If you've never heard of a wolfdog before, it's a canid hybrid made up part wolf and part domestic dog. At the sanctuary, you will learn about responsible wolfdog ownership and the importance of preserving wolves in the wild. You'll even get to get up close and personal with these beauties.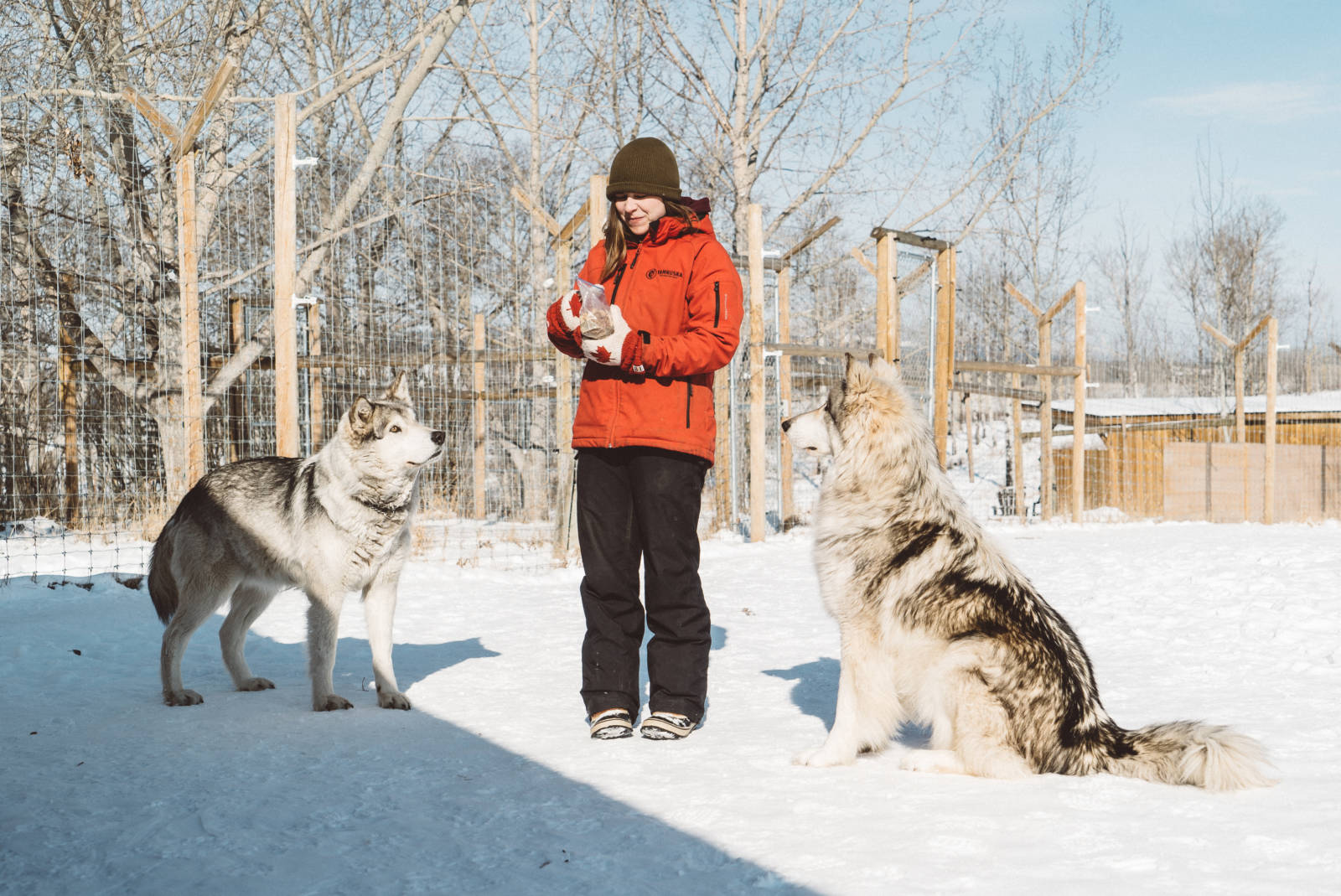 4. Snowboarding in Banff
I'm new to snowboarding, but I have absolutely fallen in love with it. One thing I've learned about the sport is 1. It really hurts to fall on your butt...like a lot. 2. Banff National Park is a snowboarders dream destination. So, where's the best place in Banff to hit the slopes? Sunshine Mountains Lodge! Located high up in the Rockies is the only ski-in, ski-out hotel in Banff . You actually have to take a 15-minute gondola ride up the hill to get to the lodge. This luxurious getaway has extraordinary views, delicious cuisine and even an outdoor hot tub.
5. Dogsledding Through the Mountains
I've never seen so many excited dogs in one place! The working pups at Howling Dog Tours absolutely love their job. Running through the snow while pulling a sled is what they live for. The tour consists of showering the pups with hugs and back scratches, riding through the Rocky Mountains just outside of Banff National Park and indulging in hot chocolate and cookies. And if you ask nicely, you can even help steer the sled. Forget your car. This is clearly the best way to get around the mountains!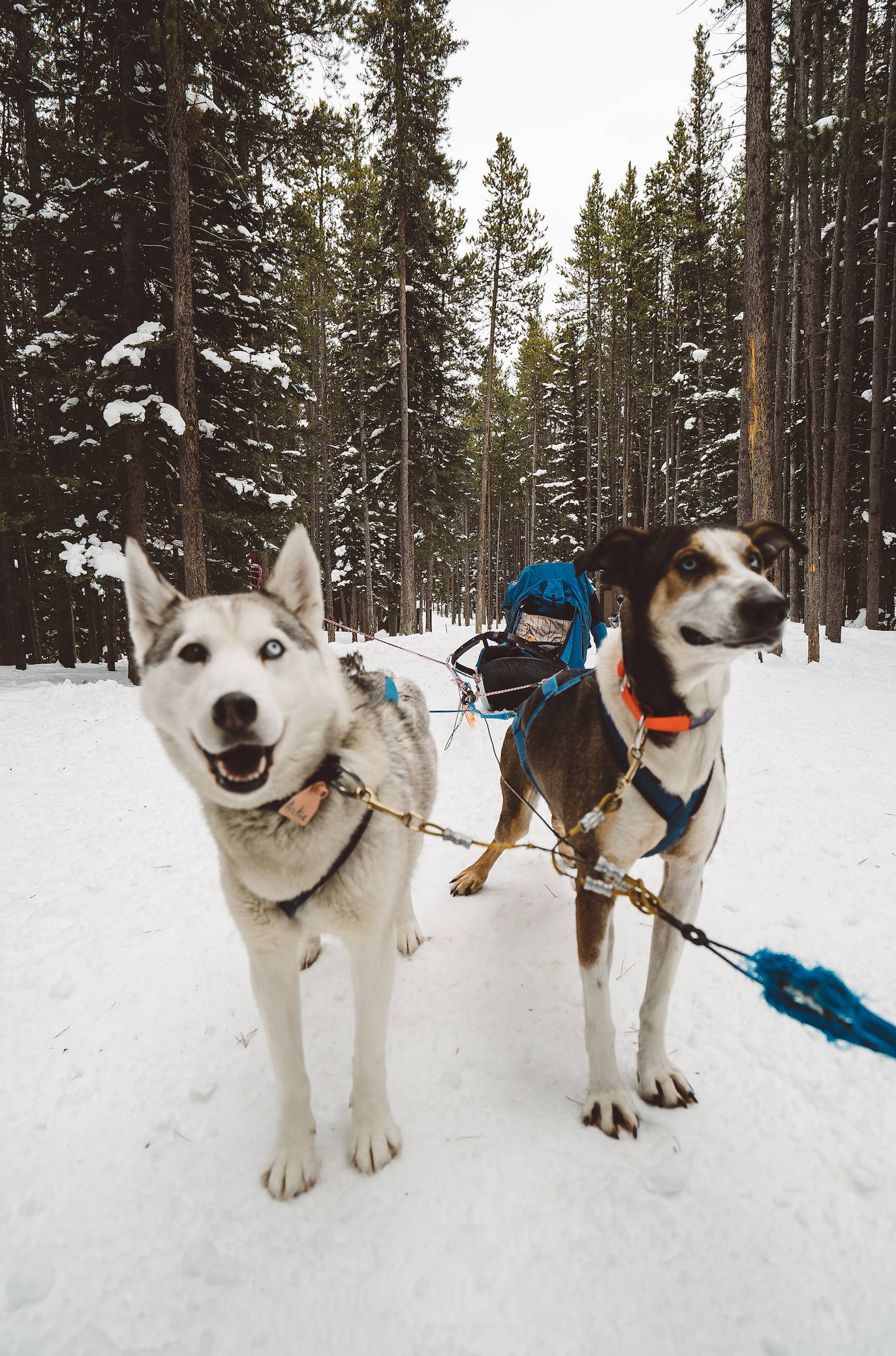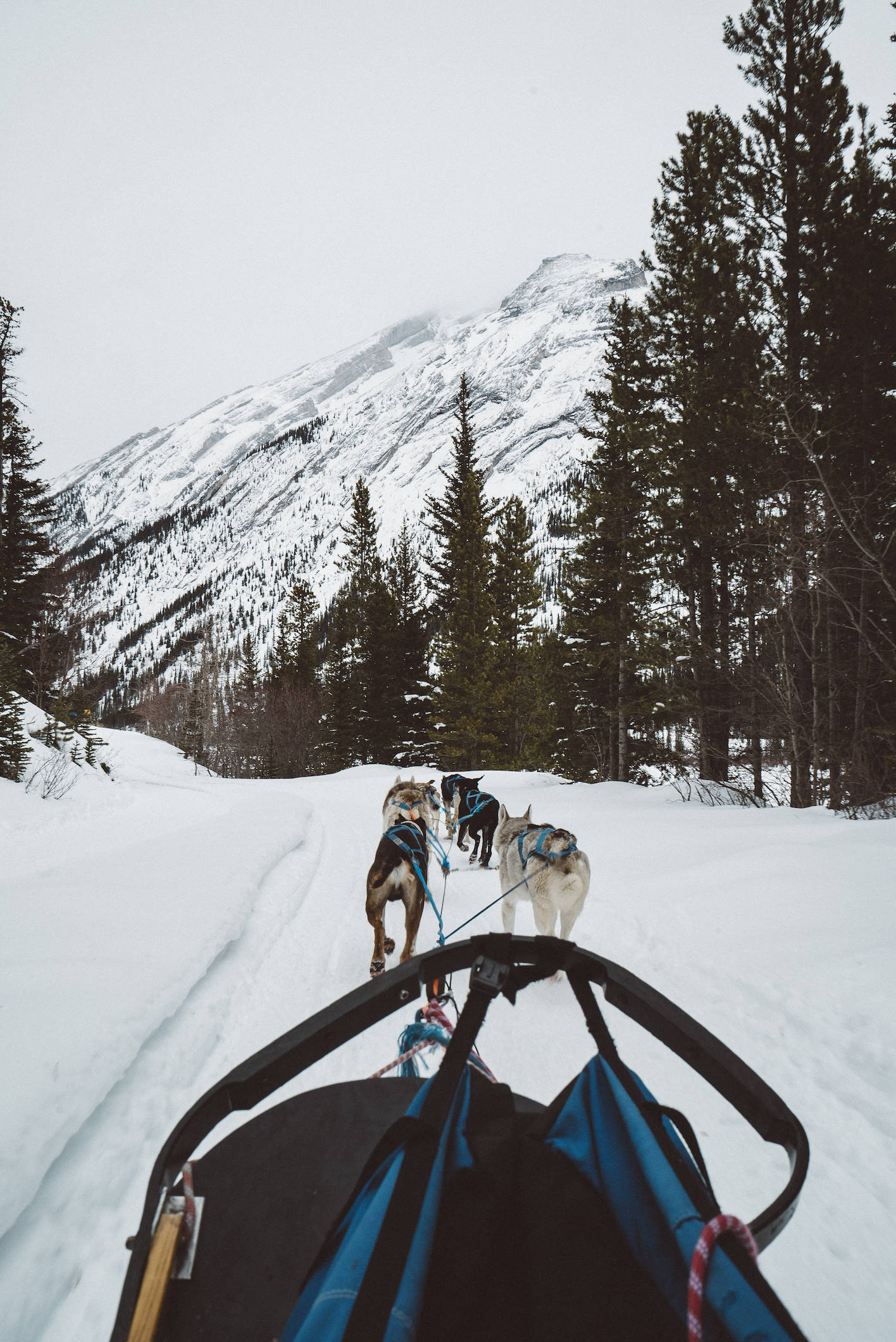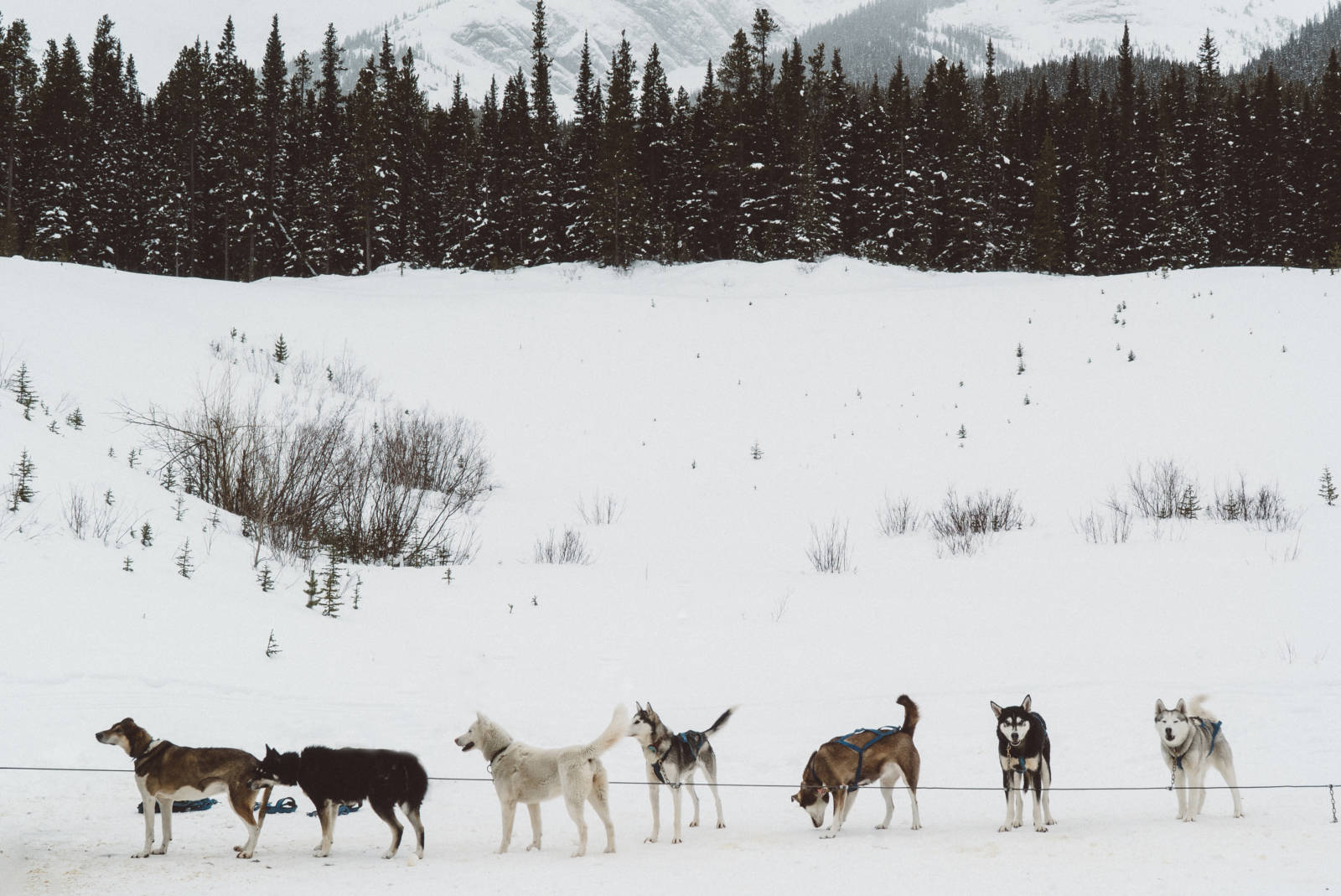 6. Fat Biking Through the Snow
Calgary is a really trendy city with many interesting shops, delicious food and bomb coffee (which I've elaborated more on below). While getting around by bike is popular in the warmer months, it's also doable with snow on the ground. If you've never heard of a fat bike before, you gotta try it at least once. It's a bicycle with the big fat treaded tires that you can fairly easily ride through the snow. We rented ours from Nomad Gear Rentals for a few hours and toured around the city.
The views here look like paintings. Unreal!
7. Drink All the Coffee
As a coffee snob (yep, I totally am), I have to tell you...the coffee in Calgary is BOMB! I usually only allow myself to have one coffee per day, but in Calgary, I couldn't help but have two *cough* three per day. There were some many adorable coffee shops offering some of the best coffee I've ever had. My two favourite cafe's I need mention (and suggest you go give them a try) are Rosso and Monogram. If you're not a coffee lover, prepared to be converted.
8. Bobsledding at High Speed
Ever seen the movie Cool Runnings? Well, what if I told you, you could relive this movie for yourself in the exact same spot the very true story happened AND where the movie was filmed? You can, and it's awesome. Located just outside the heart of Calgary is Winsport. After a 45 minute training session, you grab your helmet, jump into your bobsled and fly down the track at a 100+ kilometres per hour and 4+ g forces. If you're looking for a quick thrill, then get your bobsled on!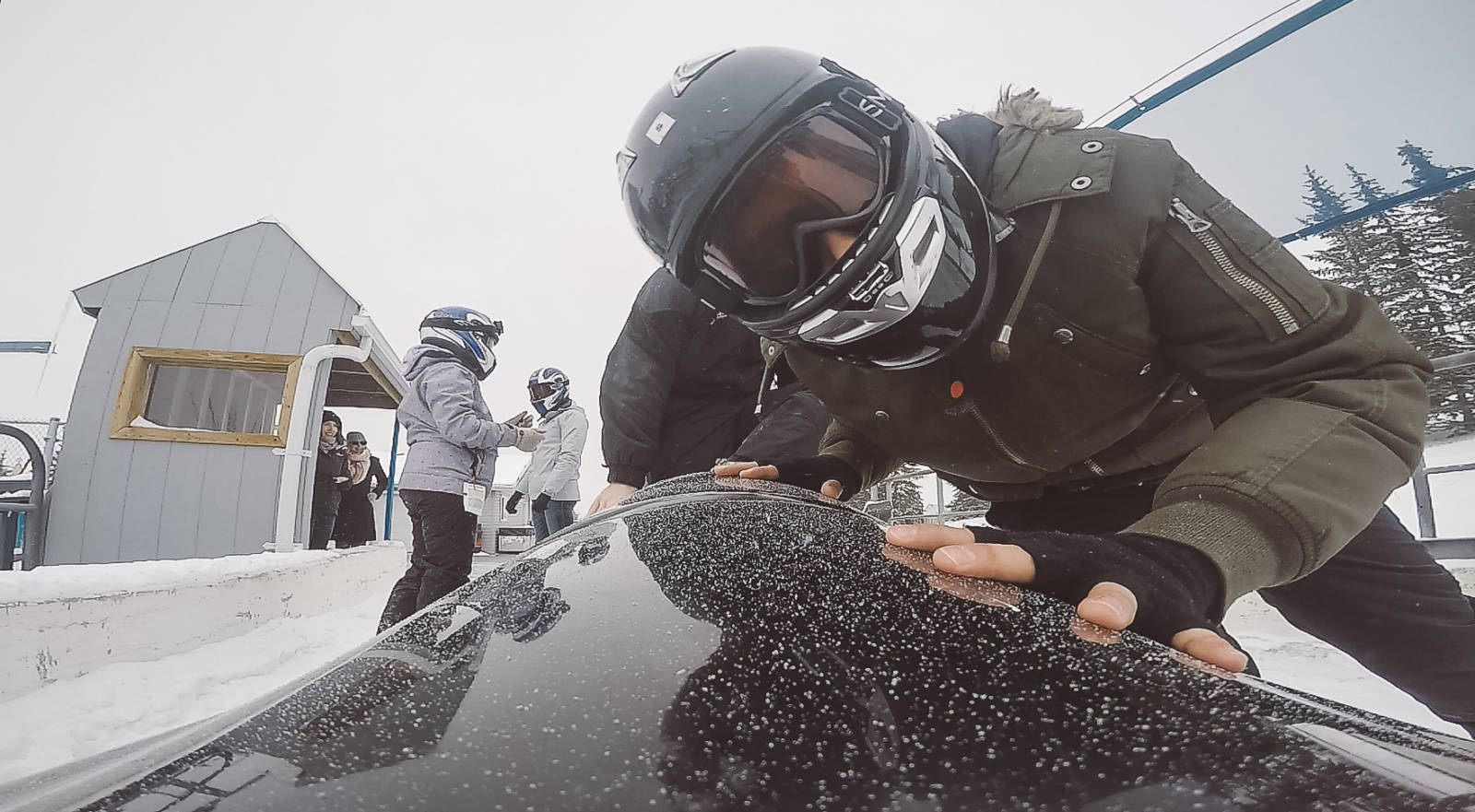 9. Ride the Banff Gondola
If you want to get the best view of Banff National Park, you need to take a ride on the Banff Gondola. Here you will witness one of natures most incredible masterpieces.  Seriously, the view does not seem real. It's just that epic, and I don't use that word sparingly.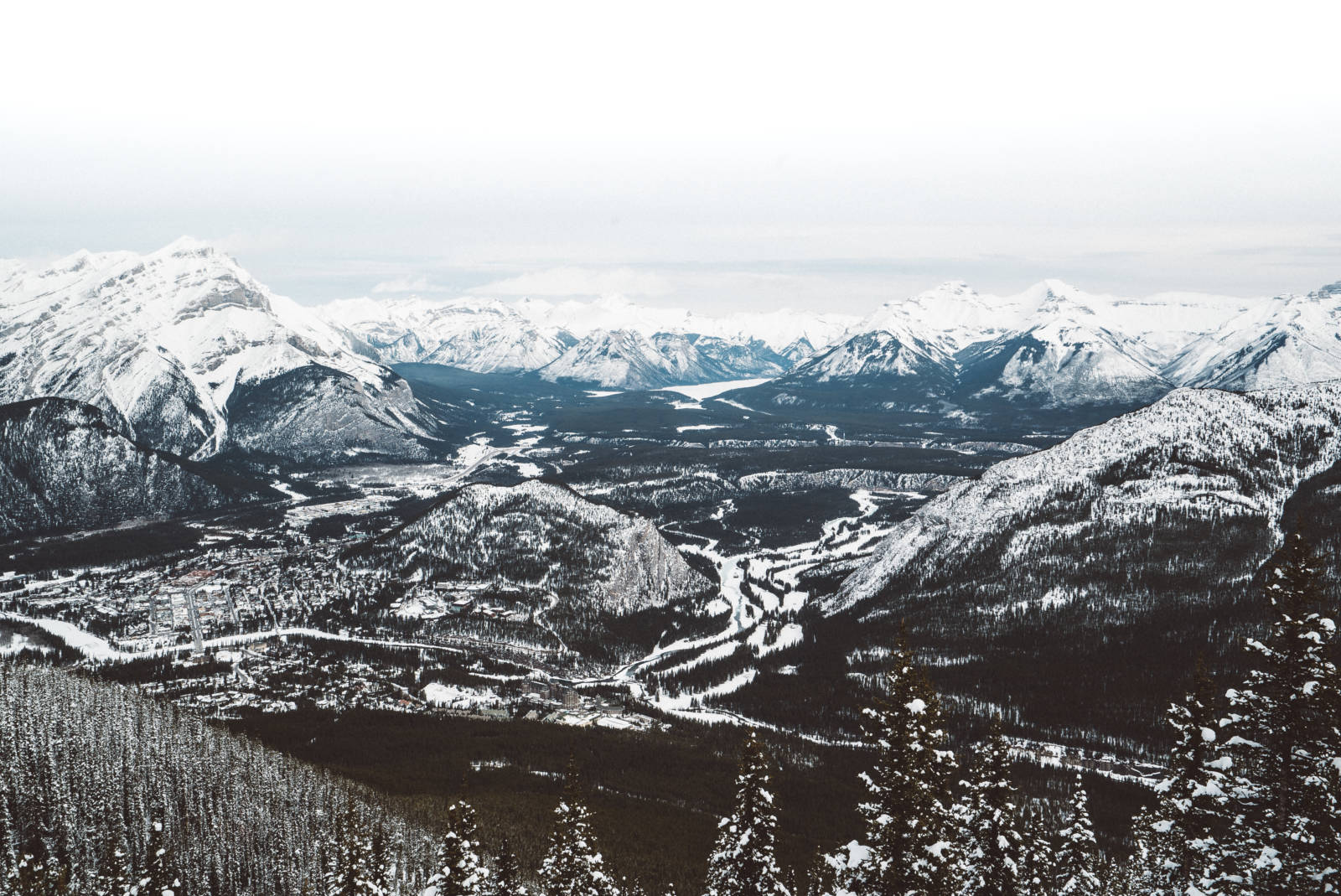 10. Just Breathe
The mountain air cleanses your body and soul. It's incredible how aware of my breathe I became during my entire time in Alberta. When you're surrounded by mountains, you stop and absorb the moment more, re-connecting to your breathe, and with every inhale, you feel healthier.
A special thanks to Travel Alberta for sponsoring this incredible trip. My love for Canada grows each time I return back to Alberta.
Want access to travel deals, giveaways and more? Sign up for our newsletter!