A couple of months ago, Siya and I were asked by Transat Holidays to become their new Sun Savvy Collection Ambassadors. As ambassadors, we would travel to Panama and try out their new all-inclusive Sun Savvy package. Both of us haven't been to many resorts, but we are always up for experiencing new ways to travel. So, how could we say no to this opportunity?
We spent 5 days indulging in all you can drink cocktails, coconut shrimp and relaxation at the Royal Decameron Golf Beach Resort and Villas Panama located about 2 hours from Tocumen International Airport. The resort attracts many families and older couples giving it a very laid back, comfortable and more quiet atmosphere.
There are many facilities included in the holiday package sure enough to keep you busy all day long. From a fitness centre to a games room to several swimming pools and water sport centre. You can participate in an introduction to scuba diving course in one of the pools (included in the inclusive package). Or if you're like me, you'll spend the day chasing iguanas and trying to make them your friend.
There are 10 restaurants including 3 buffets. The food in general wasn't anything to rave about but they did have the best coconut shrimp I've ever tried on the menu at El Canal Restaurant (which you must make reservations for). The one big thing I must share is if you are vegetarian, there are very little options for you at the buffet restaurants. When you make dinner reservations at the 7 other restaurants, make sure to tell them you are vegetarian so they can prepare something appropriate for you. I must also mention that Siya was very thankful for the late night snack bar where consumed countless hamburgers and hot dogs on hourly basis.
I also need to rave about the beach massage Siya and I both had. Now, I make it a point to get as many massages as possible when travelling. It's my way of treating myself. I can say that I had one of my best messages at the Royal Decameron. Not only did the massage take place 10 feet from the ocean, but the lady who was doing it had the perfect amount of pressure and moved her hands and fingers in a way that had be drooling 15 seconds in.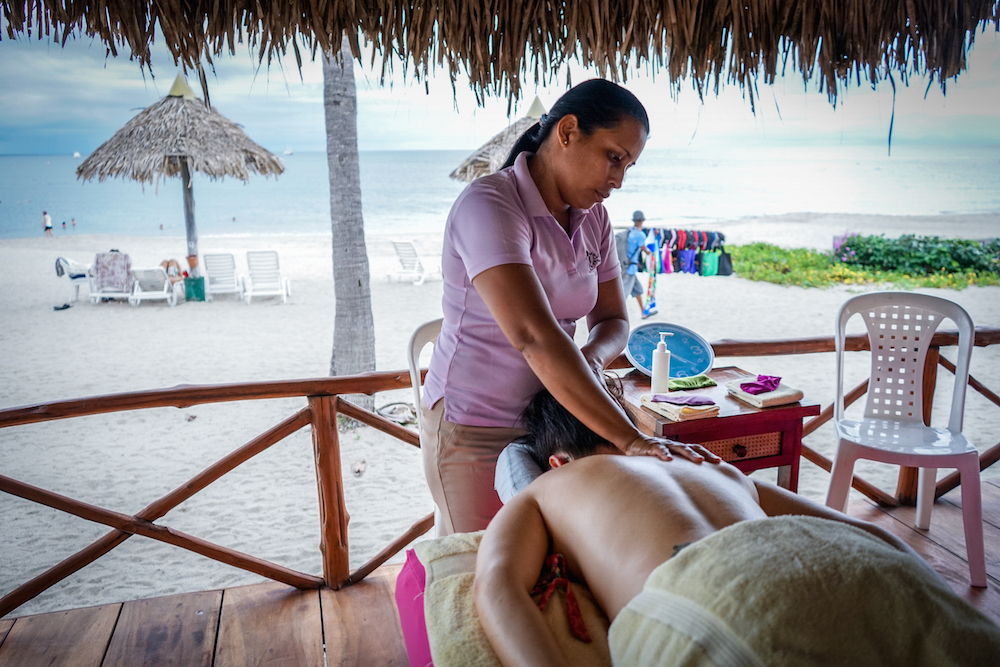 Our room was nice and clean with a comfortable bed and awesome pillows. The shower was the best part! Any shower with excellent pressure and a rain shower head makes me very happy. It's the little things…
While Siya and I enjoyed relaxing at the resort, we can't ever go to a place without experiencing the real culture and traditions. So, we booked 3 different tours with the resort including: Culture and Crafts, Yayas Tour, Embera Indigenous Community, Aerial Tram and Gatun Explorer and Panama City Tour. My favourite tour was visiting the Embera Indigenous Community and playing with the children. I find inspiring that there were several families living and working together making up one very strong community.
Another favourite moment is when we ran into a coati during our Gamboa Rainforest Aerial Tram tour. This guy wasn't shy at all. He didn't hesitate to jump on our laps and eat right our of our hands.
After spending 5 days at the Royal Decameron, Siya and I headed to Panama City where we would spend 2 nights at the Hard Rock Hotel Panama Megapolis. As soon as we walked into this hotel, we fell in love! If you want to truly feel what it's like to live like a rock star, then spend a couple of nights at one of the Hard Rock Hotels.
From the beautiful and unique bedrooms (with awesome views) to the rooftop pool (with underwater speakers) and hot tubs to the incredible food and impressive fitness room, it's easy to spend the entire day inside the Hard Rock without stepping a foot outside. Seriously, there's even a large mall attached to the hotel.
The Hard Rock Hotel isn't part of the Sun Savvy Collection, but it is part of their Nolitours package. So, if you prefer to spend half of your week at the beach and the other half in the city, this tour is an excellent option. If you prefer spending your vacation on the beach with a few tours to get you out of the resort, then going with the Sun Savvy Panama package is the better option.
Be sure to check out are Panama Video Series of our week enjoying our Sun Savvy Panama trip and don't forget to subscribe so you never miss out on any upcoming adventure.
Part 1 – Culture, Art, Nature and Resorts
Part 2 – Panama Canal, Eating Bugs and Hard Rock Hotel
For all Transat Holiday perks, advantages, prices, resorts and packages available visit Transat Holidays Sun Collection page.