This feel like a special occasion. So, before we begin our Airstream Kitchen Tour, I'm going to open the first bottle of scotch I've ever bought in our tiny home on wheels…
Cheers!
Let's begin.
Our Airstream Kitchen Remodel Tour:
The kitchen is a big feature to any house and a tiny house is no exception. I know technically we live in a travel trailer, not a shingled-roof "tiny home" you typically hear about. You'll see in this post, inside these aluminum walls is a big home in a little homes body. It's a custom-built luxury home / travel sized film studio on wheels. Take away all the hallways, basement and attic and you got yourself a tiny home.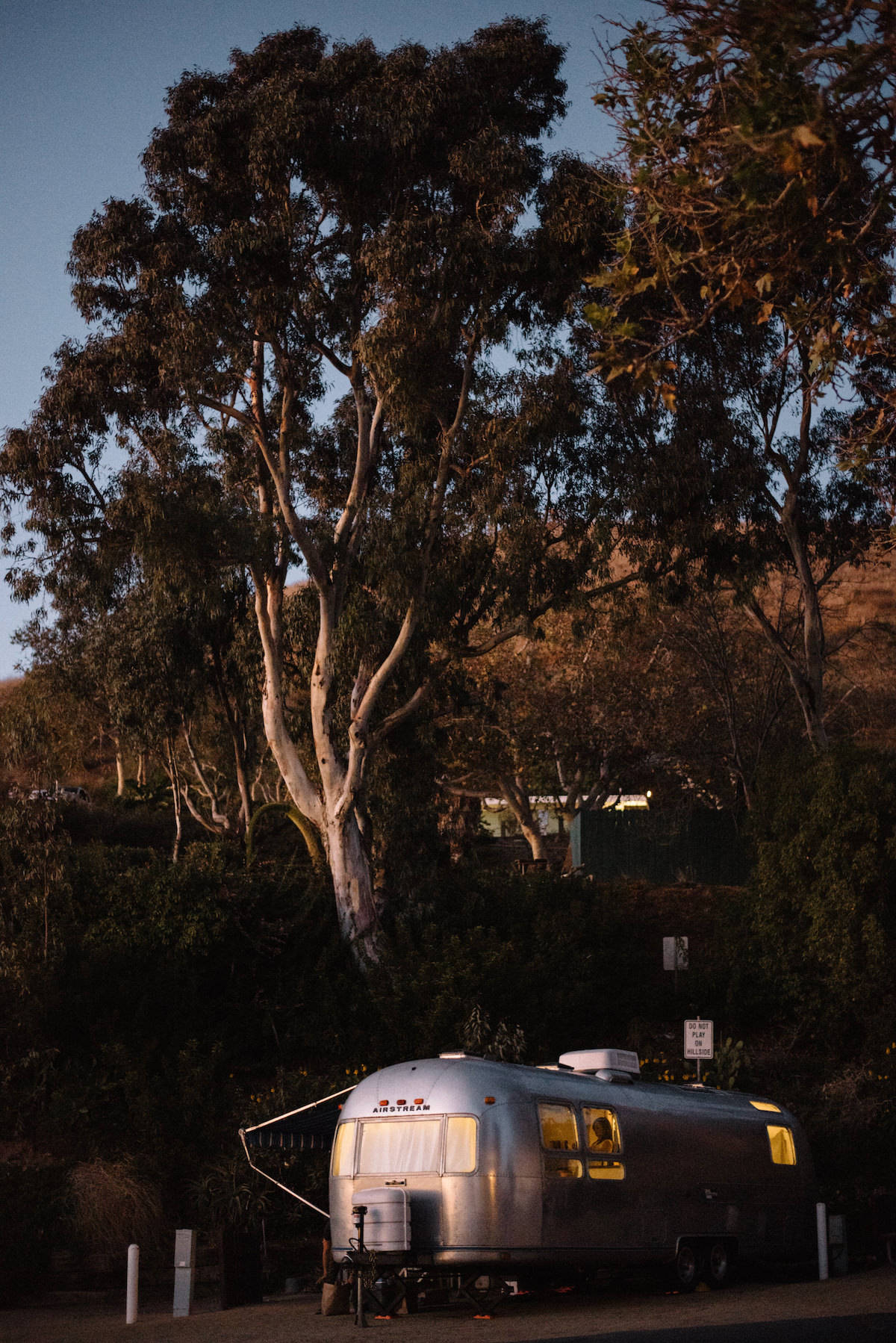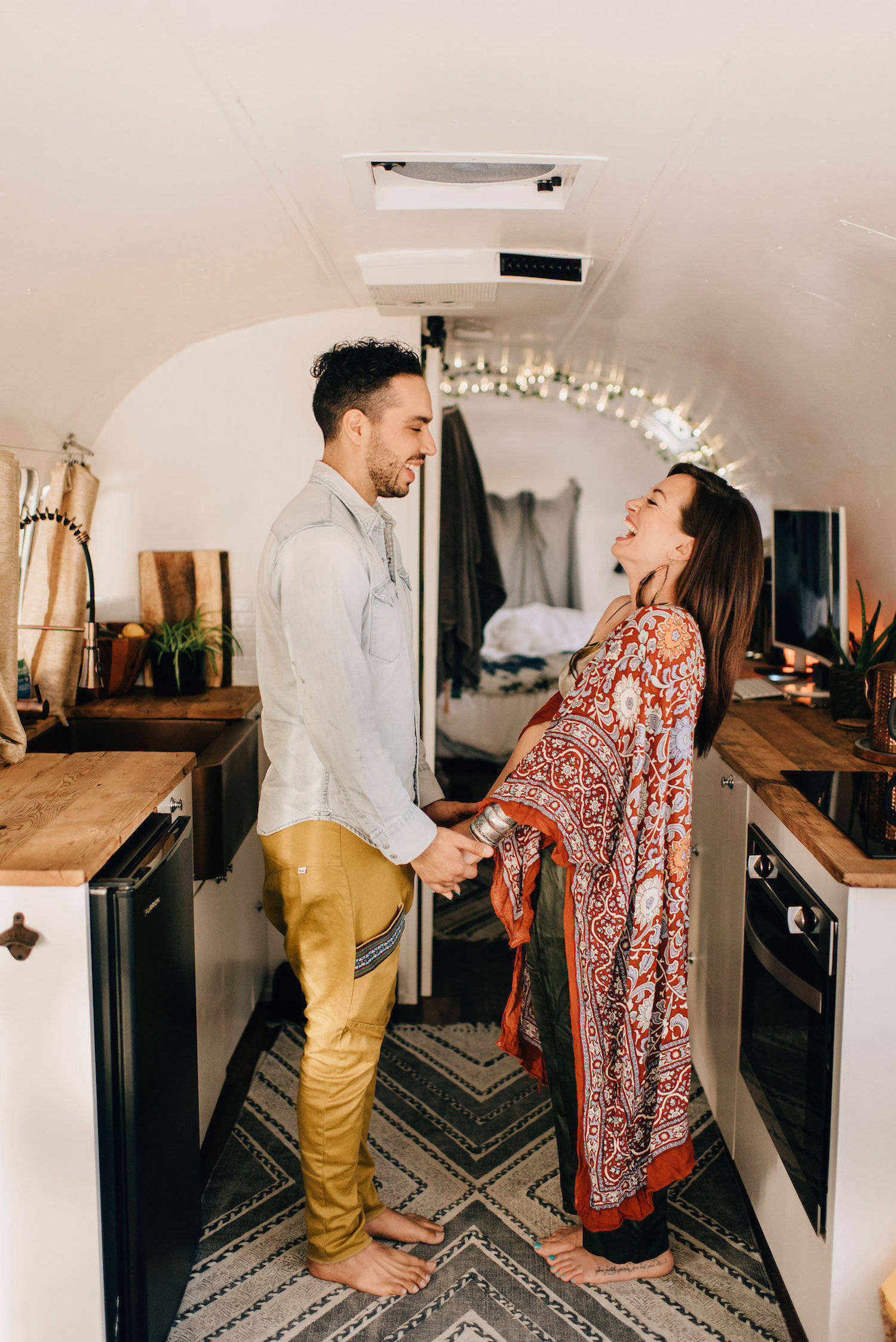 Walking into Luna the Airstream, the first thing you'll notice is the kitchen, as it's right beside our front door; this makes passing snacks outside very convenient. We only needed to renovate 200 sqft; so our "dough" could stretch, and we could get our dream kitchen in our first home. If at any point you are interested to know how much our kitchen items cost, we have a our Airstream renovation budget breakdown post and video with links to everything.
My vision for our Airstream kitchen was to find a pizza supply shop, install a pizza making workstation with a stone oven and eat pizza every day for the rest of my life. We quickly realized that wasn't the best use of our space. Instead, we compromised with a pizza stone plate and a farmhouse bistro design. We wanted to blend raw materials with modern appliances to create an earthy feel and make cooking enjoyable. The Airstream kitchen is also dead smack in the middle of everything, so it had to be nice to look at! The downside to this is when the dishes pile up, there's no escaping them. A messy kitchen for us means 25% of the house is untidy.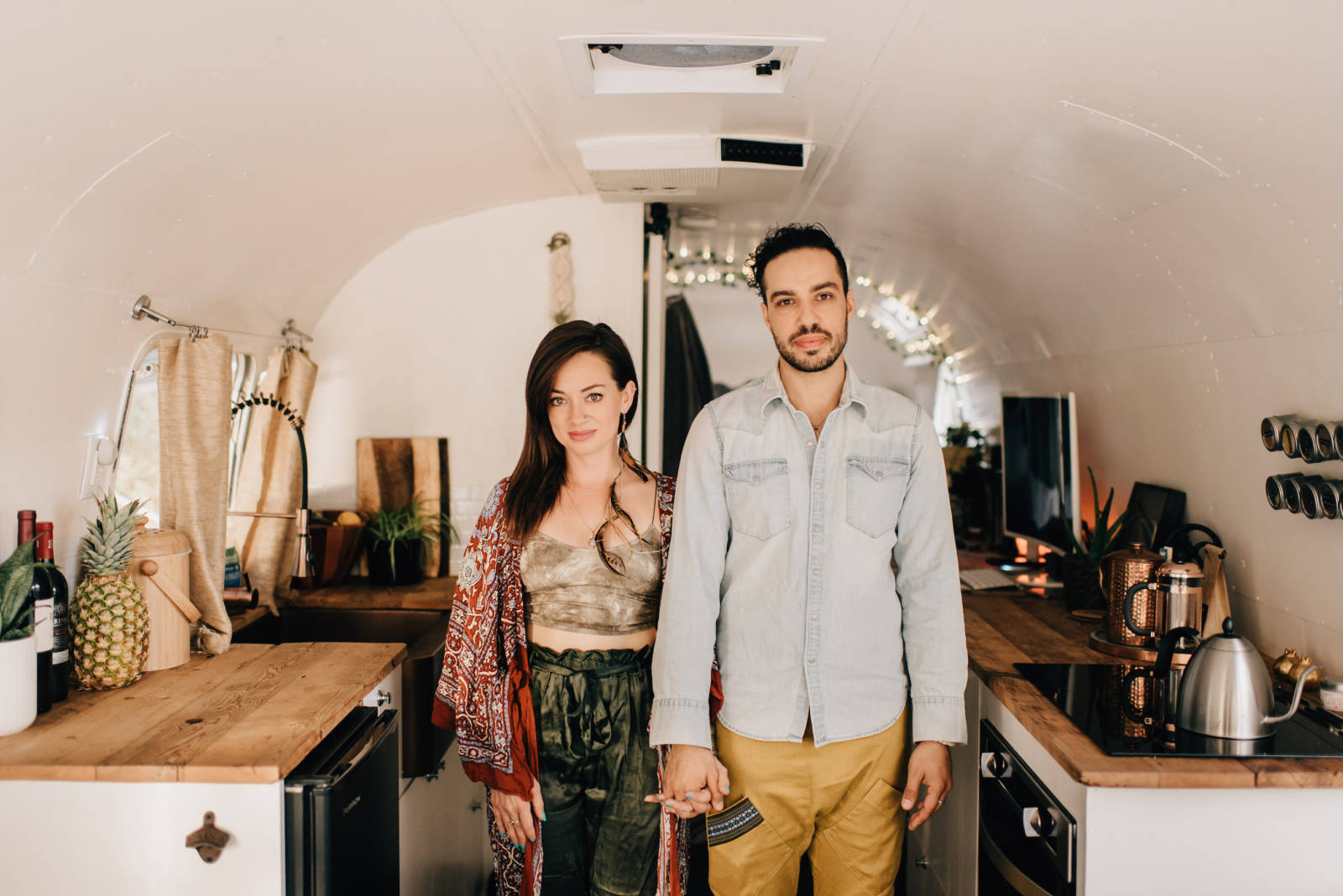 I'll be straight with you, I strongly dislike cooking. I love eating though! I'll happily do all the dishes afterwards if you cook for me. That doesn't mean I don't cook or make delicious food…I just won't be dancing and having fun doing it. I do however value a nice kitchen, and our tiny house kitchen inspires me to enjoy meal prep more than I've ever felt before. We designed the space to be efficient and multi-purpose as real estate is limited. Our barn wood countertops were donated by our brother-in-law from a 100-year-old fallen barn on his property. They were in pretty bad shape at first; but turned out great with a little TLC. We went with copper tones to keep the farmhouse theme going. Our sink and faucet are a main feature in the space; we'll be using this as bathtub for our new puppy, Atlas.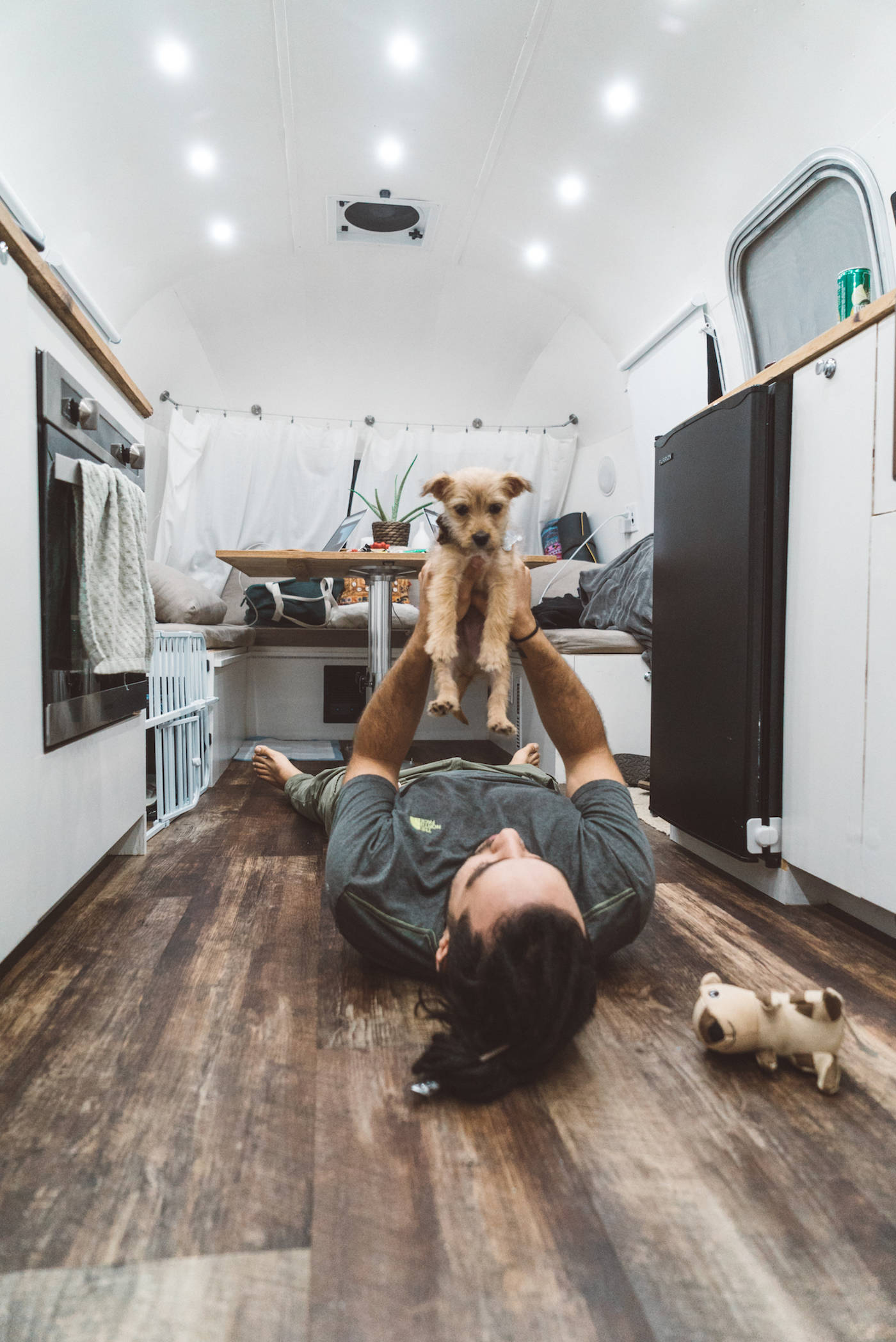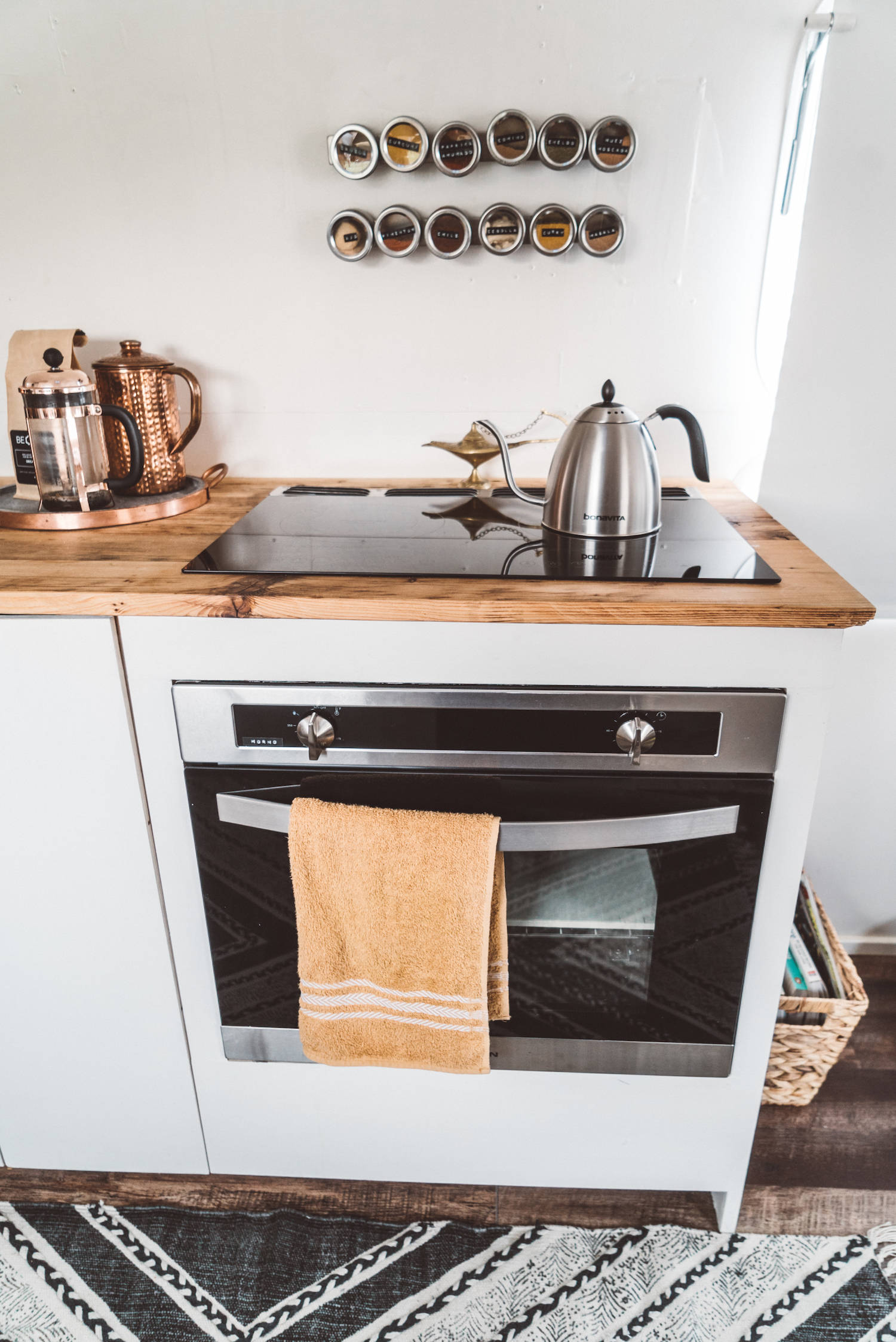 Considering the fact that we want to be off-grid at times, electricity was a factor when picking appliances. We went with a small fridge, it's currently AC but we're going to upgrade to DC to be even more efficient. For cooking, we went with a dual induction stovetop as we only have one pot, one pan and wanted more counter space. Our oven is propane; this is to conserve electricity and have two forms of cooking fuel. If we run out of propane, we have the stovetop. If we don't have much electricity, we can cook in the oven with propane. If you want to know the exact appliances we used you can check out our budget breakdown post.
Well my friends, my belly is now hungry and my glass is empty. I'm going to crank this oven to 450 degrees, pour another glass, prepare a pizza and impatiently stare into the oven until I can attack this wheel of cheesy dough sprinkled with a smorgasbord of ingredients...while binge watching Netflix. Spoon drop!
Watch our Airstream Kitchen Remodel Tour below!
Have you seen our Airstream Bathroom Tour yet? Check it out!
What video and post do you want us to create next? Share your suggestions below.