Hey Travel Tribe! Last year, Kristen and I teamed up with Skyroam for the launch of the Skyroam Solis, a 4G/LTE hotspot with unlimited data worldwide. We have been using the device for about 6 months now and previously, we were using the Skyroam 3G device for over a year. Kristen and I only promote companies we believe in. In this post, I'm sharing my authentic experience using the Skyroam Solis while running our online business anywhere in the world. We tested many portable WiFi hotspots over the years and none of them compare to Skyroam.
By the end of reading this, if you found the information useful and want your own device, we have a discount ONLY FOR HOPSCOTCH THE GLOBE READERS! You'll get 10% off Skyroam devices and services only available through this link and using the discount code: 'hopscotchtheglobe.' On top of that, you'll get one free global Wi-Fi day pass.
NOTE: The link provided is an affiliate which gives us a few dollars for signing you up and return you save 10%.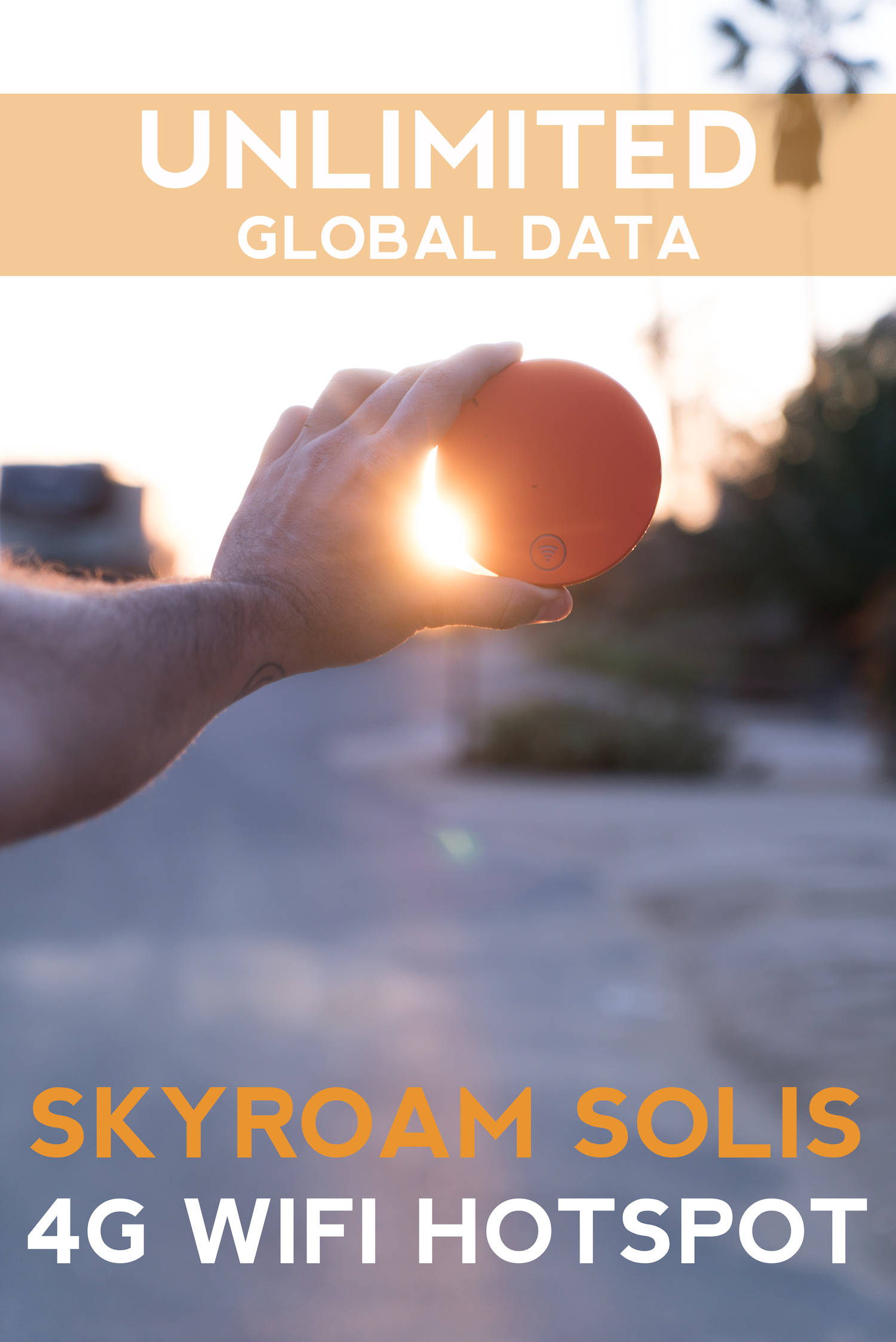 Wi-Fi has improved the world, there's no denying it. Remember the days of dial-up? You couldn't even use the home phone while downloading a song off Napster! Times have changed, browsing speeds are 10,000x faster, and the invention of Wi-Fi modernized humanity's bond to the cyber world. Posting photos is the new postcard. Video calls are the new phone call. You can summon taxis at the push of a button, book a place to stay on your phone and even swipe to find a companion. The need for global Wi-Fi is clear; however, fast internet isn't always available for us travellers and SIM cards can be annoying and expensive…enter Skyroam Solis!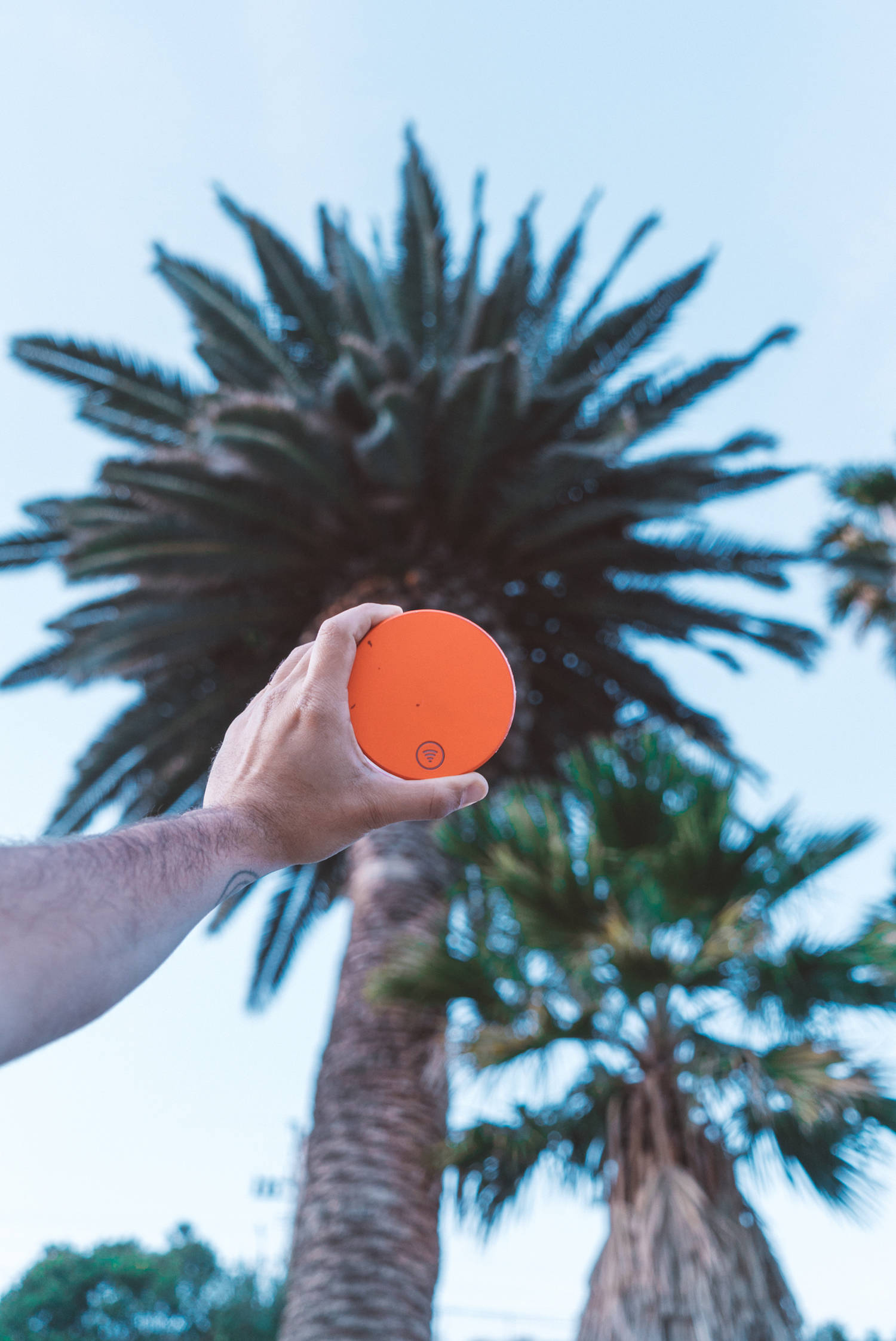 I'm not quite sure how Skyroam pulled this off?!
The Skyroam Solis is super easy to use, literally two buttons, sleek design, but the only important thing is IT WORKS. We upload weekly YouTube videos, requiring a lot of bandwidth and speed. I've hit 30mps upload and 50mps download speeds on the Solis (for those who don't understand what that means… it's fast, like never wait for anything to load fast.) You also get unlimited data on 5 devices at once, which helps keep family and friends connected with you. Typically, we have two phones and two laptops connected at once, and haven't noticed any drop in speed. But seriously, Netflix binge watching is a little too easy now.
Skyroam Solis Features:
4G/LTE connectivity

Connects up to 5 Wi-Fi devices at once

Service available in 100+ countries (listed below)

Use the device as a battery charger (6000 mAh)

One-Touch access for 24 hours of Wi-Fi. No SIM card required

16+ hours of battery life

Powerful charging with USB-C

Flat rate per day (only pay for the days you use)

No contracts
Limitations
For travellers like us, having access to Internet is vital to our business and our personal lives. Just this year, we used Skyroam in Canada, US, Australia, Poland, Slovakia, Romania, Czech Republic, Spain, Sweden, UK, and Italy. This doesn't mean there aren't limitations on the device; for instance, I wish there was a screen on the Solis so I could see how many hours I have left on the service and day passes remaining. This information is available by logging into the Skyroam website, but I'd prefer to have it right on the device. Granted, a screen would decrease the battery life. Also, having more than 5 devices connected at once would be nice.
Regardless, it's still my favorite product of 2017! Press the button and Bangarang… 24 hours of unlimited Wi-Fi.
Rates:
Option 1 – Frequent Traveller
Buy the Solis for $149.99
Day Pass $9.00 / day
Option 2 – Occasional Traveller
Day Pass $9.95
Hotspot device rental included
NOTE: Your Day Passes don't expire so you can save them for your next trip!
Stay connected in 100+ countries:
Americas
Argentina, Aruba, Antigua & Barbuda, Barbados, Bermuda, Bolivia, Brazil, Canada, Cayman Islands, Colombia, Costa Rica, Curacao, El Salvador, Guadaloupe, Guatemala, Haiti, Honduras, Jamaica, Martinique, Mexico, Montserrat, Nicaragua, Panama, Peru, Puerto Rico, Saipan, Trinidad & Tobago, Turks & Caicos, Unites States, Uruguay, Venezuela,
Europe
Albania, Austria, Belarus, Belgium, Bulgaria, Croatia, Cyprus, Czech Republic, Denmark, Estonia, Finland, France, Germany, Greece, Hungary, Iceland, Ireland, Italy, Latvia, Liechtenstein, Lithuania, Luxembourg, Malta, Monaco, Netherlands, Norway, Poland, Portugal, Romania, Russia, San Marino, Slovakia, Slovenia, Spain, Sweden, Switzerland, Ukraine, United Kingdom, Vatican
South Pacific
Australia, Christmas Island, Fiji, Guam, New Zealand
Africa
Egypt, Kenya, South Africa, Morocco
Asia
Cambodia, China, India, Indonesia, Japan, Kazakhstan, Laos, Macao, Malaysia, Philippines, South Korea, Sri Lanka, Singapore, Taiwan, Tajikistan, Thailand, Uzbekistan, Vietnam, Kyrgyzstan, Hong Kong
Middle East
Israel, Turkey, Qatar, Saudi Arabia, Oman, Bahrain, Jordan, Iraq, Kuwait
Disclaimer: This post was written is in partnership with Skyroam. As always, all thoughts and opinions are my own. If you have any questions about Skyroam hotspots, please comment below. I'm happy to answer questions.