Where's Luna the Airstream?
A very common question we've been asked since having our daughter Kai. Well, Luna's actually sitting in our driveway right now being re-renovated by the two of us so we can hit the road again! That's right, we are renovating our Airstream again and it's even better the second time around.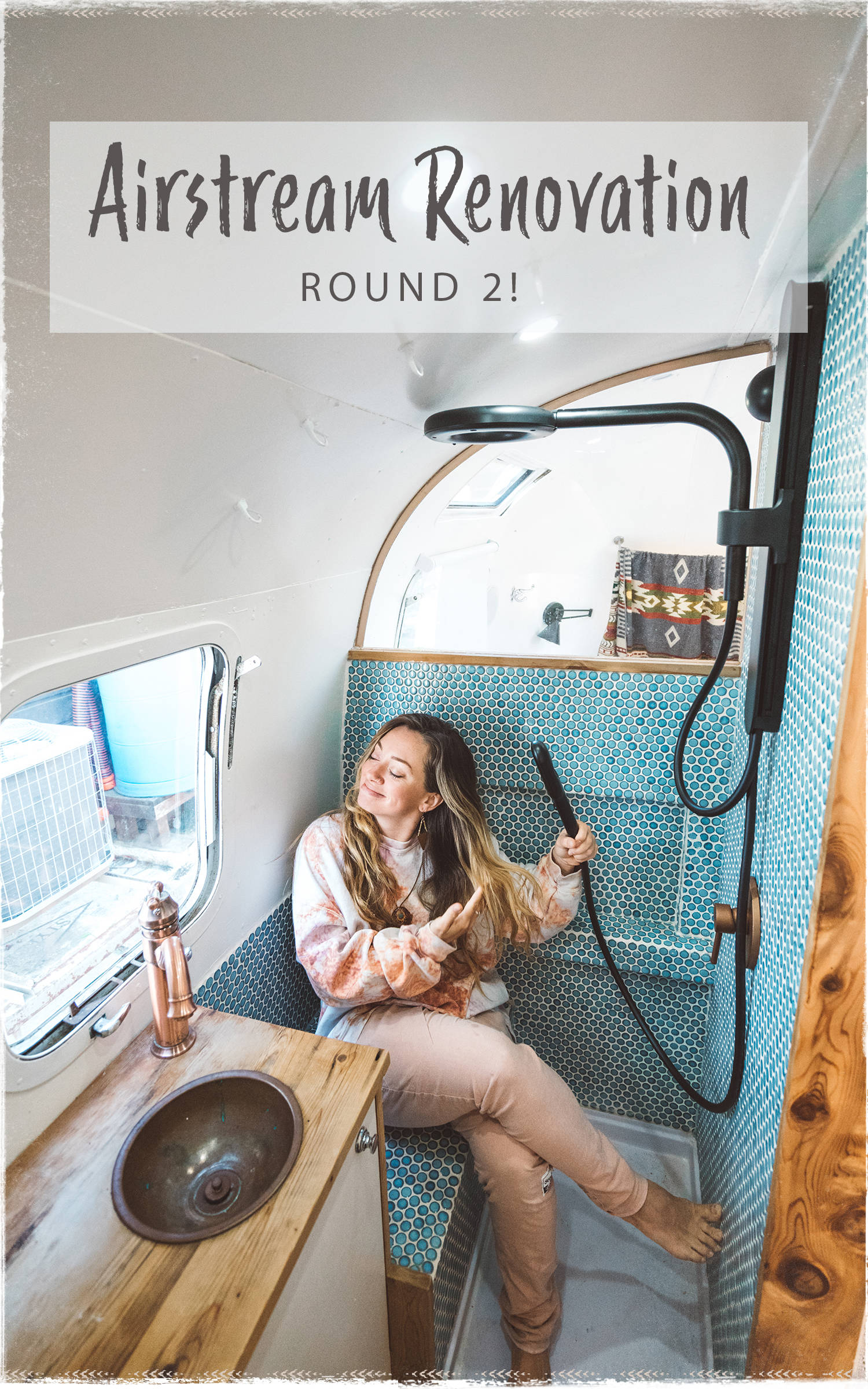 For those of you new here...
After two-years of being stored away during the VERY long Ontario winter, Luna the Airstream is back in our lives, and we can't wait to make new memories with her. This time with our nearly 2-year old daughter Kai. But, before we hit the road, we have a bit more work to do on Luna so she's in tip-top shape for us to move into full-time. If you've been keeping up-to-date with our YouTube videos, then you know we've been renovating our Airstream for the past two months, and Luna is looking mighty fine if you ask me! If you're new to Hopscotch the Globe, then you might not know much about Luna quite yet. Let me bring you up to speed…
In 2017, Siya and I purchased a 1976 31-foot Airstream Sovereign we found on Kijiji. We completely gutted her and built her back up into our dream home on wheels. It was a year long Airstream renovation, but well worth the wait. We spent 2-years living in our Airstream full-time, visiting several RV parks (along with many free camping spots including truck stops and Wal-mart parking lots) across Canada and California. We spent 6 months living in Malibu, California and another 7 months living in Ontario, Canada with Luna. Up until I was 8-months pregnant with Kai, we lived in our Airstream. Just before Kai was born in October, we stored Luna for the winter and moved into a condo for the first year of our daughter's life. Fast forward to today. We are currently living in a Swiss-style mountain top home in Ontario where we are renovating our Airstream again.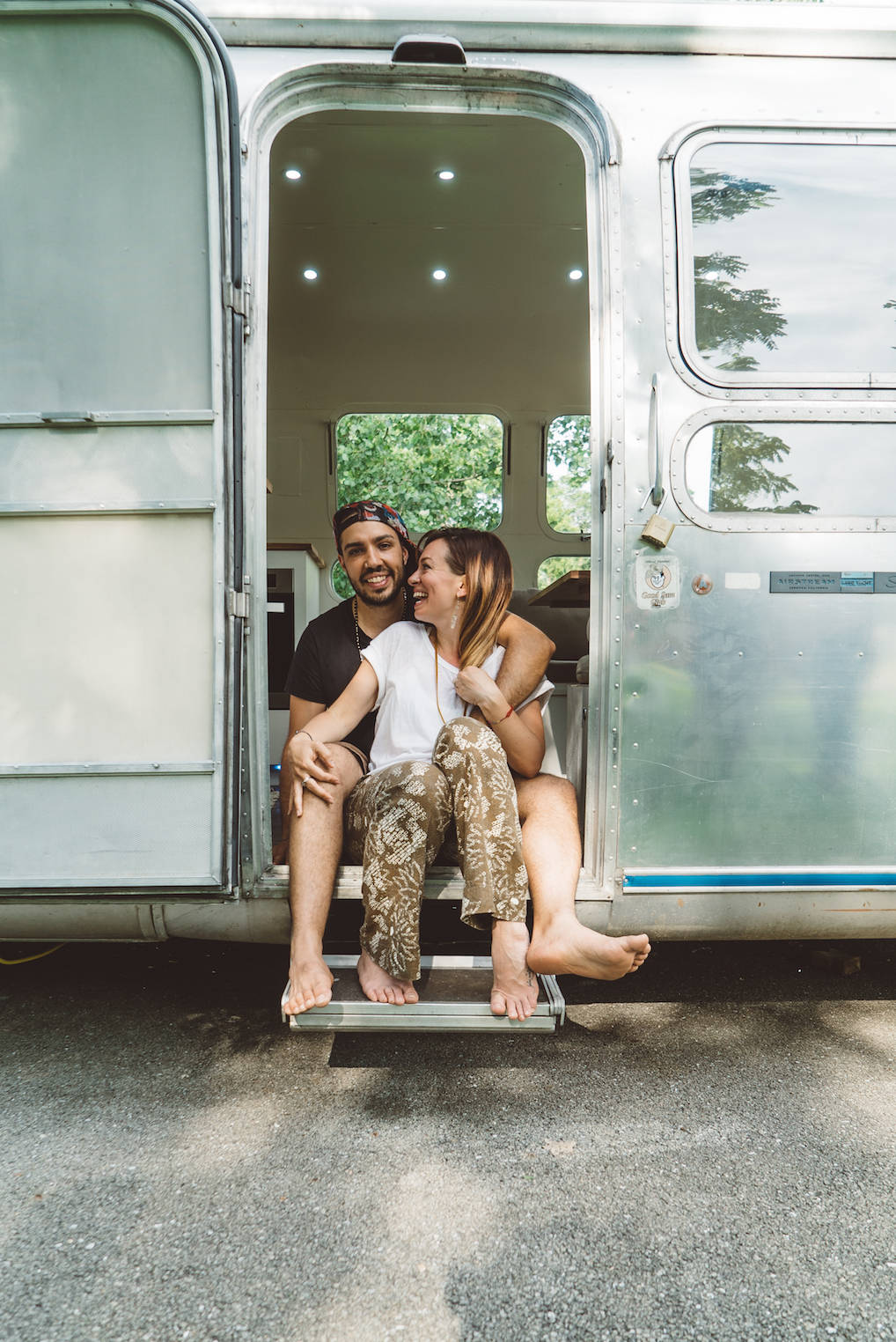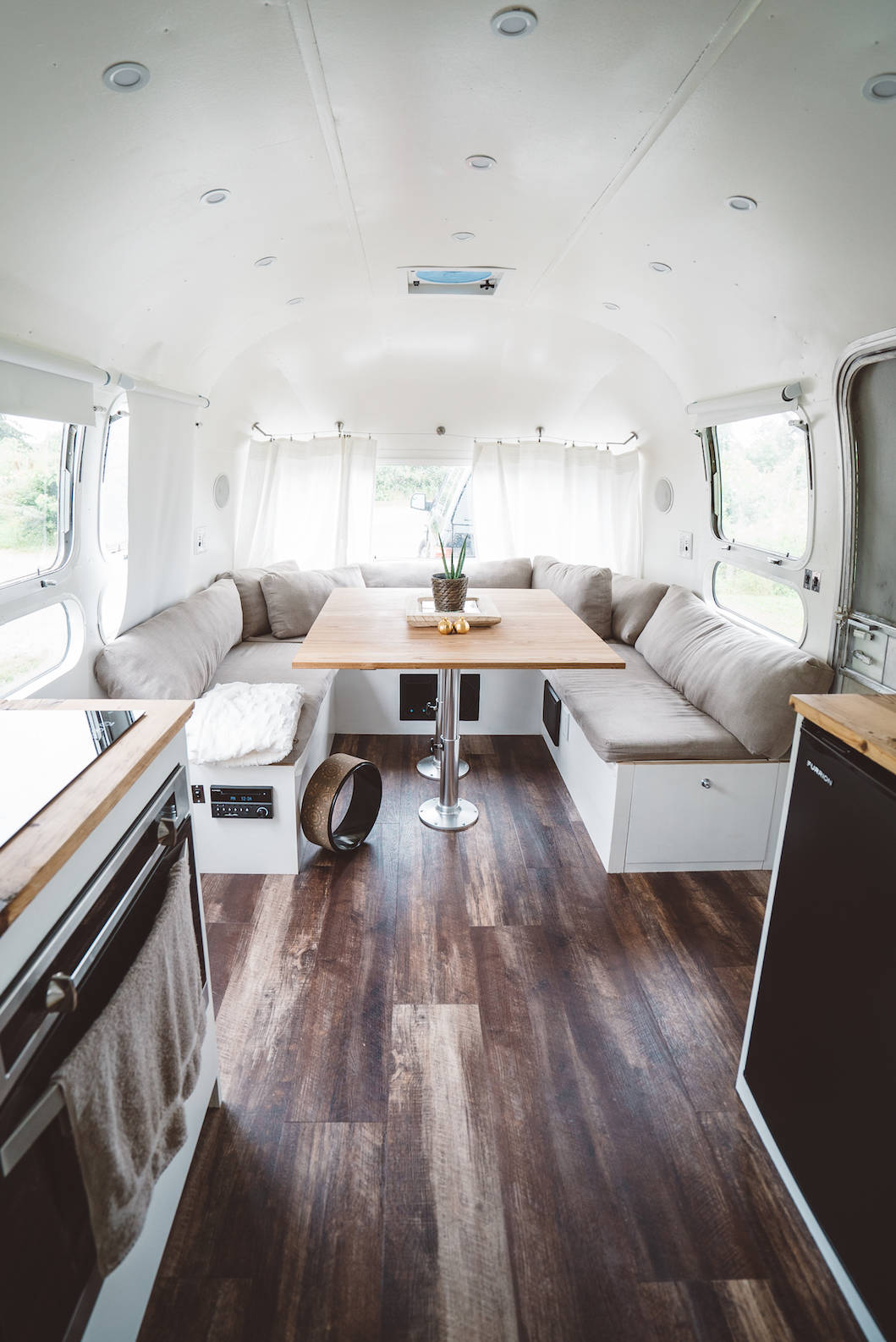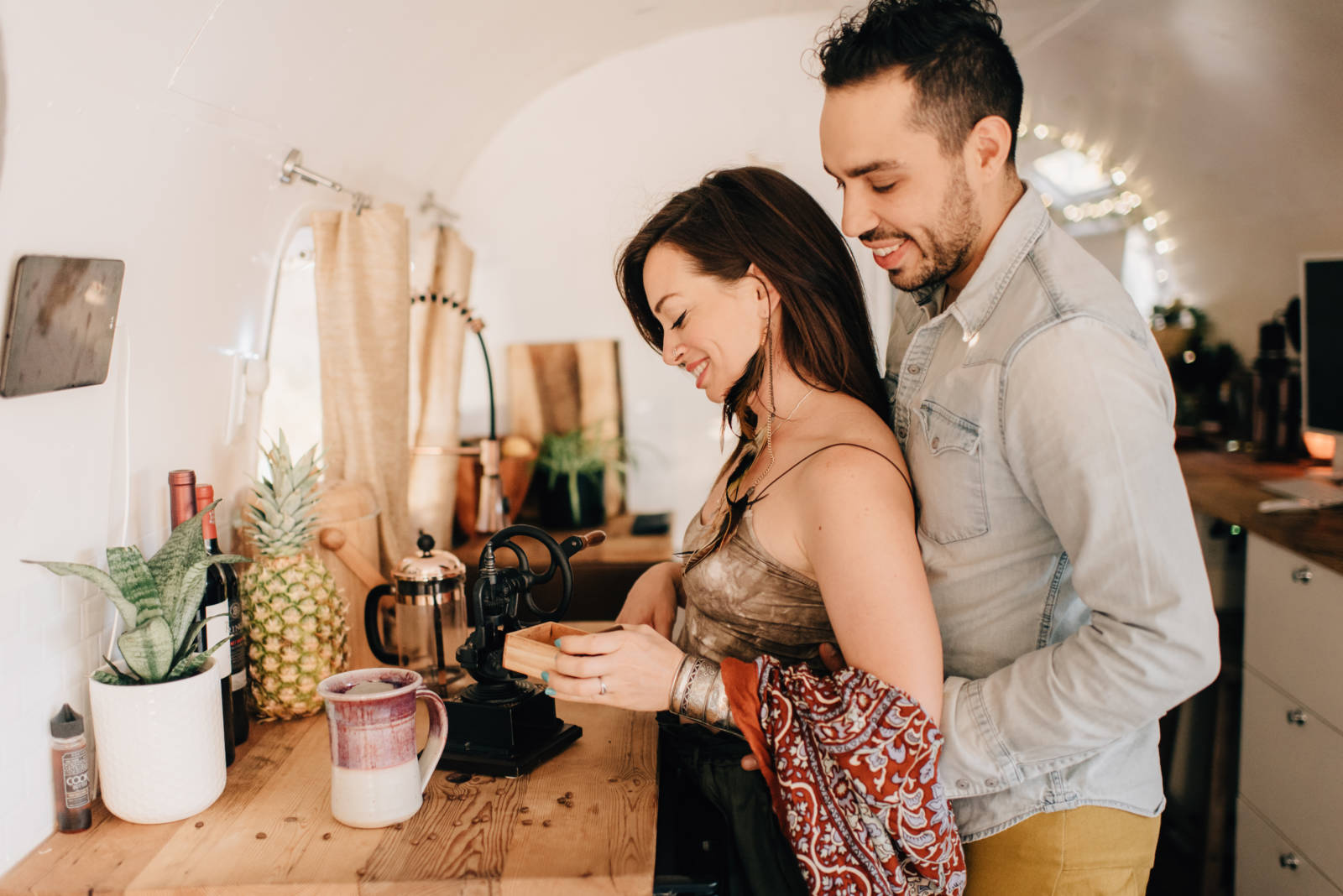 The Airstream Renovation
How Are We Renovating Our Airstream?
Tree House Bunk Bed: Now that we have our little adventurer joining us, we've turned our countertop and office area into a tree-house bunk bed for her. It's not complete quite yet, but it's getting there, and we must say, we kind of want it for ourselves because it's SO fun!
Dividing Wall and Magical Door: We've also built a wall dividing the front of the Airstream from the back. We used the barn wood that was originally our countertop to create a beautiful feature wall with a simple, but lovely shelf. We will be adding a REALLY COOL double barn door which is currently being built (we went to a professional carpenter for this one). It will have a really special feature to it as well. I won't spill the beans completely, but a clue is that it has to do with the name of our Airstream 😉
Wallpaper Kitchen: When we decided on renovating our Airstream again, I knew I wanted wallpaper in there. I've added peel-and-stick wallpaper to one of the kitchen walls, and I'll be painting the kitchen drawers and cupboards a new colour. I'm even going to attempt to make my own paint using natural plant pigment and flour. Yup, you can do that. At least that's what I've read…Wish me luck!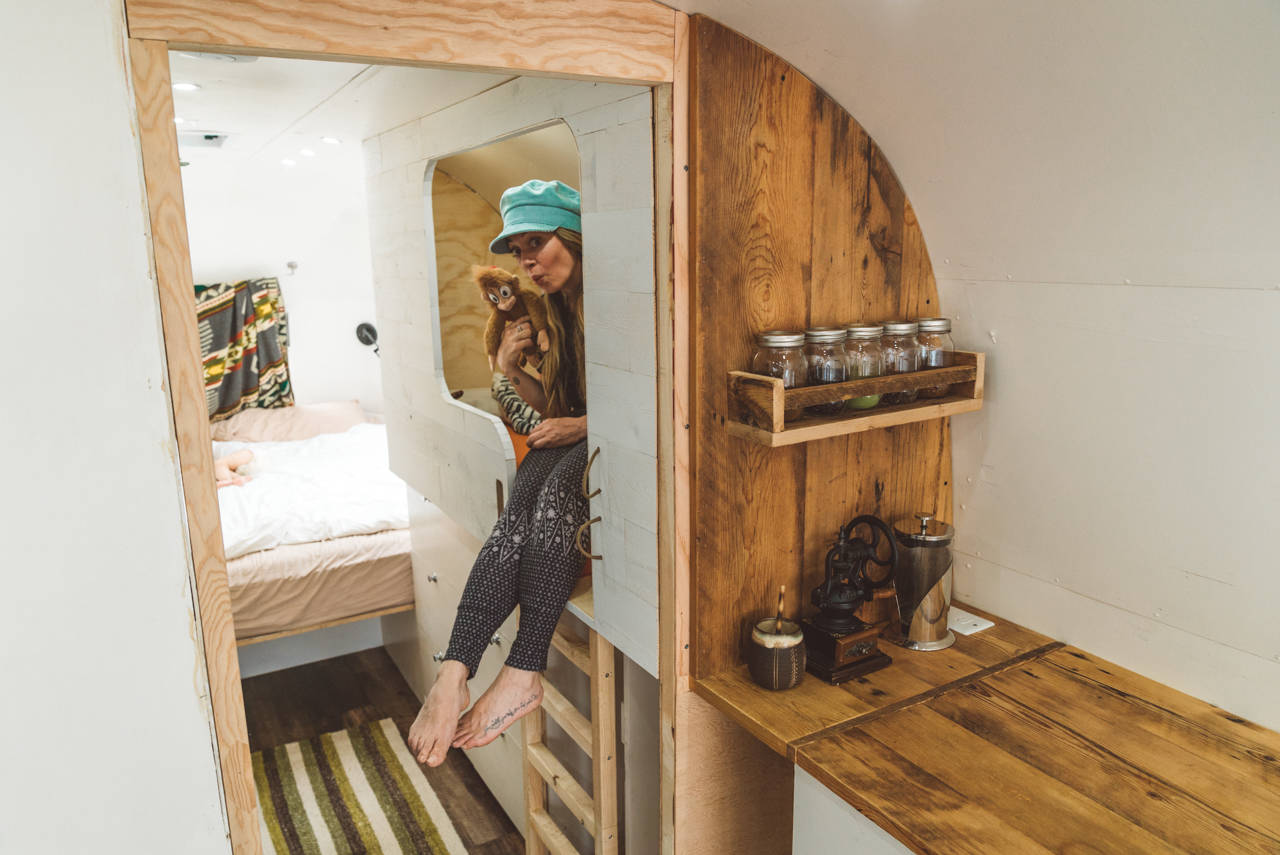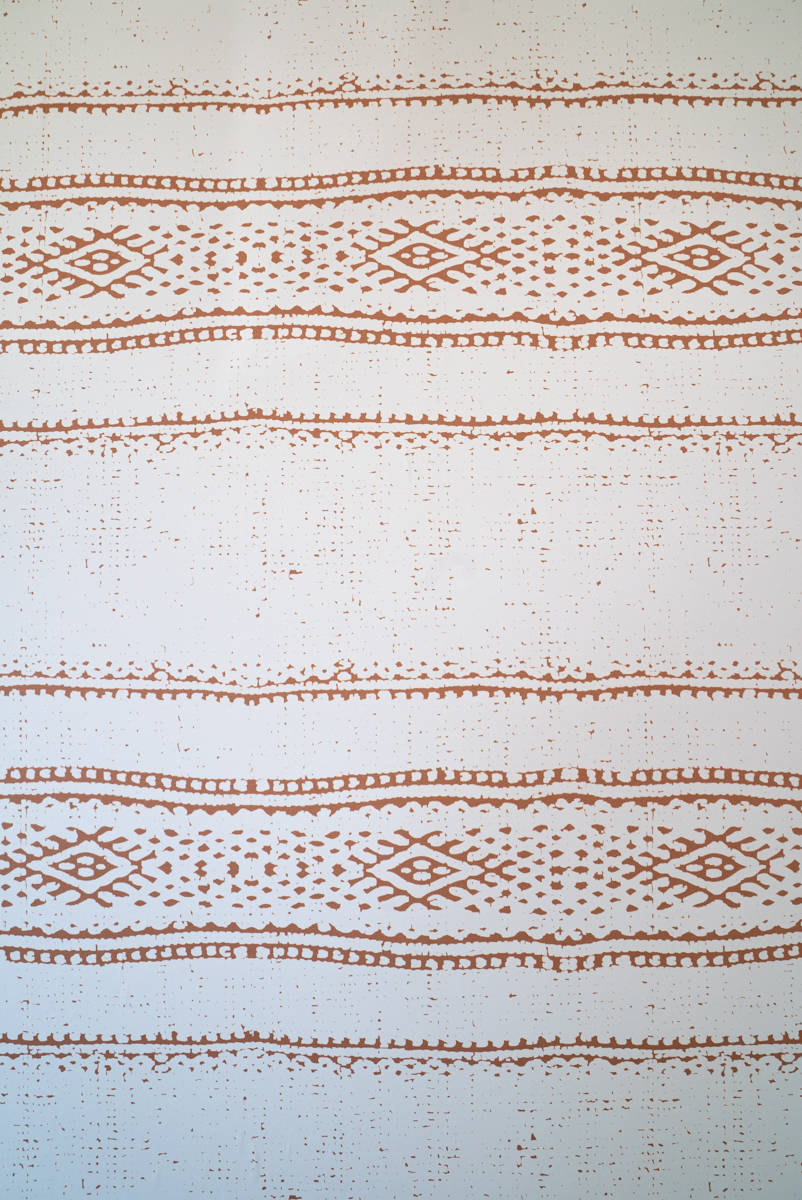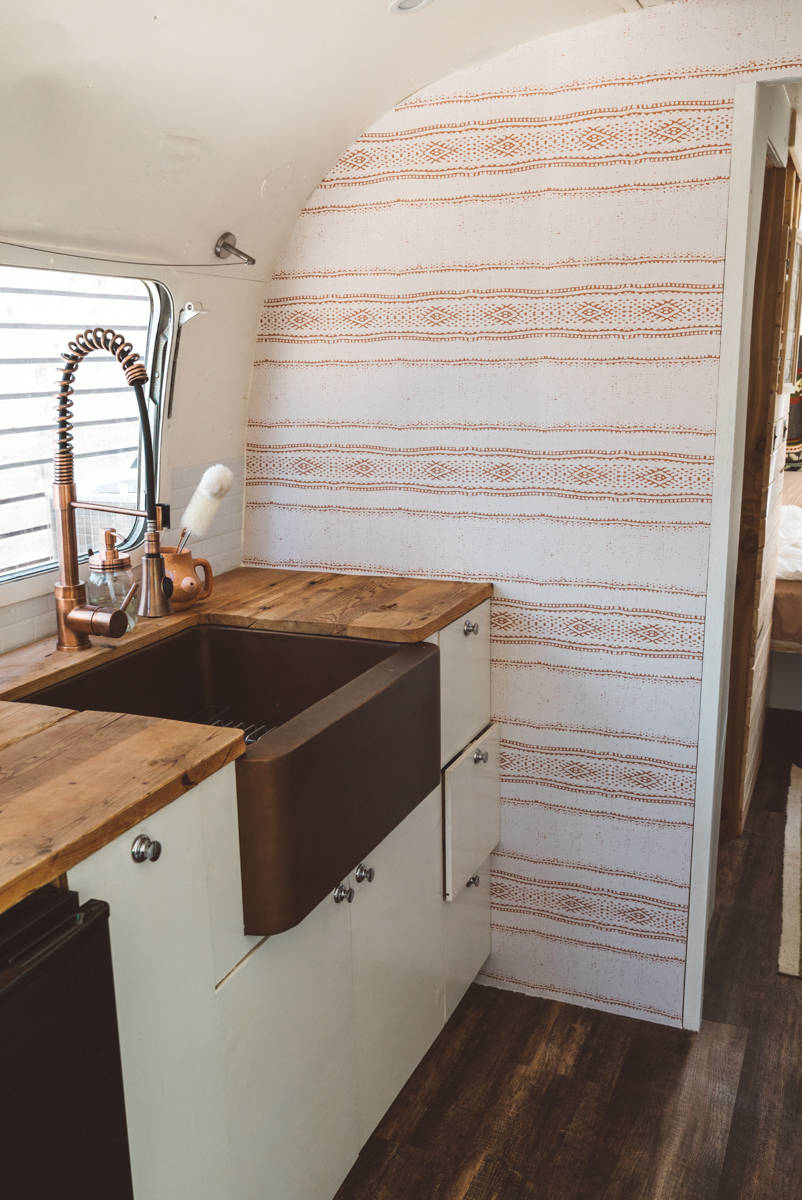 Spa Getaway Washroom: If you are a fan of our Airstream washroom, then wait until you see what we are doing with it! It's going to be "next level awesome." While most of the Airstream will be made up of neutral earth tones like brown, orange, beige and olive green, the washroom is going to be bright and very different than the rest of the Airstream. Think Moroccan vibes with a splash of Mexican Talavera. We've already replaced our shower head with the Nebia by Moen which I'm VERY excited about.
Nebia by Moen uses patented atomization technology to create a spa like shower experience which gives you 2x greater coverage while cutting down water usage in half. I say spa-like experience because the way it works is it controls the water droplet size, spray pattern and droplet velocity which creates a perfected thermal experience. Renovating our Airstream isn't just about making Luna look prettier, but more importantly by making her more practical, eco-friendly, sustainable and as natural as possible. Our previous shower head was a slow release but we didn't get the coverage that we will get with the Nebia by Moen.
More coverage = less time in the shower = even less water consumption. WIN!
We have been supporting businesses, like Nebia, that have the same values as ours, to create a living environment that is a reflection of a better and healthier present and future. We've always been conscious of our water consumption while living in the Airstream, especially when we are off-grid because we have a limited amount of freshwater storage.
BONUS: Nebia is extending the discounted pre-order price for Nebia by Moen PLUS offering Free Shipping to the U.S. on all of their products now through June 16. So now is the best time to get yours!
Plant Magic Cabinet: We used a bunch of 1x4 pine wood to make one of our walls more interesting looking. We also added in a small apothecary cabinet where I'll store my favourite essential oils and plant medicine. Yes, my other calling is witch doctor.
The Dining Area: We are still going back and forth deciding whether to cut our dining room table in half along with the benches. It does take up a lot of room and cutting it in half would open up that space quite a bit. It's also nice to have a large table to have family over for dinner. Add in the fact that it currently converts into a king plus size bed, which is great for sleeping 3 of our friends or 20 of Kai's, it's hard to part with. We shall see, we shall see…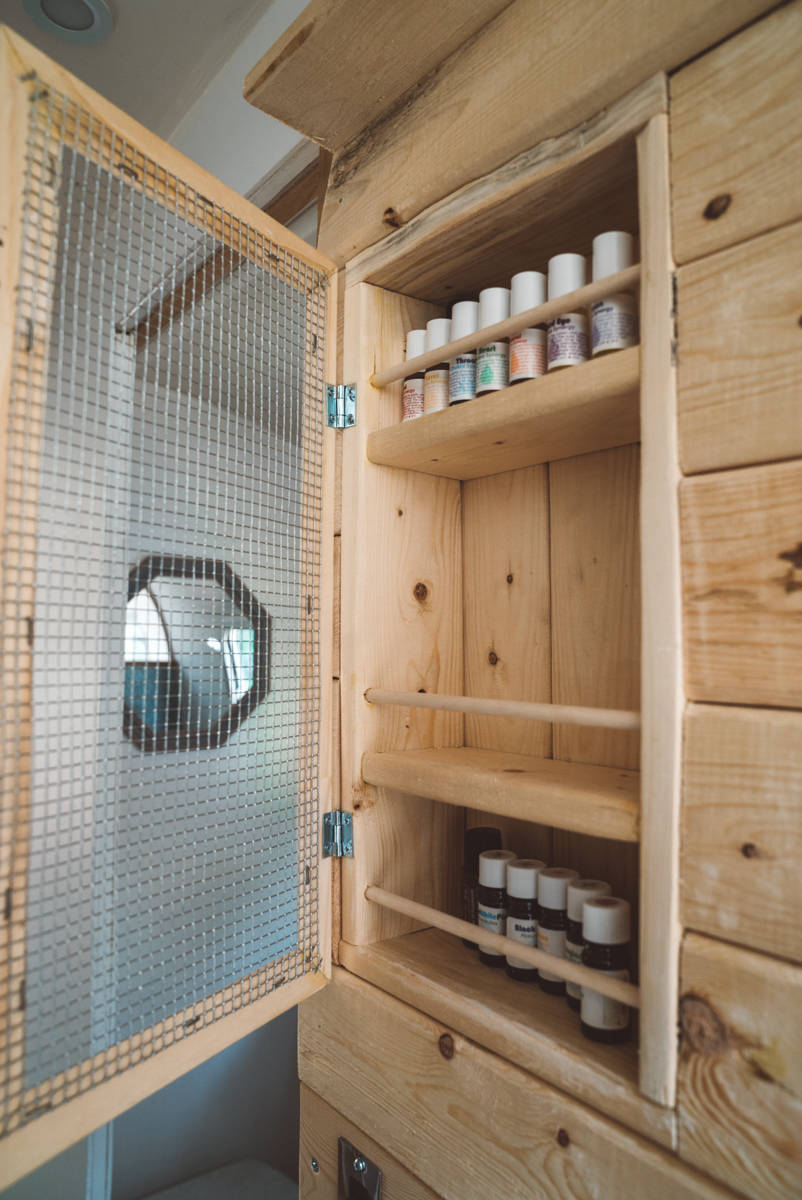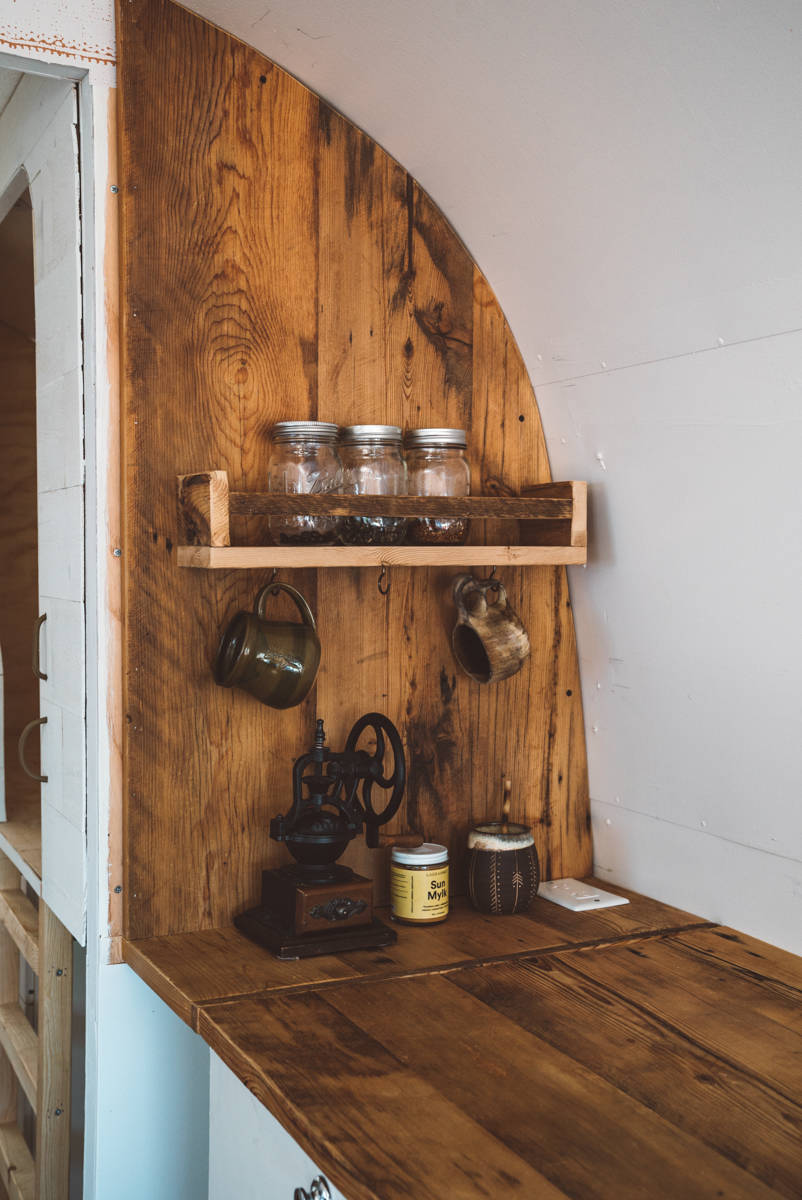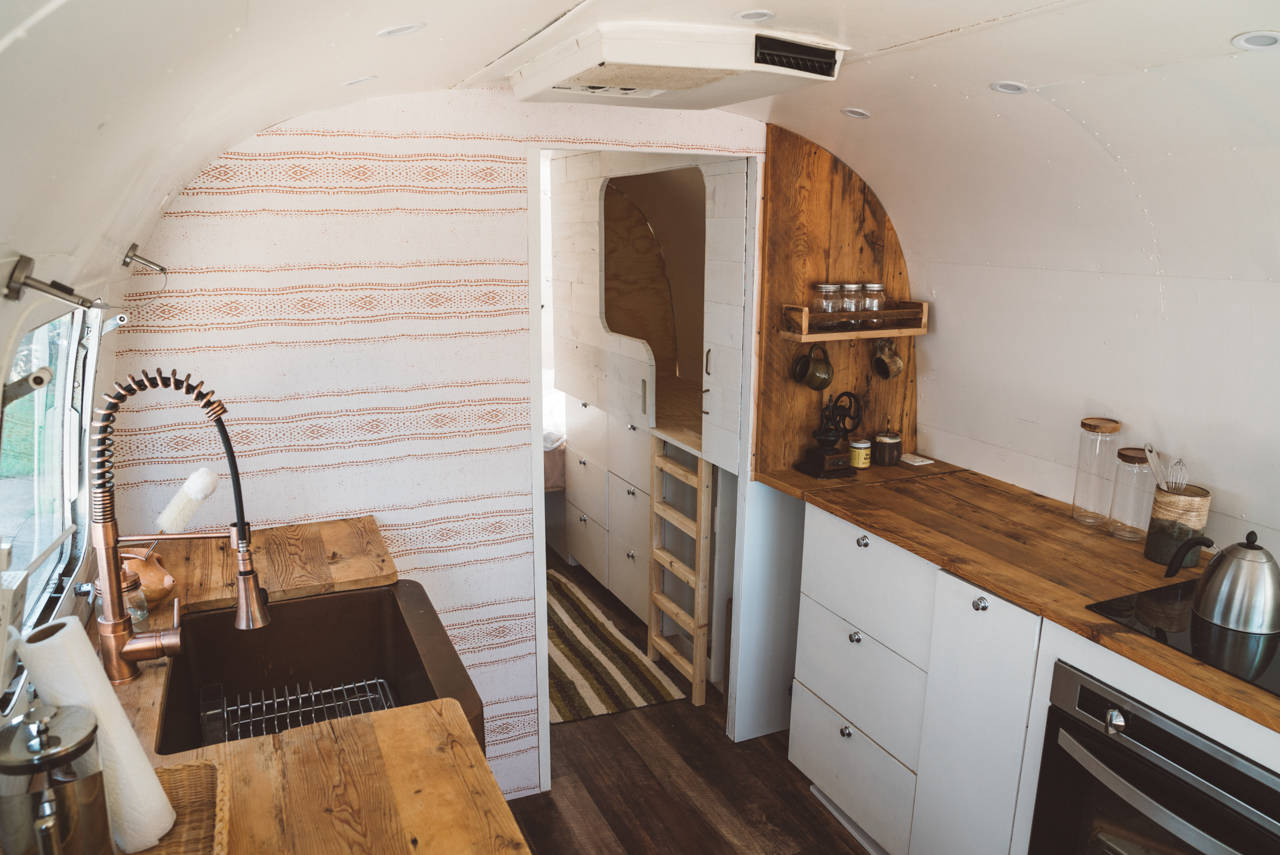 Renovating Our Airstream to be Eco-Friendly and Sustainable
We've been very mindful of the items we've been purchasing and adding into this Airstream renovation/re-design. I've been doing a ton of research on the companies I'm buying from to make sure I'm getting the best quality, choosing organic and natural as often as I can. Our new mattress, sheets, pillows, couch cushions and cover, paint, carpet, kitchen utensils, etc. are all organic and naturally dyed. Many of the products are from smaller businesses, which I always try to support whenever possible. I'm already putting together another blog post sharing all of these companies with you.
That's where we're at right now. We are very excited about renovating our Airstream again and finally hitting the road as a family of 4 (yes, Atlas is coming too). Where are we heading first? The route isn't concrete quite yet, but we know we'll be heading west across Canada and depending on when the borders reopen, we hope to head south into the United States before October. It's road trip season y'all. I'm pumped to get back out there and explore!
Who else is planning a road trip this summer?
Where are you going?
Don't forget to watch our latest Airstream video which takes you into a more in-depth behind-the-scenes into our renovation.