Imagine a place where you can be your true authentic self. A place where you can express yourself on all levels, dive deep within and discover things and layers of yourself you hadn't previously tapped into. Where you can be exposed to teachers, topics and ways of living that will expand your mind, open your heart and make you look at the world differently. Now imagine if that place not only welcomed but celebrated all walks of life, despite age, race and beliefs. A place where children can run safely and free, meet other children and spend hours simply playing with sticks, rocks and dirt. Where "strangers" embrace each other lovingly and dance together into the most magnificent sunsets each evening. Where you ditch the $7 Whole Foods bottled coconut water and drink straight from the source itself. Where there's an abundance of wild food growing all around you and everyone respects and protects mother nature. A place where you can become the person you've always wanted to be. This utopia exists and it's called Envision Festival, and it has changed my life.
What is Envision Festival?
Nestled just outside of Uvita, Costa Rica, where the rain forested mountains meet the warm pacific ocean, is where Envision Festival takes place each year. What started out as a wedding celebration with a few friends 10-years ago, has grown into one of the most immersive and eco-conscious festivals in the world. Envision Festival is based on 7 pillars:
Sustainability – Developing sustainable solutions where guests depart with the tools to integrate into their own lives and communities.
Music – Delivering cutting edge music that blends genres and creates a positive and communicative interactive dance floor experience.
Spirituality – Creating a safe space to share knowledge and ideas, while enlightening all those traveling different paths.
Movement – Inviting you to awaken your body, strengthen your soul, enlighten your mind, and open your heart to express your true self in all of your beautiful glory.
Health - Promoting conversation about how best to apply this powerful knowledge, both eastern and western, to treat ourselves, while keeping sustainability of the planet in mind.
Art - Living is an art form. Envision curated a 360 degree immersive art environment that blends the edges of the canvas with the world around it.
Education - Inviting thought-leaders and change-makers in every field of the pillars to learn new ideas, and inspire each and every one of us to create the world we ENVISION.
I had heard of Envision Festival a few years ago and knew it was an experience I wanted to one day have. Flash back to 1-week prior to Envision Festival 2020, Siya and I decided last minute to book a flight to Costa Rica using our American Express Reward Points and be part of the festivals 10-year anniversary. After a 5-hour flight and 3.5 hour bumpy bus ride, we found ourselves in the middle of the jungle. Here, we would spent the next 7-days tent camping with our 16-month old daughter and having one of the best experiences of our lives. Talk about an adventure! Just the medicine we didn't know we desperately needed.
How did Envision Festival change my life in just 7 days?
It challenged my fears and worries
It may surprise you to learn that I'm an anxious person who worries a lot. It's something that I've struggled with my whole life and has intensified over the past few years. I understand that it's in my conditioning. Anxiety and worry are two things that I was always exposed to growing up and are characteristics I have to learn to unlearn.
When we arrived at Envision Festival the first night, I become overwhelmed with fear and anxiety. Kai was the only baby on the bus ride in, and I was worried that this experience may be too intense for her. I was concerned that Kai would hate sleeping in a tent on a thin piece of foam and that poisonous snakes and scorpions would climb into our tent at night and bite her. I was convinced that the music would keep us all up at night, and the tent would be so hot that we would melt into a pile of nothing. These fears quickly vanished when I realized how calm and relaxed everyone else around me was. Loving, laid back energy is what the entire festival exuded. Even when my worst fear of almost stepping on a poisonous snake and finding a scorpion in my bag came true, I was chill about it. I'm pretty proud of that. Oh, and guess what? No one got hurt and everyone had an amazing time.
Rather than the music keeping us up at night, it helped us have some of the best sleeps I've had since having Kai. The amazing rechargeable fan we brought from home kept us really comfortable at night and no one turned into a puddle. In fact, we needed to wear a sheet over us because it got a bit cold. Kai was nothing but pure happiness the entire time. She may be my greatest teacher of all. When you're surrounded by people who are laid back and relaxed, it really helps you be the same.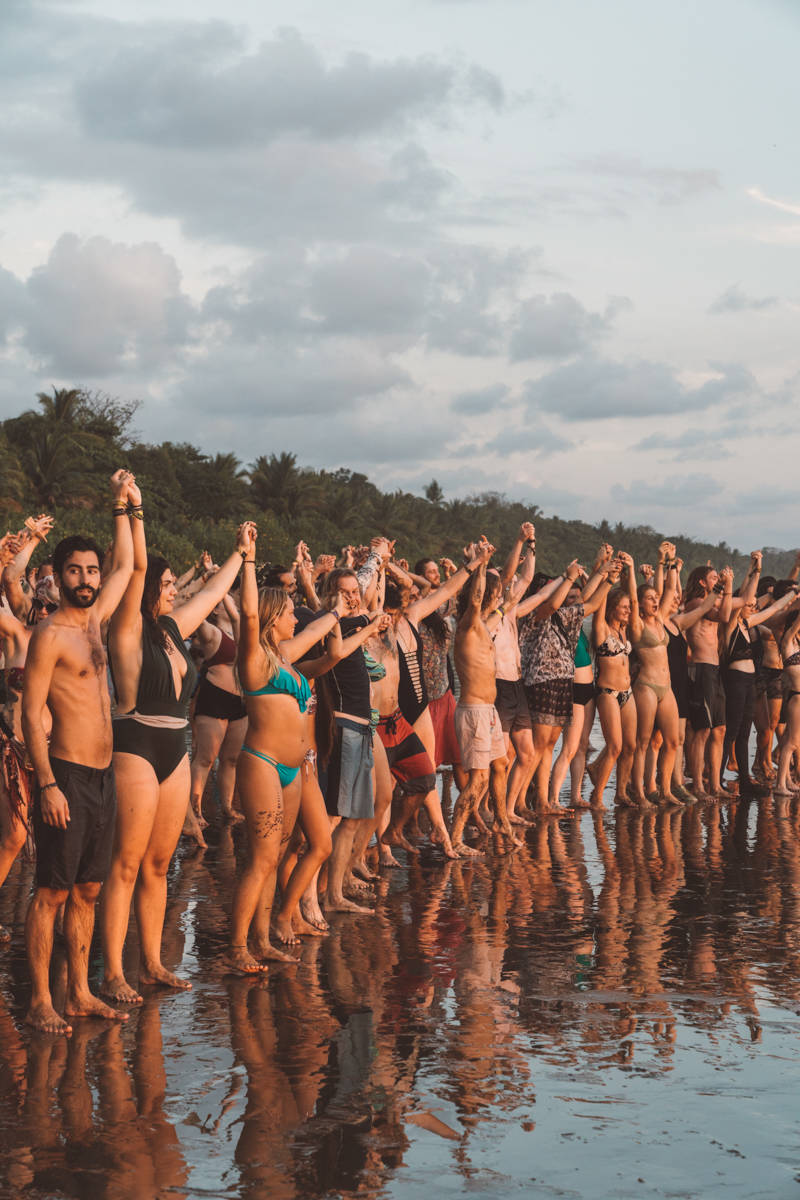 It made me understand the kind of people I want to surround myself with
A certain kind of person goes to Envision Festival and those people are my favourite type of humans. Inspiring, knowledgeable, open, creative, motivating, loving, world changing leaders are the kind of people that make up the festival. I need to be surrounded by humans who prioritize self-growth, human connection and truly want to change the world. The kind of humans that not only talk the talk but their actions are in alignment with their beliefs. I want to constantly be inspired and pushed, and the people at Envision Festival embody all of this. I found my people.
It taught me the importance of ceremony
I took part in several ceremonies throughout the week, and it made me realize how beautiful and special they are. Ceremonies are about honouring something or someone. When you get to honour something with other people, it's even more powerful and impactful. Cacao ceremonies, fruit ceremonies, fire ceremonies, are all of which I participated in during Envision Festival. Each ceremony gave me the chance to really be present and celebrate the things I don't usually give the time. The daily fruit ceremonies were my favourite.
At the fruit ceremonies, myself and 50 other people sat and experienced fresh juicy fruits together. When things are celebrated in ceremony, they are done slower with more presence and awareness. As a tribe, we breathed in the sweet scent and allowed our tastebuds to indulge in the delicious nectars of each fruit. We bit into each fruit at the same time, and it made the entire experience so much more special this way. It was a beautiful way to honour and enjoy these magical gifts from mother nature. I definitely want more ceremonies in my life.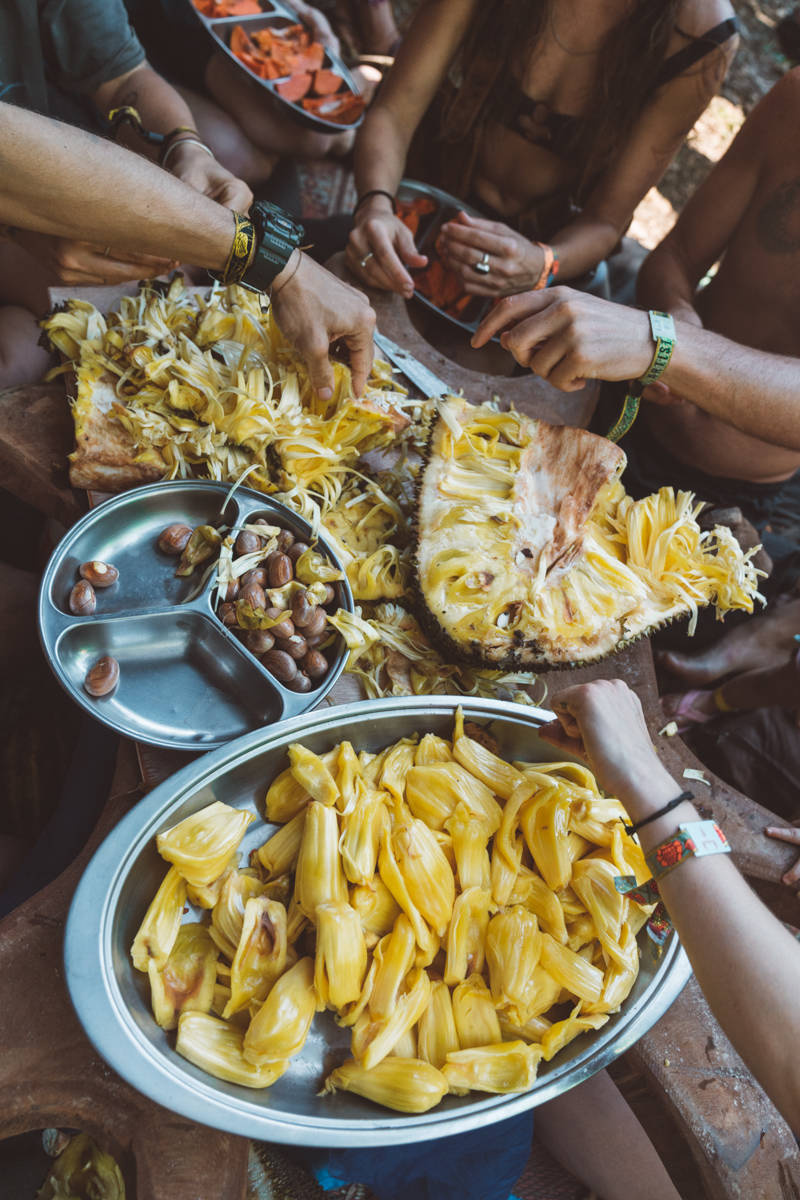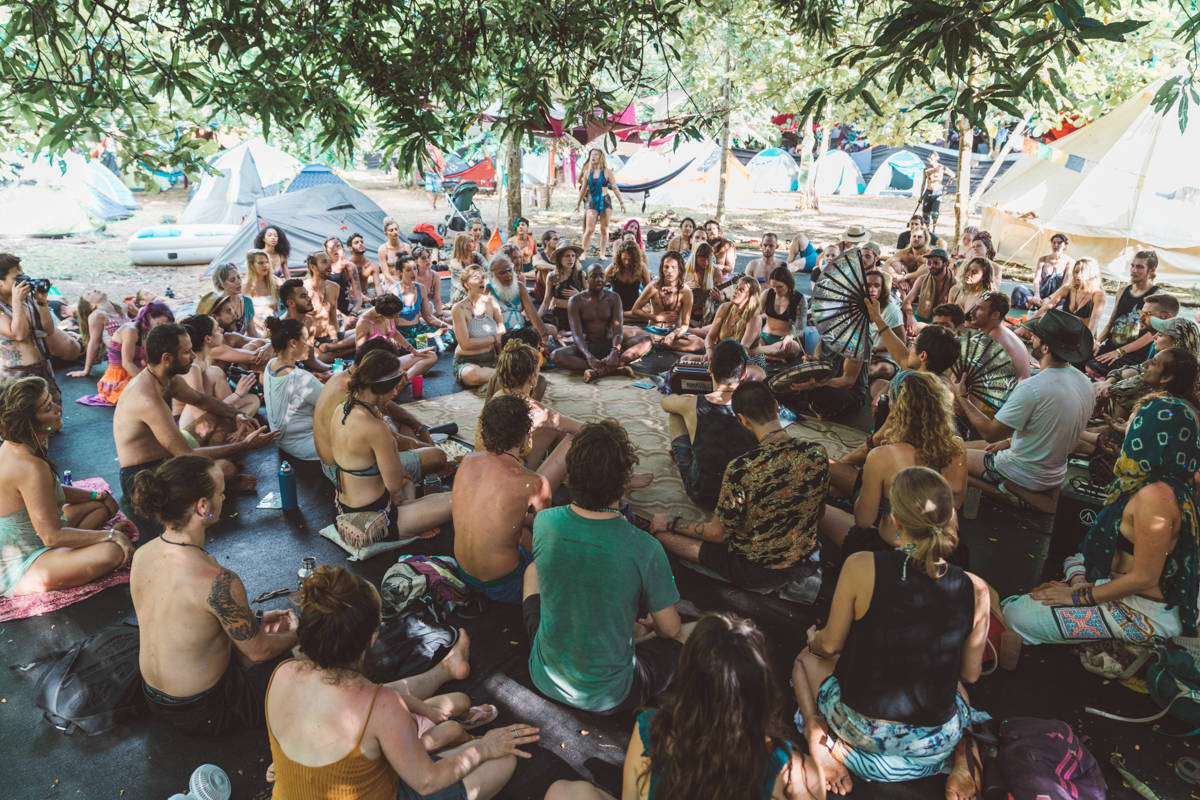 It confirmed that I need to live in an environment where I can grow my own jackfruit and mango trees, wear little clothing and forever be barefoot
Eating fresh fruit hand-picked from a wild tree all while walking barefoot with my boobs out, pretty much sums up how I spent my week. Now, I'm back to socks, boots and negative degree weather. Take me back to Envision Festival and Costa Rica por favor!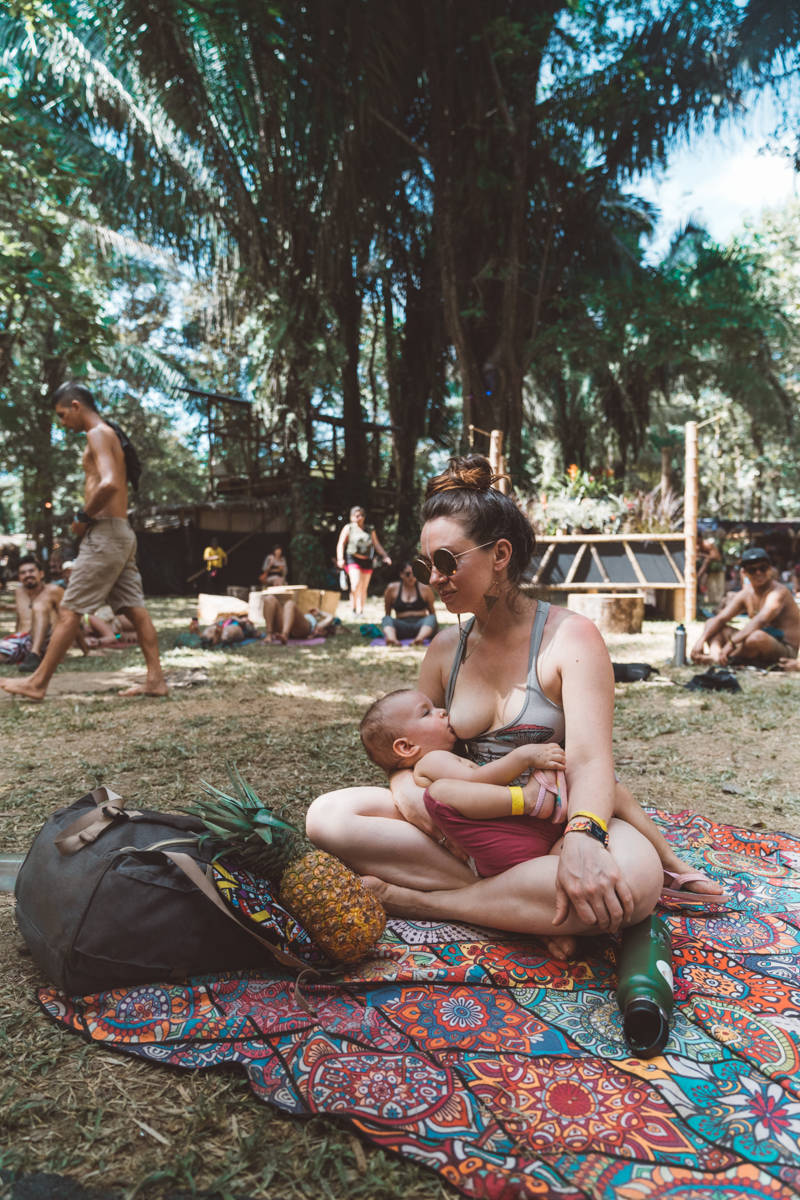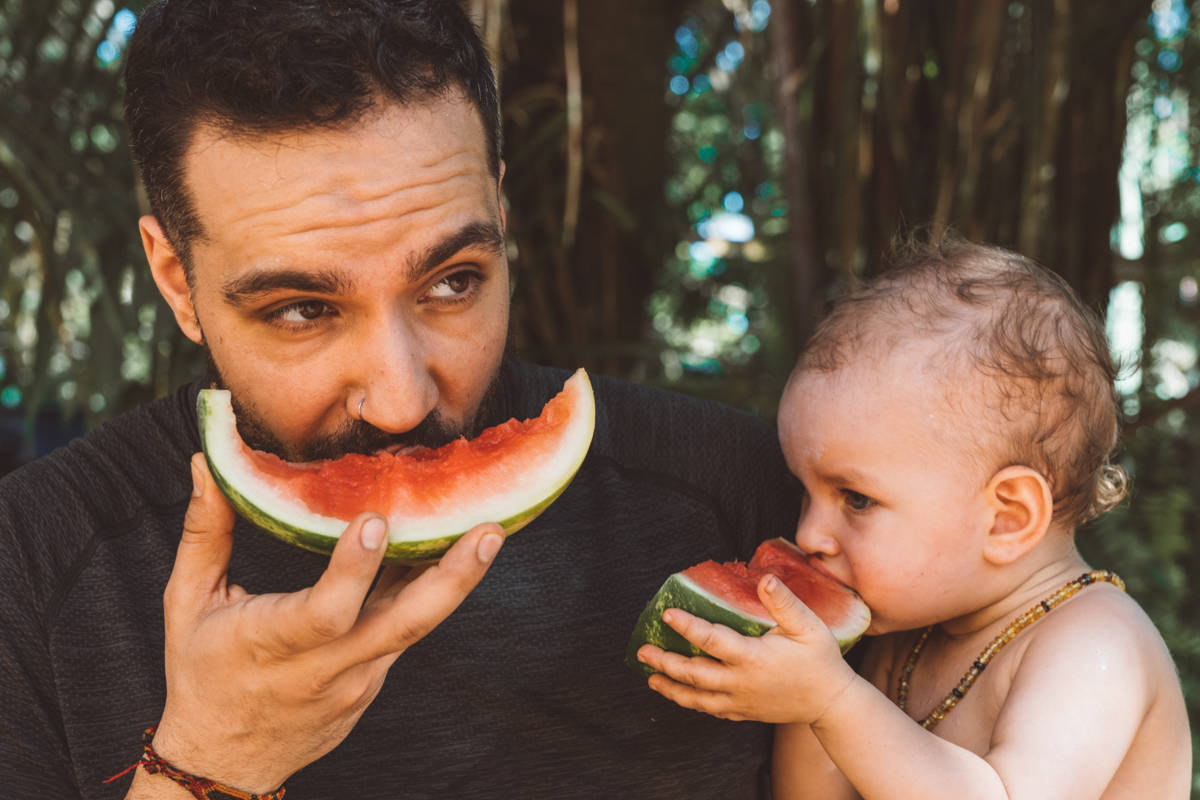 It made better understand the kind of community I want to live in
If we hadn't gone to Envision Festival, we wouldn't have connected with the founders of an intentional community that we may end up living in! Years ago, when Siya and I started talking about living in community, we had a vision of what that would look like. It would be made up of a tribe of all ages, have a community garden and living space, individual dwellings, be somewhere warm all year round and not too far from an airport. Alegria Village in the San Mateo hills is the place we envisioned.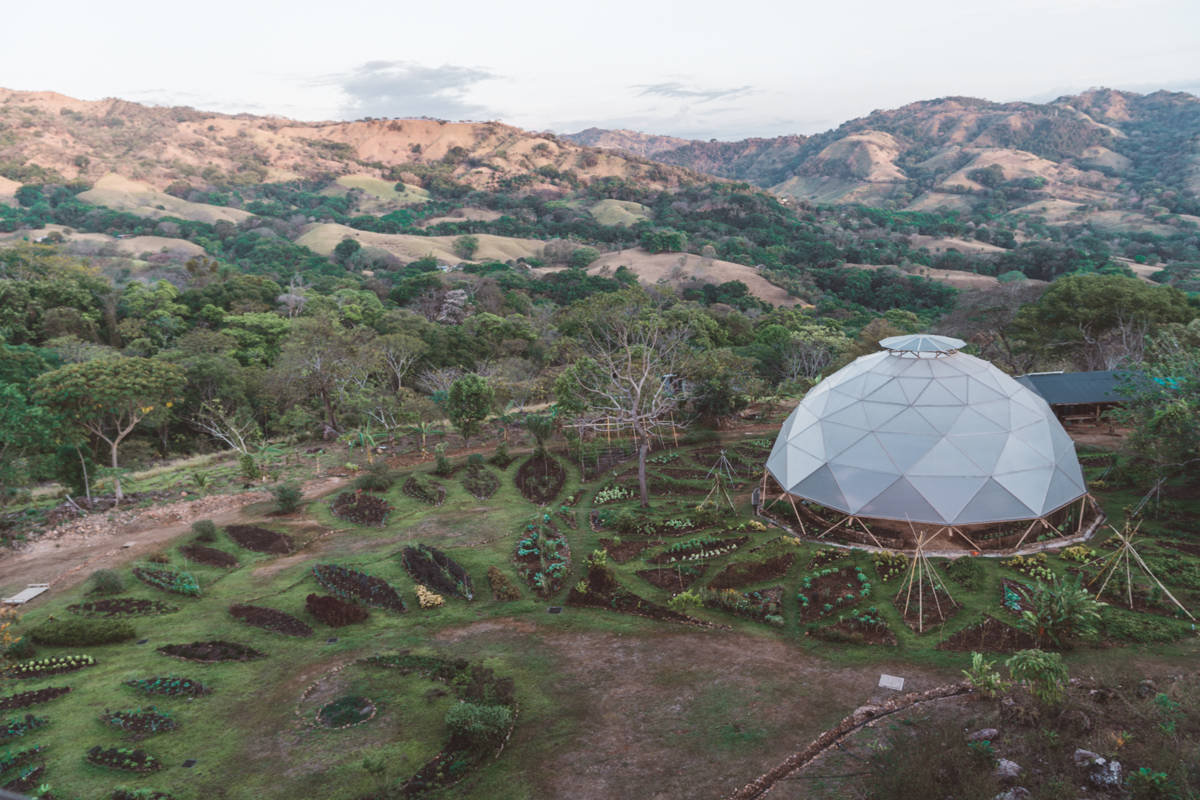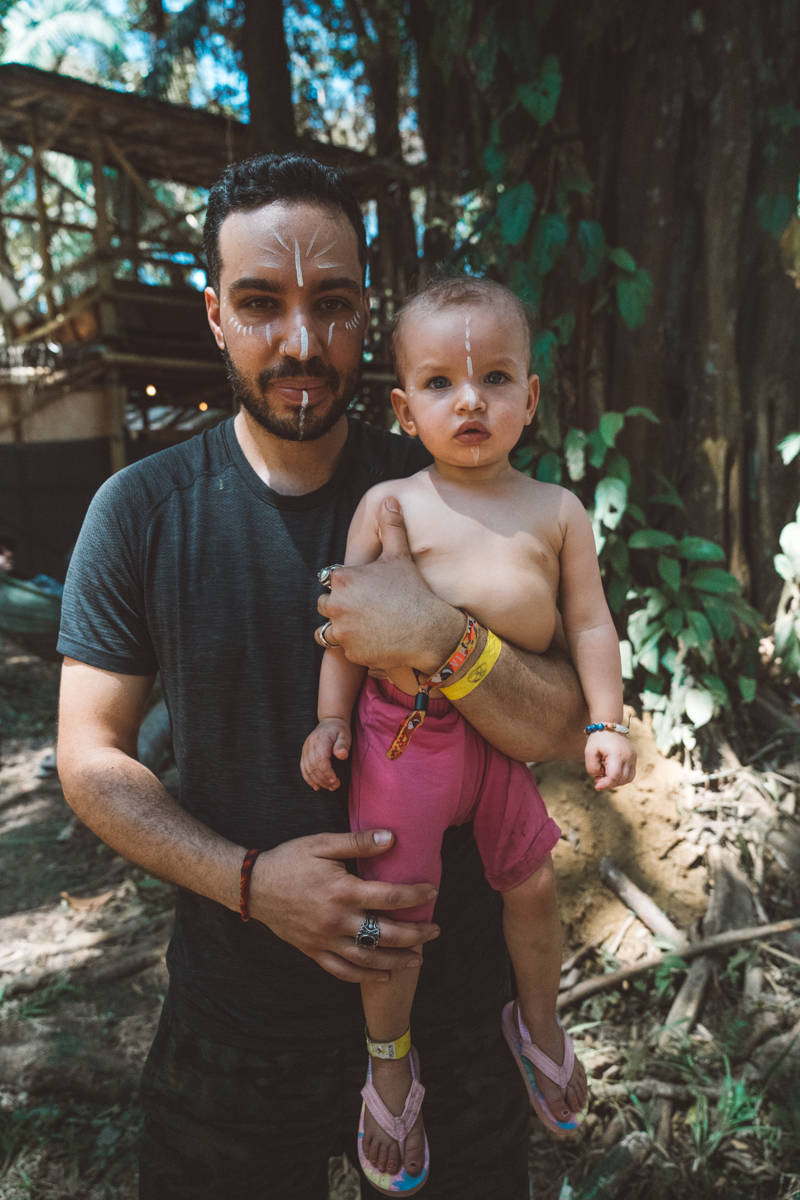 I already know where I'll be at the end of February 2021. Envision Festival baby! I literally cannot wait!!
What's one travel experience that changed your life?