Winter doesn't have to be feared and avoided. With these 9 unique Toronto experiences I'm about to share, you will be loving the season instead of becoming a victim of the winter blues.
As someone who was born, raised and still calls Canada home, I've learned how to embrace the winter months of November through April. Because let's be honest, there are really only a few options for us Canadians when it comes to cold weather. You either head south shortly after Thanksgiving, stay cooped up inside for 5 months each year cursing at every snow flake that lands outside your window or get yourself outdoors and learn to love this time of year. But, how do you do the later exactly?
Steps for Fighting the Winter Blues
1. The first step is to tell yourself you love winter. Seriously. Go look in the mirror and say to yourself "I love winter." The more you tell yourself this, the more you'll start actually loving winter. That's the beauty of rewiring your thought patterns.
2. Get yourself warm outdoor clothing! I cannot tell you how many times I've heard someone complain they hate winter because every time they set foot outside, they turn into a human icicle. You need to dress appropriately when you travel to colder destinations. Part of that is getting yourself a warm winter coat that can sustain the coldest of temperatures. Siya and I got new, very warm, winter coats this year from Wuxly – a Canadian outerwear company that embraces the values of quality materials, high performance, animal friendly/vegan (no goose down or coyote hoods over here) and is Canadian made. The company is also committed to post-consumer recycled material. This means that as of this year, 90% of their insulation product line (made from 100% vegan PrimaLoft which is the best goose-down alternative on the market) will contain a minimum of 50% recycled material in order to reduce their impact on the earth. I am ALL about supporting companies that instil the same values Hopscotch the Globe does.
3. Take Vitamin D supplements. Liquid sunshine baby!
4. Find activities that feed your soul and give you the mental health break you're so needing. One of my favourite places to stay busy in Ontario (my home province) is in one of my favourite city in the world – Toronto! Keep reading to find out my top picks for unique Toronto experiences that will help you fight the winter blues…
Unique Toronto Experiences to Treat Your Winter Blues
Let's talk about food first because well, no one likes to be hangry. Now, I've eaten at a lot…I mean A LOT of restaurants in Toronto. I've seen many come and go and have been a regular at others for more than 15 years. Let's talk about 3 of my favourite restaurants and why you need to eat your face off at each one of them.
Eataly
If you love fresh authentic Italian food and a happening atmosphere, you are going to obsess over Eataly. Located within the Manulife Centre at the corner of Bay and Bloor in Yorkville, Eataly is 50,000 square feet of high-quality Italian food! Depending on your mood, you can grab a biscotti and espresso to go or choose to sit down and dine in 1 of the 4 restaurants. Each restaurant serves your Italian favourites from pizza, pasta, seafood and even iconic Cotoletta alla Milanese prepared table-side. You can shop for all of the same ingredients used to make your food at the marketplace and even find local and Italian products, carefully-sourced by experts from small-scale farmers around Canada and many artisanal producers in Italy. You can even learn how to make pasta from scratch like you've always want to at one of the cooking classes Eataly offers.
Once you spend a couple of hours in Eataly, and trust me, you will, you'll forget you were in Toronto the entire time.
Vegandale Brewery
I've found my favourite fast-food vegan restaurants in Toronto, and it's called Vegandale Brewery. This place is DA-BOMB-DOT-COM!!! I mean, using words to describe how you feel about a place can be pretty effective, but sometimes a photo says a lot more.
Yes, the whole family has become obsessed with this place including our 16-month old daughter Kai. Our favourite items on the menu are the chicken fingers, buffalo fries, mac n cheese and big mac (which isn't actually on the menu so you have to ask for it specifically).
If you're someone who thinks vegan food is boring, or you have a meat-eating friend who refuses to try a "veggie burger," bring them here. This place is so good at turning all the classic comfort foods into plant-based masterpieces, that your meat-eating friends will probably forget mid-meal that no animals were exploited.
This place is also the first vegan brewery in North America. No honey, gelatin or isinglas are brewing up in this beer! Beer + comfort food + vegan = recipe for shoeing away winter blues.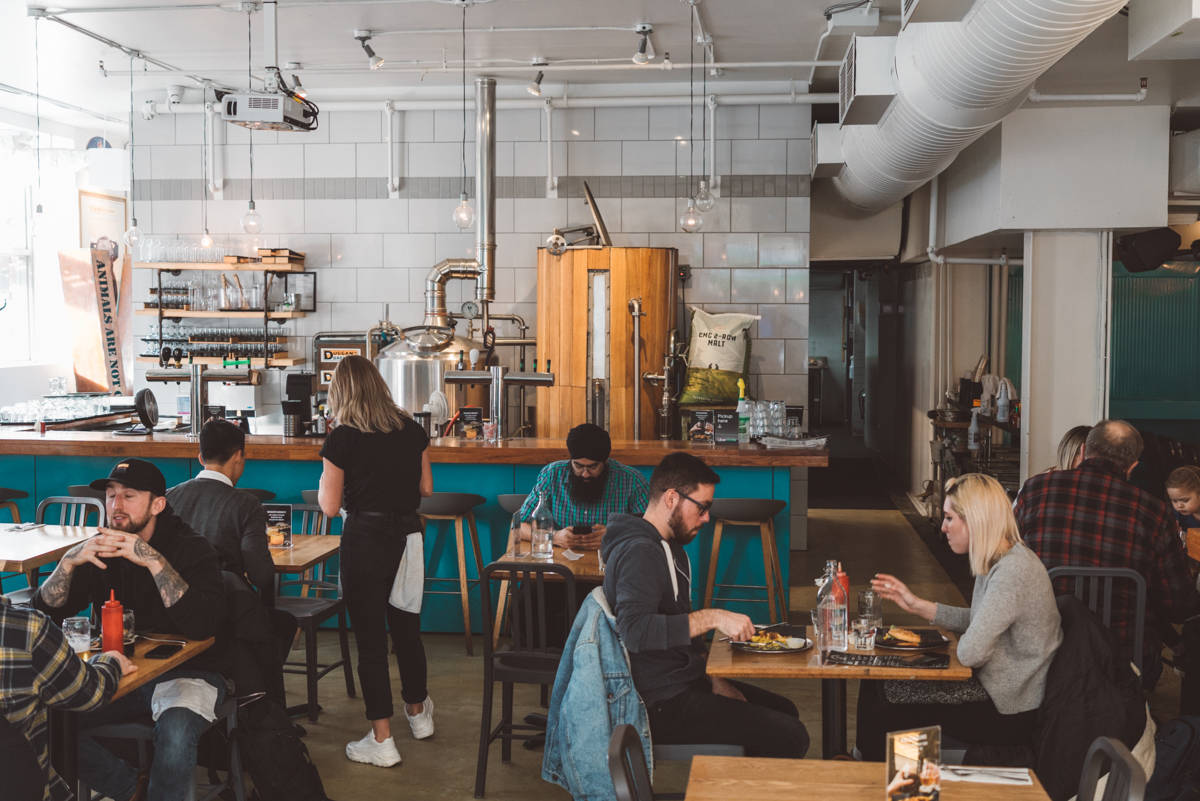 Planta
Speaking of unique Toronto experiences, Planta is definitely high on the list. If Vegandale brewery is my go to for vegan comfort food, Planta is my spot for a gourmet vegan experience! Never have I had vegan food like I've had at this place.
There are two Planta locations in Toronto. Planta Yorkville is their flagship location and serves up must-haves like cauliflower tots, lettuce wraps, bianca pizza, aloe views, chocolate terrarium + more. This location is my favourite of the two. The other location is on Queen Street West and serves up an asian-focused menu like the dishes you'll see in the photos below.
Dining at Planta is an experience. Each plate is a work of art in the way it's presented to the flavours and textures of everything you put in your mouth. It makes you want to chew slower and really appreciate the food in front of you.
Royal Ontario Museum Stroller Tour
It's very easy for new moms and dads to feel trapped inside during the winter with their little one. This is especially true if your child is 2-years old or younger. But, one of the most important things you can do to beat the winter blue is get involved with your community. There's a lot more going on than you may think.
The Royal Ontario Museum offers a 5 and 6-week program for parents with children under 2-years old called "Baby & Me." This program is offered during the winter months to give parents and caregivers a chance to enjoy adult learning and conversation in a baby-friendly atmosphere. Each week, you explore a different gallery space and discover extraordinary objects with a Museum Teacher as your guide.
The ROM has always been a nostalgic place for me. I've been going here since I was a really young child, which make it extra special to now bring my own daughter to a place I've always loved. I know you'll love it too!
Skating at the Bentway
Did you know you can skate under the Gardiner Expressway? Now, that's a unique Toronto experience that's also budget friendly.
In the 2018, the city of Toronto opened up the new skating trail that runs between June Callwood Park to just east of the Fort York Visitor's Centre. You'll find locals and visitors of all ages enjoying themselves even on the coldest of days. It also helps that there's a bar on site to help keep your insides warm.
Don't have a pair of skates? No problem! You can rent a pair on site.
+Focus Mindspace
If you've never heard of Breathwork before, you will in the next year or so. What is it exactly? Breathwork is a controlled breathing practise that elevates your state of consciousness and gives you the opportunity to heal mind and body. Everyone can benefit from breathwork, especially if you're dealing with stress, anxiety and depression, which is more common at this time of year. I had a one-on-one session with Brandon Wong which was my first Breathwork experience, but will definitely not be my last. I had gone into the session holding a lot of built up tension. I so desperately needed a release, and I got one.
Brandon had me lay down and do a two-part somatic breath for about 40 minutes. I found the journey to be both difficult, a bit scary and more so relieving. At times I felt like I was going to hyper-ventilate, but Brandon talked me through this part, and it only make me feel more at peace and relaxed afterwards. The session also involved sound and aromatherapy which really added to the overall experience. This unique Toronto experience left me feeling like a huge weight had been lifted off my shoulders and chest, and the rest of the day I felt energetic, present and happy, even in -20 degree weather.
Toronto Light Festival at the Distillery District
The Distillery District always does a great job putting on events throughout the year for the whole family to enjoy. From January 17-March 1st, the Toronto Light Festival is happening in the Distillery which has been made specifically to lift the collect spirit of the city during the coldest and darkest months of the year. The festival, now in its fourth year, offers a visual journey and playful adventure throughout the streets, exhibiting local and international light artists.
My favourite exhibit was the hanging lights. I think every Instagrammer loves this exhibit the most. It's very Instagrammable.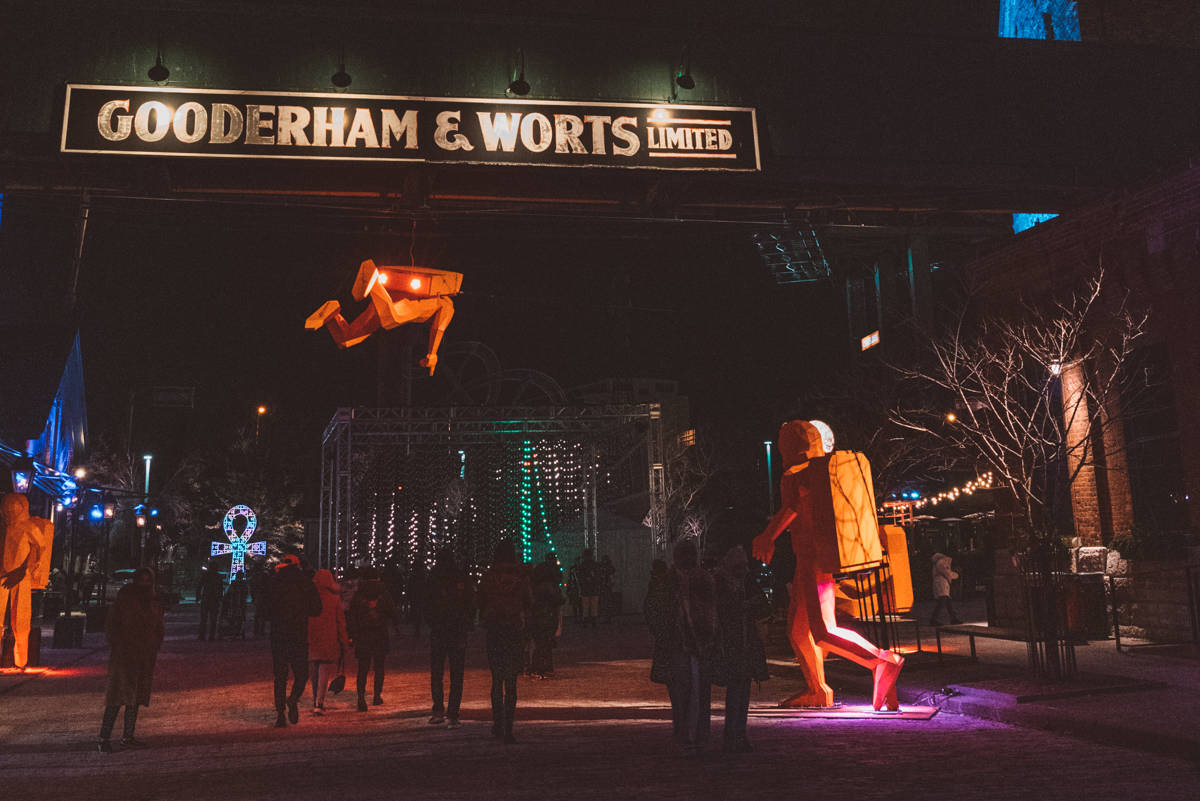 Winterfest
You don't have to be a baseball fan to enjoy Winterfest. This unique Toronto experience features two full days of baseball fun and winter festivities inside the Rogers Centre. There are Blue Jay player appearances, live entertainment, ball park tours and a lot of games and rides for the little ones. Kai had her first carousal experience, which she quickly became obsessed with (we went on it 7 times and she still wanted more). Although this event is over for 2020, I'm sure it will be back again next winter for it's forth year in a row.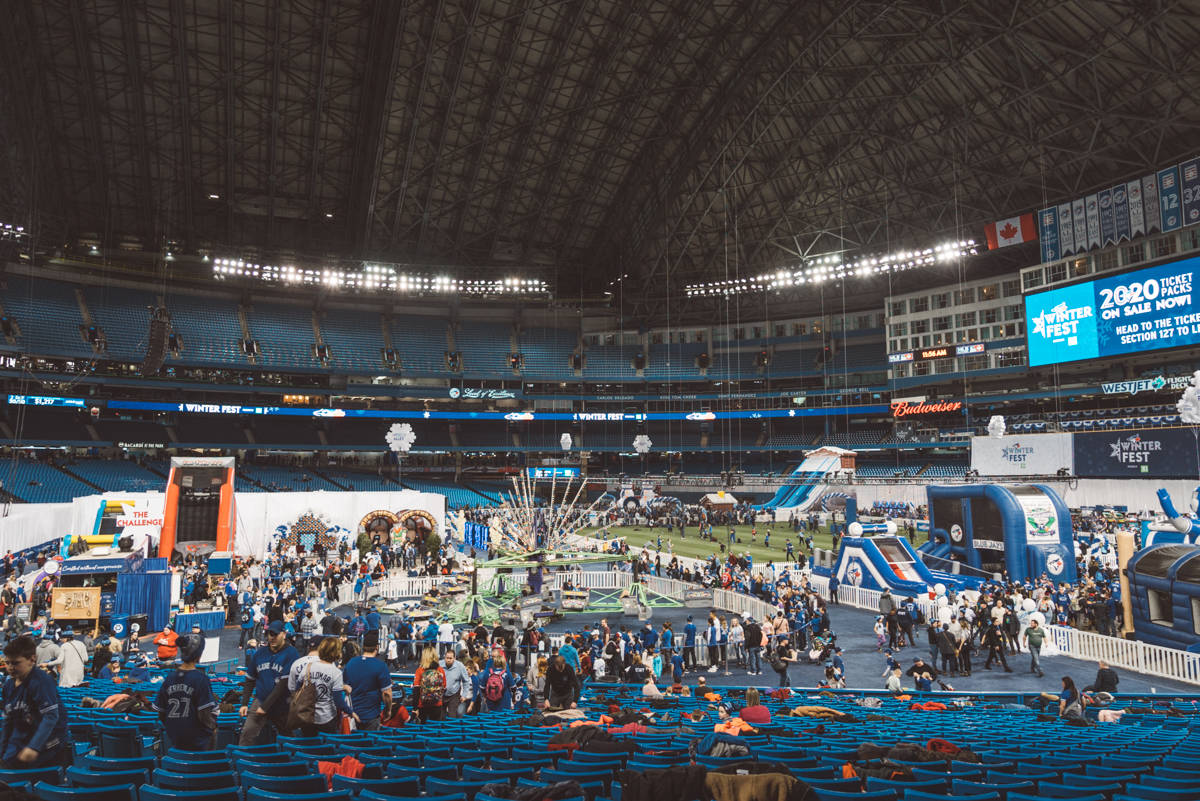 Terra Lumina Night Walk Experience
Terra Lumina at the Toronto Zoo is an immersive night walk that will make you feel as you have travelled through time and arrived in an enchanting world. The 1.5-kilometre route takes you on a journey into the future, the year 2099 to be exact, where humans and nature have learned to live in harmony. The story is told using colourful lights, music and video projection and hopes to inspire a new way of thinking upon your return to 2020.
This was my second night walk experience like this, and was just as enjoyable as the first one I did in Mont Tremblant. Not only is it a visually enjoyable experience for the whole family, it brings up an important lessons that we all need to be thinking about if we want to see positive change in our future.
How are you beating the winter blues this season?
A special thanks to See Toronto Now for sponsoring this post. As always, all thoughts and opinions are my own.