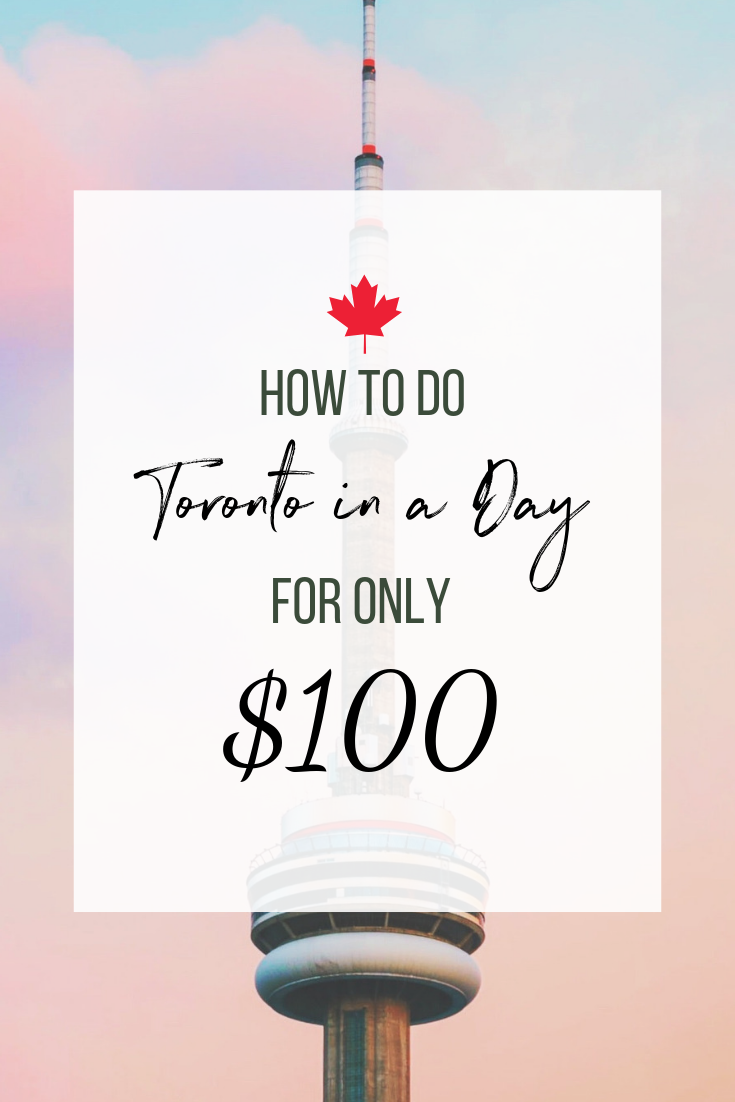 It was no surprise to me to hear that Toronto has been named one of the top destinations to visit in 2019 by NatGeo. There are almost too many things to do in Toronto and that's why it's one of my favourite places in the world. Toronto is so multicultural and can be very budget friendly. I love visiting Little Italy in the morning, Little India in the afternoon and wrapping up a day of exploration in Korea Town. It's like traveling the entire world in a day! How many times has someone showed you how to travel the world in a day for only $100? Well, Interac challenged me to do just that, and I think I did a pretty good job. Here are the best things to do in Toronto with one day and a budget as little as $100.
How to Do Toronto in a Day on a Budget
Have an Espresso at Sicilian Sidewalk Café
(Total cost for an espresso and cannoli: $6.50)
Start your day off right by having an espresso and cannoli in Little Italy. One of my favourite places to grab these two Italian necessities is at Sicilian Sidewalk Café. What I love about the place is you can close your eyes and feel like you're in Italy as you sip on your top quality espresso and home made cannoli.
Shop at Chandan Fashion in Little India
(Total cost for bangles: $5.65)
If you're looking for a sari for that Indian wedding you've been invited to or you just love Indian jewellery as much as I do, check out Chandam Fashion in Little India. Shopping can be surprisingly cheap if you know where to look and finding deals on beautiful items is one of my favorite things to do in Toronto. There's also a secret top floor level where you may be able to spot a future bride decked out in a traditional sari or a lehenga. I was able to buy a set of purple bangles for a wedding I'm going to this year for only $5. What a steal!
Lunch at Moti Mahal in Little India
(Total cost for a vegetarian thali and mango lassi: $16.95)
Food is my friend! That makes Indian food my bff! Get your taste buds ready for this. For only $10, you can get a meat or vegetable thali at Moti Mahal. One thali is enough food for two people. This Toronto restaurant is very popular in Little India. If you ask a local or any of the nearby shop owners which traditional Indian restaurant they recommend in the area, they will most likely steer you in the direction of Moti Mahal.
Find Korean Gifts at Mr. Pen in Korea Town
(Total cost for gifts: $31.20)
Pikachu magnets, Moomins stickers, popsicle socks, moon-lights, colourful stationery and more! Mr. Pen is a cute little shop in Korea Town where you can indulge in all things tiny, colourful and very adorable. Want a quirky gift for someone (including yourself) that will bring out their inner teenage girl, then this is the place to find it.
Poop Café in Korea Town
(Total cost for a poop sundae: $10.74)
Yes, you read the heading correctly. There's a toilet-themed dessert bar in Toronto that is all about poop. At Poop Café, you sit on toilet seats, eat from toilet bowls and share a table with a stuffed pooped emoji. That's the inside poop...I mean scoop. You can have a scoop of poop, ice cream style! You can order everything from cappuccinos served in a miniature toilet bowl, to poop waffles dressed in chocolate ice cream in the shape of well...you guessed it. In all seriousness, this place is the shit.
Echo Karaoke in Korea Town
(Total cost for 3-hours of karaoke: $25)
One of the most fun and affordable things to do in Toronto is a little Karaoke. You really can't plan a visit to Korea Town and not indulge. Echo Karaoke has private rooms where you and your friends can rock out to both top 40 and your favourite K-Pop. Or if you're like me, you can rent a room in the late afternoon by yourself and belt out songs from your favourite musicals. A little privacy can bring out the best in us sometimes, but don't hesitate to share the experience with friends or even strangers!
What do you think of these fun and affordable things to do In Toronto? And what would you do with $100 in the city you're from?