We tend to forget how much there is to discover in our own backyard, especially when there's an entire world to explore. But, a couple of weeks ago, Siya and I travelled back home (after spending 3 months in the California sun) to get a much needed dose of Canadian winter in Ontario's Highlands.
If you're asking yourself: What's Ontario's Highlands? You're not alone. That's a question I couldn't answer up until a few months ago, and I was born and raised in Ontario!
Ontario's Highlands is a region located within a short drive from the GTA/Ottawa. This area is a hidden gem filled with so many Canadian winter experiences that will make you feel like a true Canuck. What I love most about travelling is all of the firsts that come with it, but I never thought that would happen so close to home. But, it did and more than once! Not only did I conquer an ice wall for the first time, but I also witnessed a pack of wolves devour a deer carcass and saw my first moose!
So, while many head to the west coast of Canada to experience winter, I recommend being a little different and head to Ontario's Highlands for some winter fun. Whether you enjoy spending a long weekend in a cozy little cabin overlooking a frozen lake or heading out on the trails for some snowmobiling, Ontario's Highlands is a destination fit for everyone.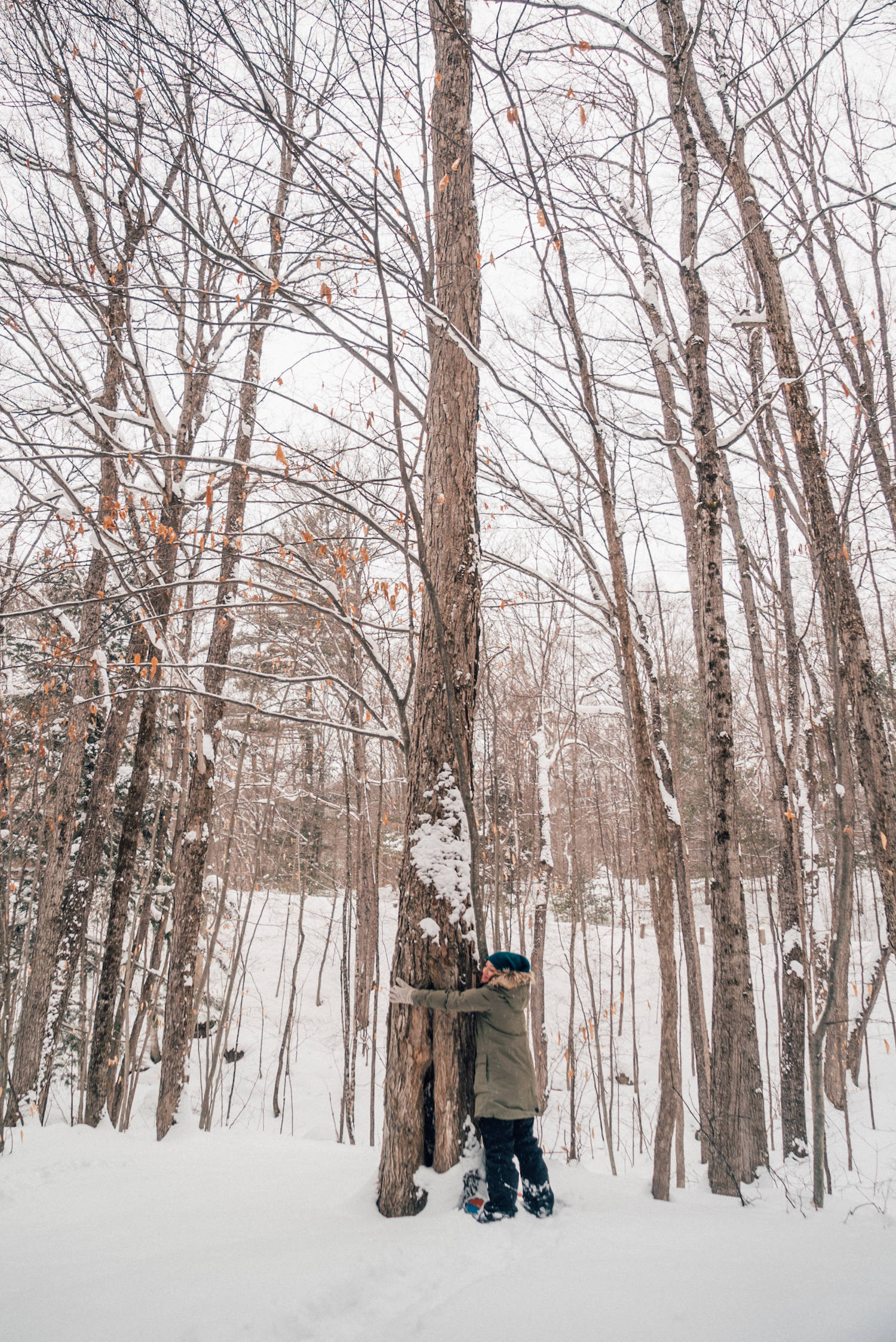 Where to Stay in Ontario's Highlands
A cozy cabin is the perfect place to start and end your day. Both Heather Lodge and Ogopogo Resort are family owned businesses. The owners will go above and beyond to make sure your stay is lovely.
Heather Lodge
We loved the quaint charm of Heather Lodge and also the fact that it's surrounded by forest with a beautiful lake and plenty of bird watching opportunities. As soon as we arrived, we felt a wave of relaxation come over us. The rooms are casually elegant and the soft lighting make it feel warm and homey. Chef James Jennings, who owns and runs Heather Lodge with his wife Maria, is well known in this area for his cooking. Siya and I got a taste of what he can do and as foodies, we definitely approve.
Rate: Starting at $290 CAD/night (2 person occupancy)
Ogopogo Resort
Staying at the Ogopogo Resort feels like staying at a friends cottage. Also located on a beautiful lake, surrounded by trees, you're forced to take a step back and enjoy the simple life. One of the very Canadian things you can do at Ogopogo Resort is skate on the outdoor hockey rink. At night it's especially beautiful and romantic with all the lights surrounding the rink which is set out in the middle of the lake.
Rate: Starting at $190 CAD/night (2 person occupancy)
What to Do in Ontario's Highlands
Winter is a unique season with so many cool things you can do only at this time of year. Ontario's Highlands has just about every type of outdoor winter activities you can dream of. Whether you want something a little more adrenaline pumping or laid back, you choose your own adventure.
Snowboarding at Sir Sam's Ski & Bike
Sir Sam's Ski and Bike is a family owned ski and snowboard hill that is perfect for beginners and intermediate. Siya and I had only gone snowboarding a few times in our lives, so these hills were perfect for us. We had a lot of fun that it was hard to get us off the slopes...that is until we heard they had had hot chocolate in the chalet. There's always time for hot chocolate on a winter day.
Rate: Sunday Special includes lift tickets and rentals for $45 CAD and children under 6 ski for free. This is the best deal if you're able to go on a Sunday. For other rates, check out the website.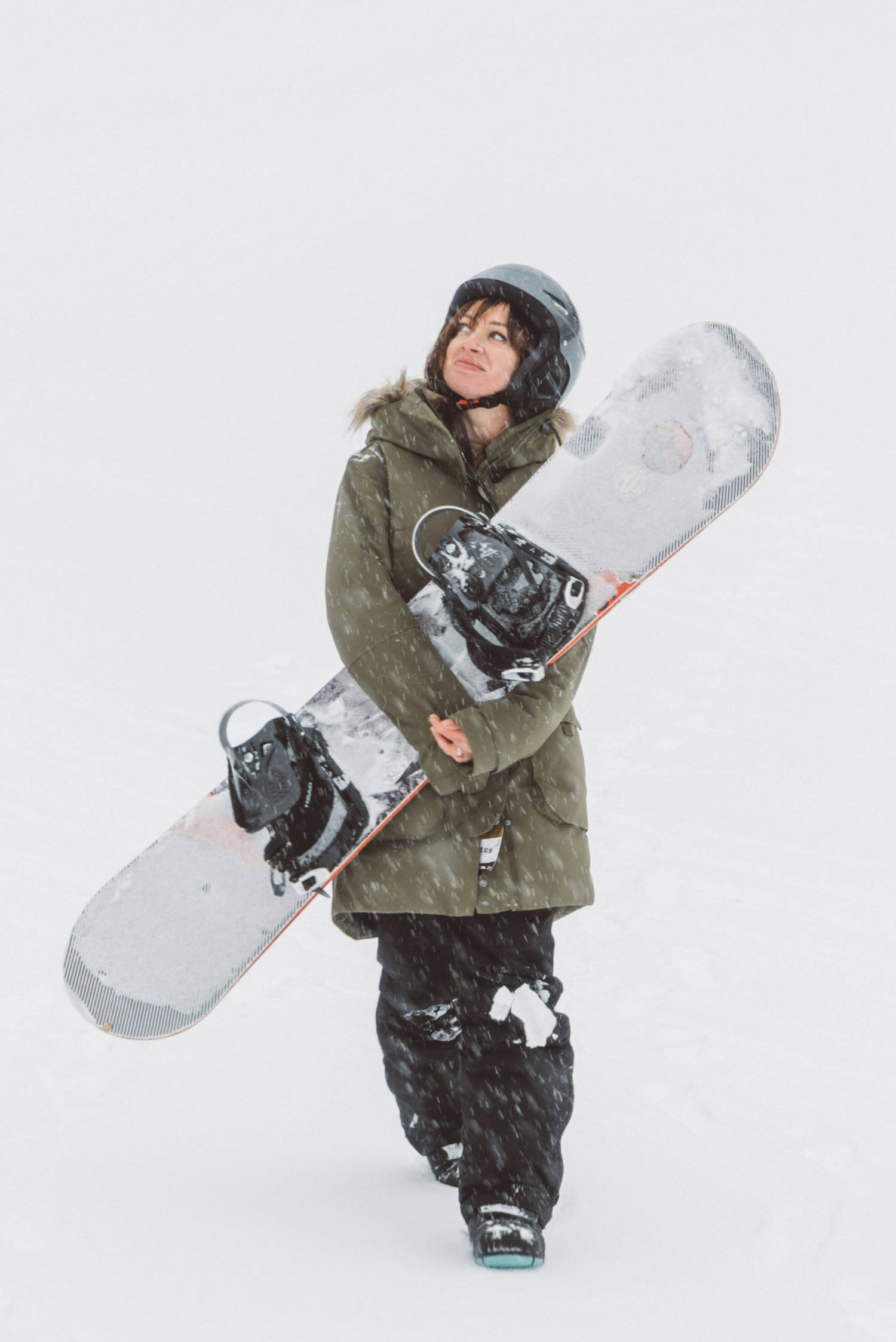 Cross Country Ski at Silent Lake Provincial Park
I used to think that cross-country skiing would be boring until I gave it a try last year in Alberta. It actually does take skill and is quite enjoyable. It's a nice and peaceful way to glide along the snow and enjoy nature.
Silent Lake Provincial Park has some great self guided trails to follow. You do need to bring your own cross-country equipment which can be rented from Algonquin Outfitters (located about a 45 minute drive from the park).
Rate: $28/adult, $22/student and $15/child for full day cross-country ski equipment package. It costs $17 per vehicle in the winter time to enter into Silent Lake Provincial Park.
Snowmobiling at Haliburton Forest and Wild Life Reserve
One of the most adrenaline pumping activities you can do in the winter time is snowmobiling. It's also an excellent way to get around when the ground is covered in several feet of snow. Snowmobiling is basically seadoing but on snow instead of water. You can rent a snowmobile from Haliburton Forest and Wild Life Reserve or bring your own. Make sure you dress well as it can get a bit chilly when you're riding at 50km/hour.
Rate: $274 on weekdays and$324 on weekends for a full day rental. Comes with full tank of gas (don't need to top it up at the end of the day). Insurance for the snowmobile is 10% of the rental fee before tax.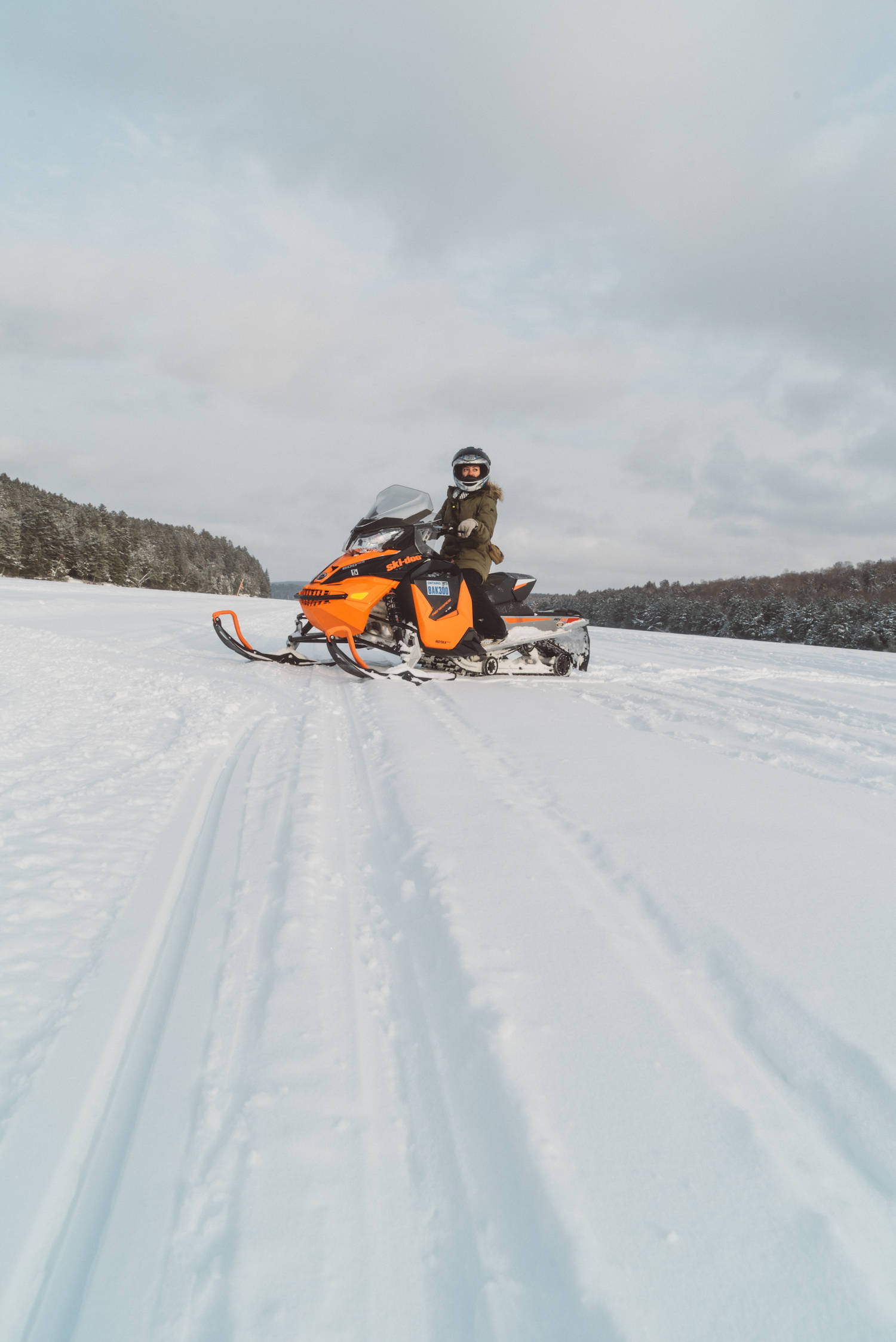 Watch Wild Wolves Feed at Haliburton Forest and Wild Life Reserve Wolf Centre
What's more naturally spectacular than seeing a pack of wolves feasting on a deer carcass? Now, I had never even seen a wild wolf before, so to get to see them feeding was an experience I'll never forget. The wolves at the Haliburton Forest and Wild Life Reserve Wold Centre are raised wild, meaning there's very little human interference. The pack of wolves started as two and were donated to the reserve years ago by a man who had them living on his property. The two mated, and eventually turned into a pack of ten which are now at the reserve and used for educational purposes. The men who look after them are so passionate about these wolves and know just about everything about them. They are very well taken care of, and every time there's road kill in the area, the carcass is brought to the reserve and fed to the wolves, turning a sad situation into a positive one.
Rate: $12/adult, $9/child (7-18-years old), Family Rate $25 (2 adults children and 3 children), children under 6 are free.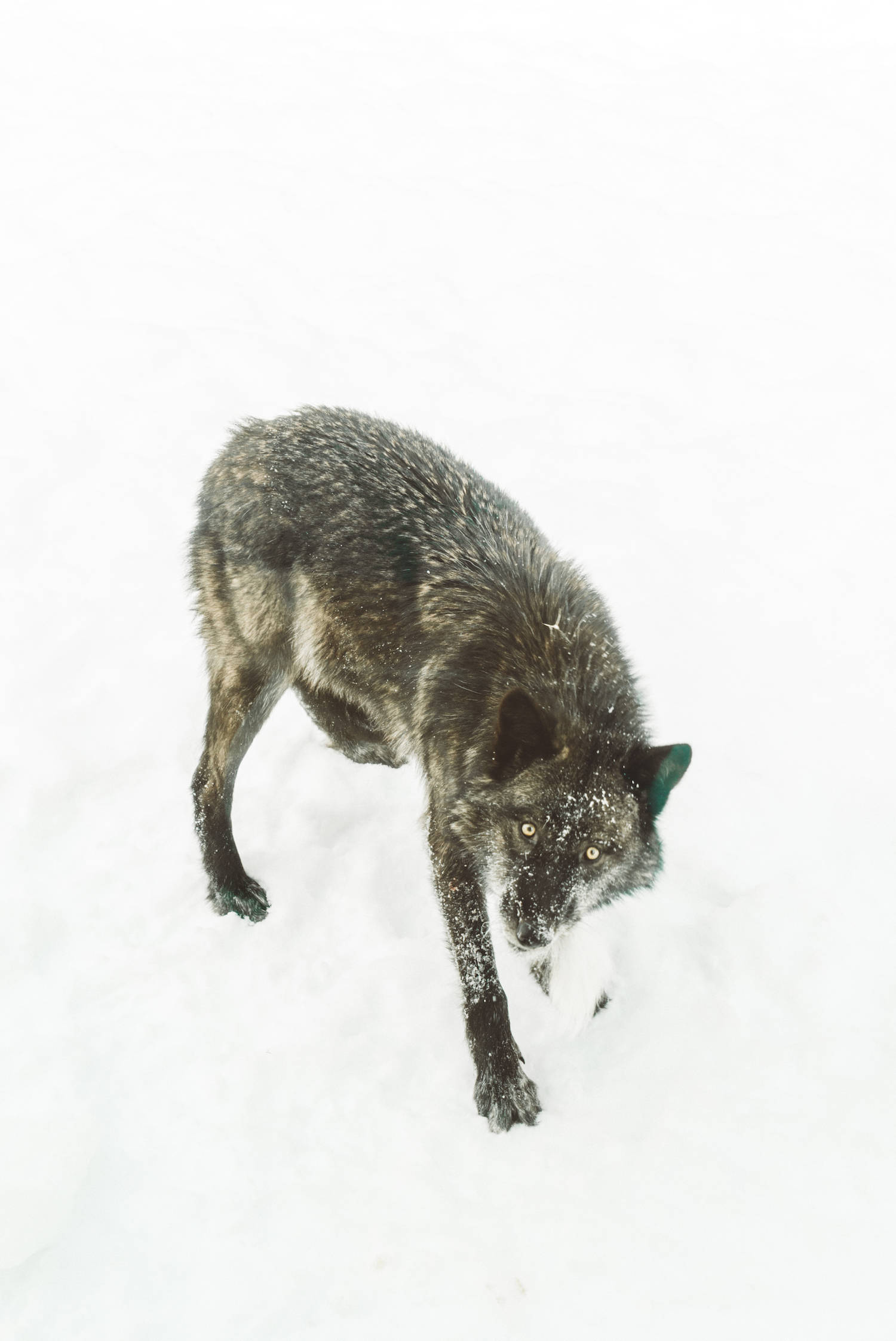 Visit the Wood Shop
The Wood Shop is located at the Haliburton Forest and Wild Life Preserve. You can order custom made designs or shop what's already in the shop. Everything is made using wood from the Haliburton forest that's been harvested in a sustainable way.
Rate: Free...unless you purchase something 😉
Ice Climbing with Yours Outdoors at Medeba Adventure Learning Centre
If you want to test your endurance and fear of heights, ice climbing is the way to do it! It takes a lot of muscle and stamina, but once you hit the top of a wall, you feel like you've truly conquered something great. We went ice climbing with Yours Outdoors at Medeba Adventure Learning Centre. Not only did we feel completely safe, the team was super encouraging and cheered us on right to the top of the wall.
Rate: $69 CAD/person for 2 hours of climbing, gear, 2 instructors and snacks. Minimum age is 14-years old.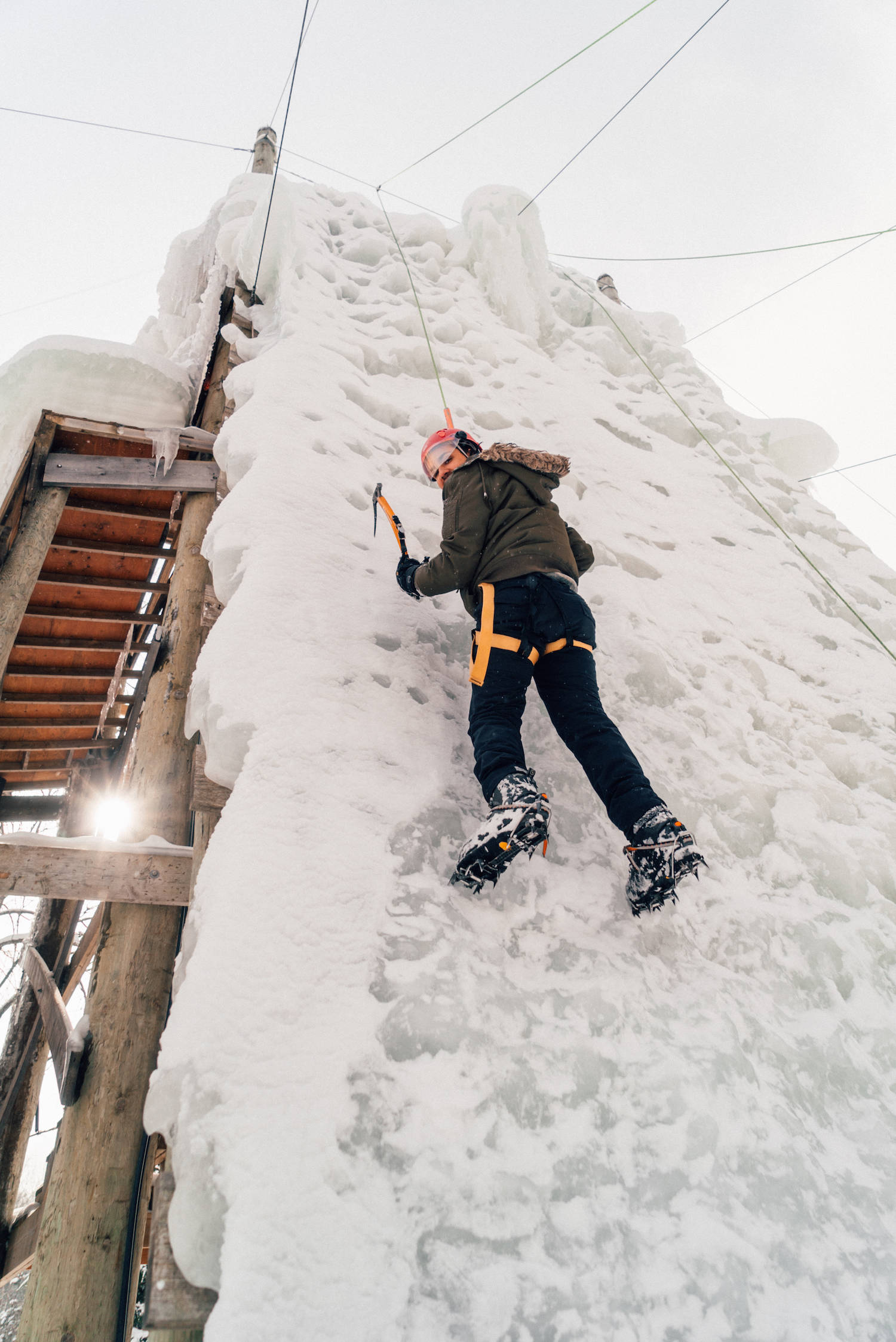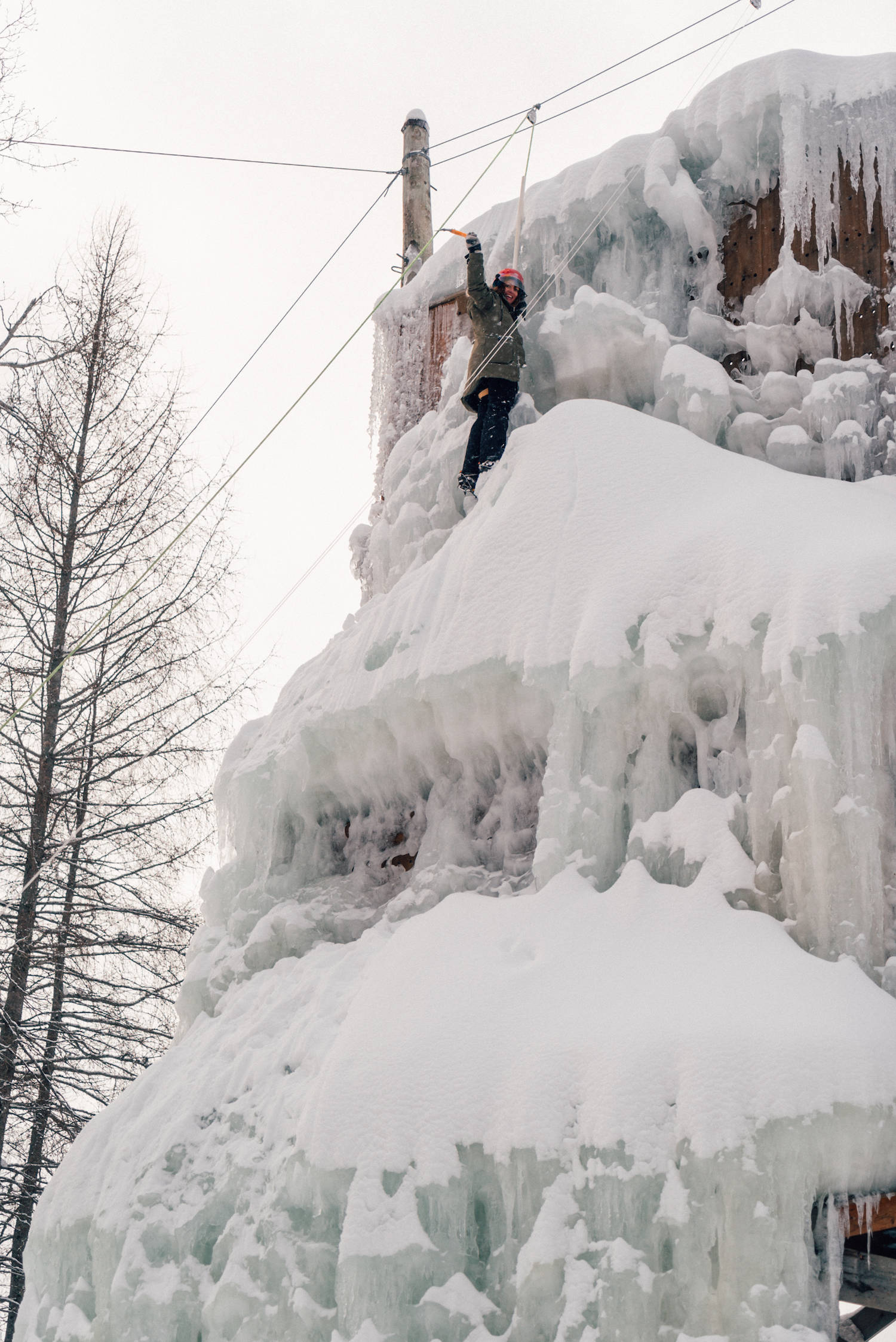 Snow Shoeing with Yours Outdoors
Another peaceful way to embrace the winter in a fashionable way is snow shoeing. It's in fact, one of my favourite winter sports. The shoes make you feel like big foot, making trekking across the snow a lot easier than if you were just wearing regular boots. While trekking across a frozen lake is nice, I prefer trekking through the forest. It's very peaceful and if you're lucky you'll see some Canadian winter birds, squirrels or even spot a moose.
Rate: Depends on package, but rates start at $25 CAD/person for a 2 hour tour and gear.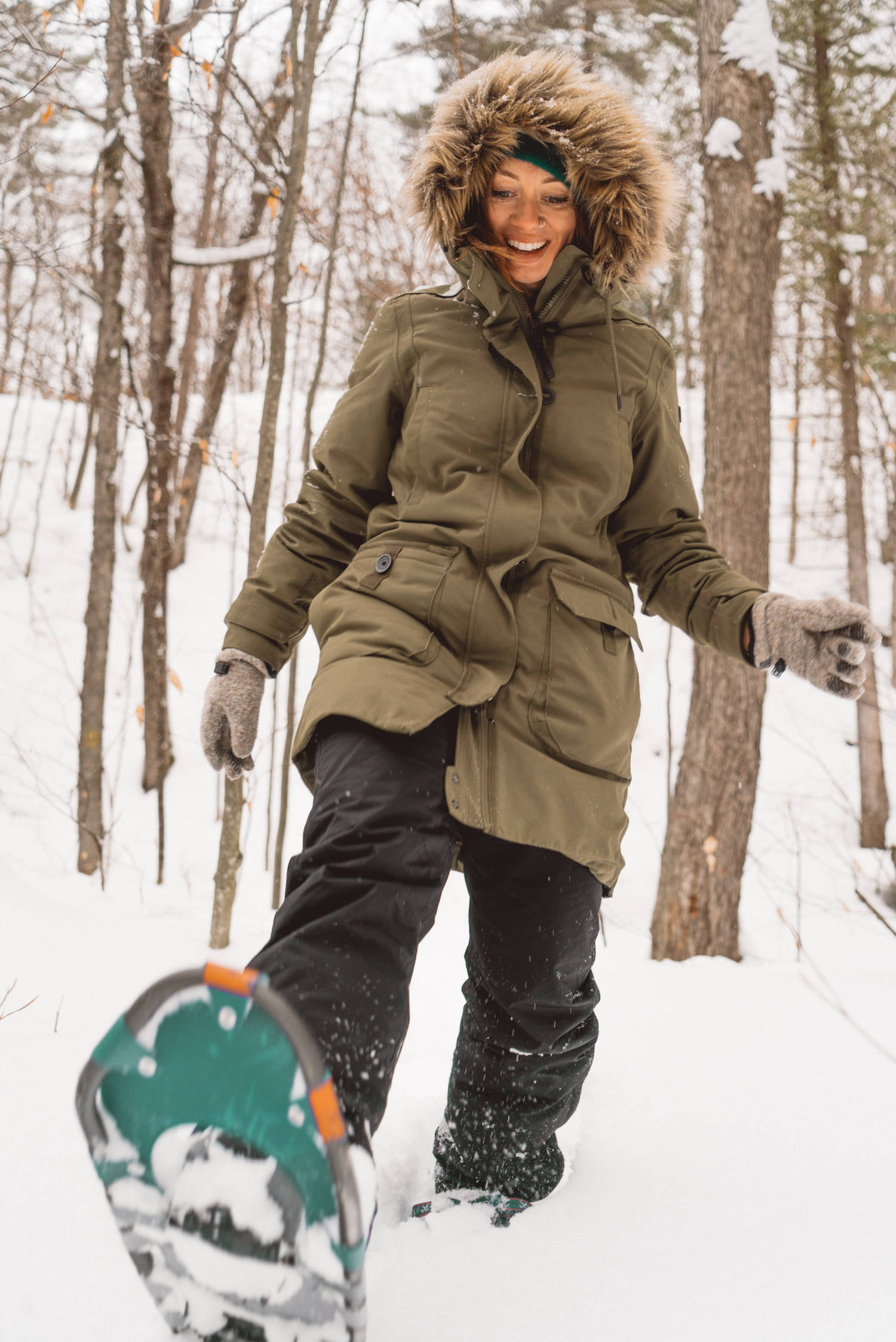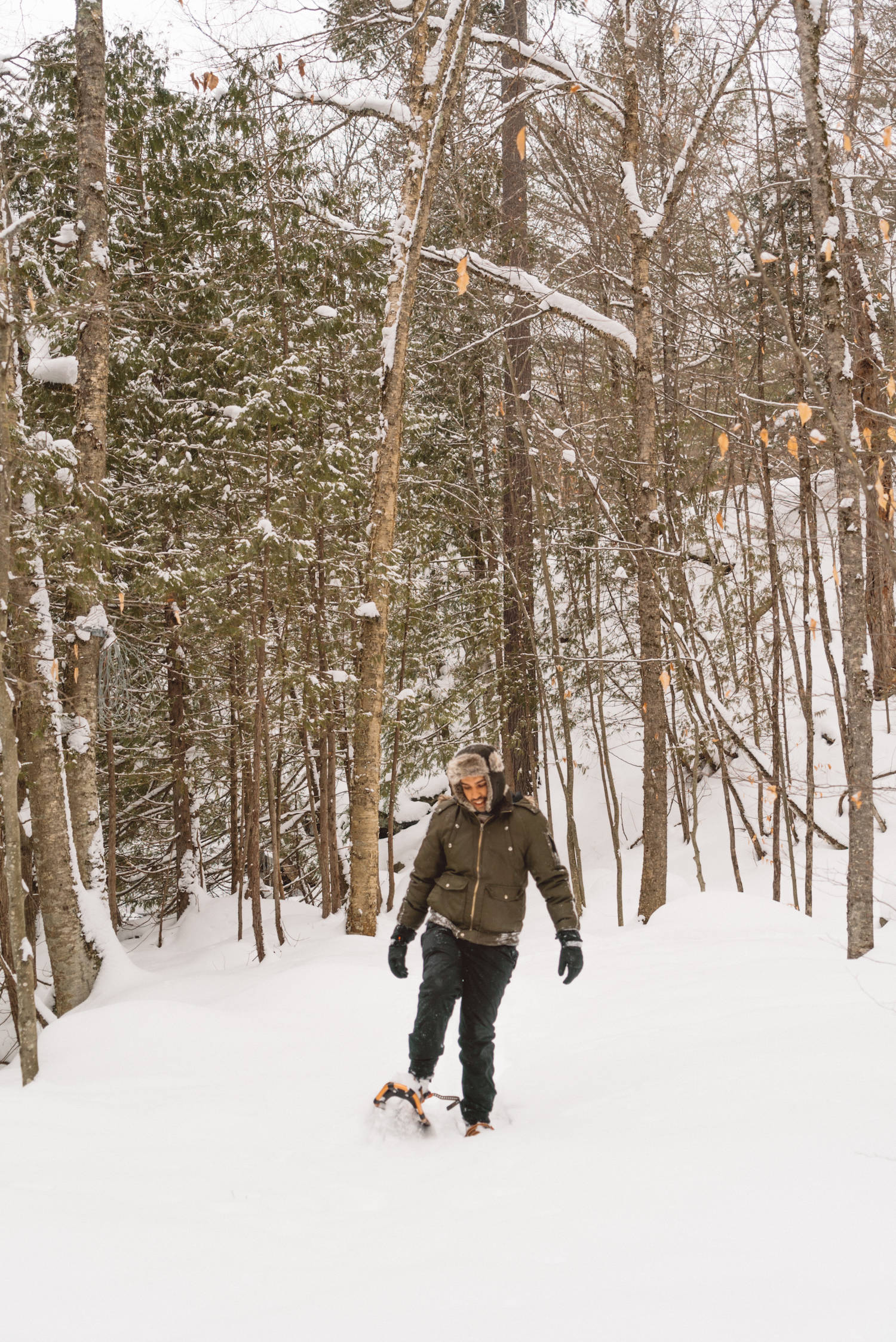 Where to Eat in Ontario's Highlands
Every day should start right. Start your day by eating a hot, hardy and nutritious meal packed with calories, so you are supplied with energy to get you moving for a full day in the snow. Choose comfort foods that fill your belly, warm you up, make you feel good and also good for you. This will keep you full and warm when you're out in the cold having fun. There are several delicious restaurants in Ontario's Highlands that will treat your tastebuds.
Molly's Bistro & Bakery
Molly's Bistro & Bakery is the perfect lunch spot. It's a cute little restaurant run by a bunch of ladies who make flavourful and savoury dishes, including several vegan options. Also, the pie. You gotta try a slice!
Rhubarb Restaurant
This is the perfect dinner spot. Rhubarb Restaurant offers special features each evening in addition to the new all day menu. Everything is made in house and they have an excellent local beer selection. They also have no problem customizing a dish to be gluten free and/or vegan.
Rate: Click here to check out the menu. FYI: The summer menu is actually their winter menu.
Watch our Ontario Winter Adventure by Clicking Play on the Video Below
How do you embrace winter?
Share in the comment section below!