I've spent many hours, day, maybe even months in airports over the last 15 years of non-stop travel. With countless hours spent in airports, it's inevitable that I've accumulated a few airport and airplane hacks. Now I'm here to share them with you so your next travel experience is extra great. Here are:
32 Airport and Airplane Hacks to Use on Your Next Trip!
32. Purchase Airline Wi-Fi Ahead of Time
A lot of flights now have on-board Wi-Fi so when you're in the air, you can actually be online. But, if you purchase Wi-Fi ahead of time, you can save money! On Gogo-equipped aircraft, you can save anywhere from $10 to $20 on all day passes. If you have connecting flights on the same airline, you can use that all-day pass until you get to your final destination.
For my American friends out there, if you use T-Mobile, you can get one hour of free Gogo Wi-Fi. There are also credit cards like the Business Platinum Card from American Express that offers free Wi-Fi of up to 10 hours when you use that AmEx card on Gogo WiFi.
31. When Booking Seats For 2 People, Choose Window and Aisle Seats
This airplane hack is for couples or anyone traveling with another person. When choosing your seats, one of you choose the aisle seat and the other choose the window seat. Why? If the flight isn't full, there's a possibility that no one will sit between you in the middle seat. In the end, you'll have all three seats to yourself. Winner!
Now, if someone did choose the middle seat, you can always ask them if they can switch with you, and they'll sit in either the window or aisle seat. No harm done.
30. Bring a Pillow Case
You can stuff the case with your jacket or extra clothes and make it an instant pillow.
29. Bring a Reusable Water Bottle
This travel hack is good for the environment and your health. Instead of asking the flight attendant for multiple glasses of water throughout your flight, bring a reusable water bottle. Siya and I have been using the LARQ bottle, which is the world's first self-cleaning water bottle and water purification system. Right before you board your flight, fill up your bottle after security at one of the water stations. If you run out of water on the flight, ask the flight attendant to refill your bottle for you. With the LARQ water bottle, you can use the UV-C LED light to clean the water of harmful bacterial and viral contaminants. This is especially important if you're in a country where drinking straight from the tap isn't recommended.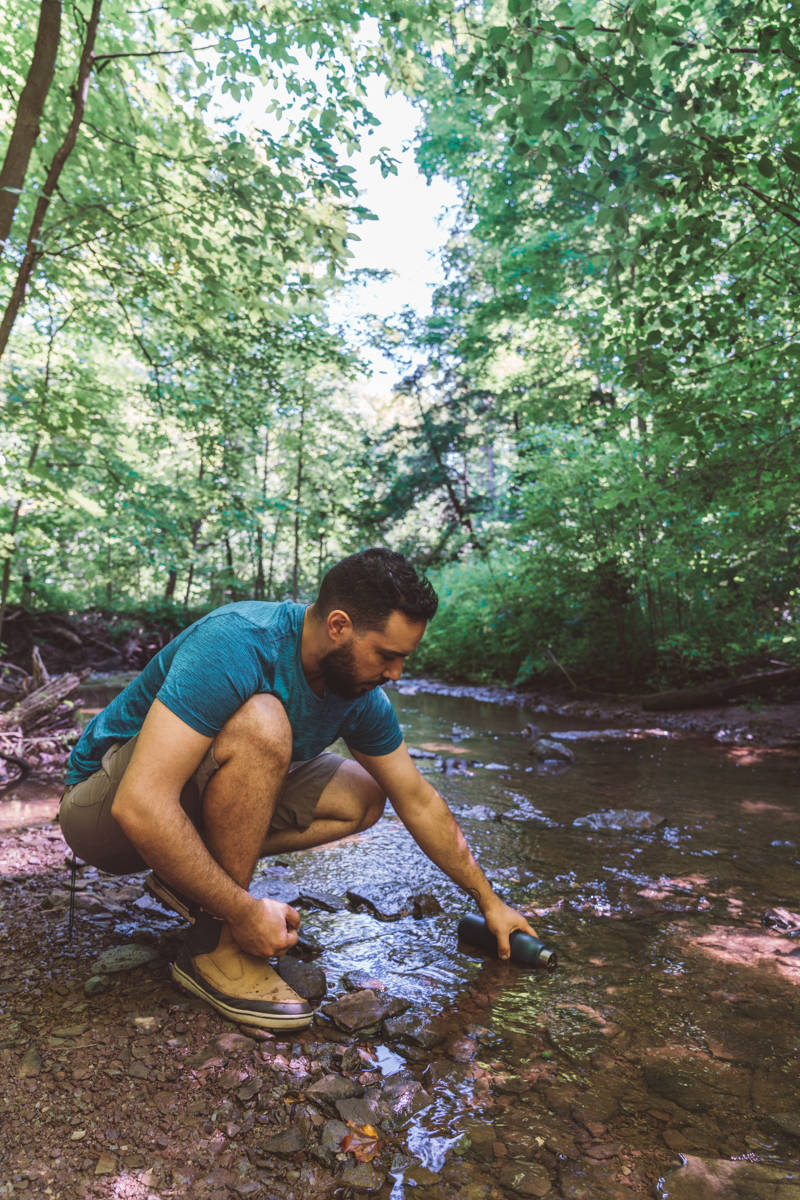 28. Bring Hydration Packets
These hydration packets contain electrolytes, vitamins and antioxidants which is especially important when flying. They will help keep you hydrated, plus make your water extra tasty.
27. Bring a Pen
This is an overseen airplane hack. Always bring a pen for filling out custom forms on the flight. You can also use it to get that cuties number two seats ahead 😉
26. Get NEXUS, Global Entry or TSA PreCheck
If you can get global entry, NEXUS or TSA PreCheck, it can significantly cut down your time spent at security and immigration.
25. Choose Your Connecting Airport Wisely
Some airports are much more fun while some have more restaurants or shops to occupy you while you're waiting for your next flight.
24. Skip Security with Rewards Cards
Rewards cards! We need to dig into this a lot deeper. For now, I'm sharing one key feature of the Platinum American Express Card - the ability to skip the security line at some airports! This has saved our butts many times where we've arrived late to the airport.
23. Get Access to Lounges with Rewards Cards
Okay, one more. The Platinum American Express Card comes with a Priority Pass. This gives you access to hundreds of lounges around the world. In these lounges, there are buffets, fully stocked bars, coffee, tea, showers, and resting areas where you can nap if you need to.
22. Fly with the Same Airline or Alliance
Flying with the same airline or alliance earns you miles which builds up your status. When you reach certain status levels, you become eligible for upgrades. Understanding partnerships between modern frequent flyer programs can help you learn how to redeem miles for flights to every corner of the globe. I'd recommend checking out The Points Guy, who is the king of helping you understand points-and-miles.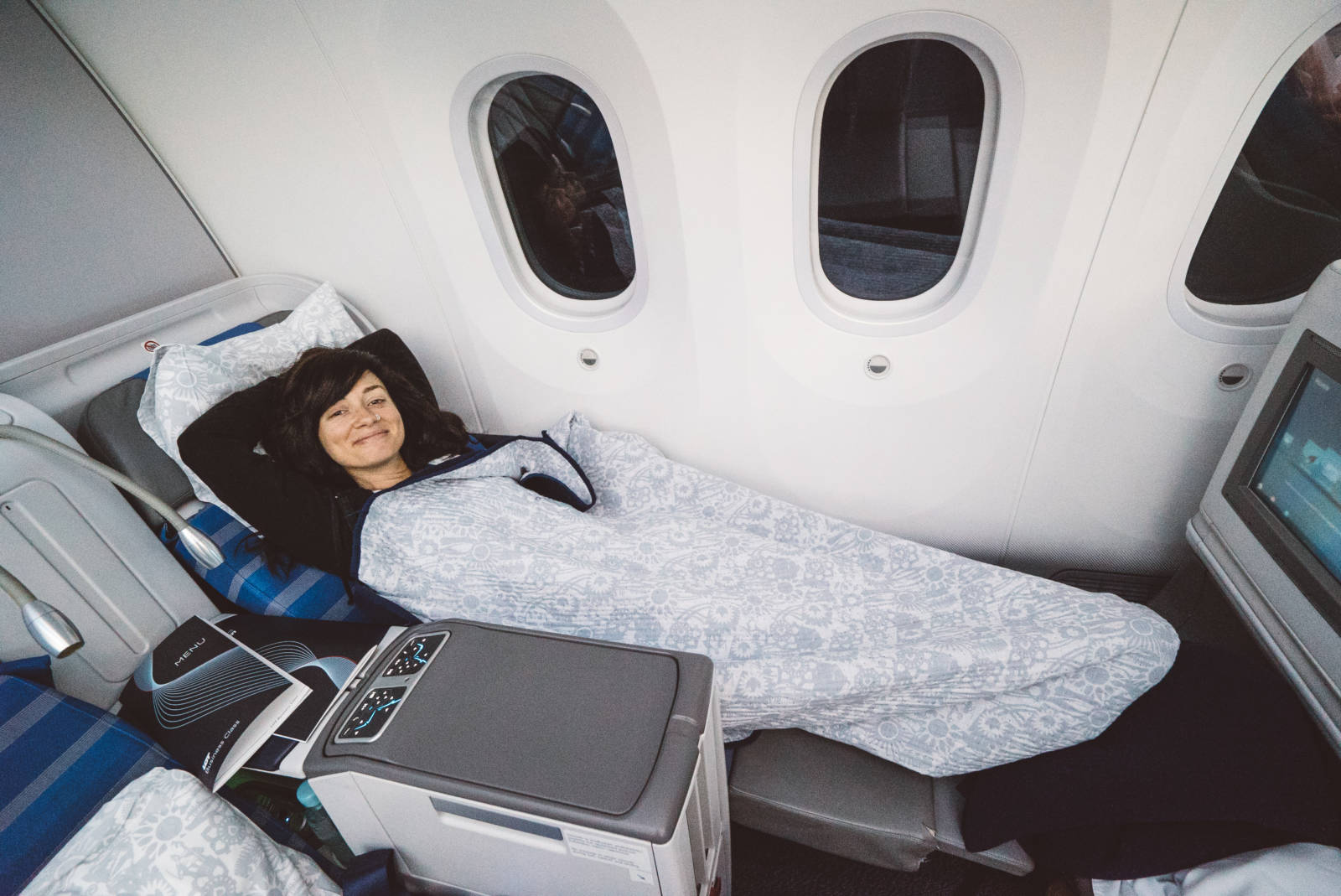 21. Pack Only a Carry-On
This travel hack will be a game changer as you'll never check anything ever again! Packing only a carry-on saves you checked baggage fees and gives you piece of mind always knowing where you're belongings are. You also don't have to wait for your luggage at baggage claim, and it's especially nice when you're traveling solo (which I mention as one of my 31 solo travel hacks). To help you pack better, you can also check out my 27 Packing Hacks for Travel.
20. Bring a Good Book
Not every plane has an in-flight entertainment system. Even when there is, it's still nice to have a good book to read. This is especially true for long haul flights.
19. Charge All of Your Stuff Before Your Flight
Make sure all your gadgets are charged before your flight because a lot of planes don't have outlets. The worst thing is seeing that 2% battery life when you're in the middle of a good movie. Don't let that happen to you.
18. Book a Seat at The Back of The Plane
The seats at the back are less desirable because they tend to be closer to a bathroom or sometimes don't recline. But, guess what? You're more likely to get a whole row to yourself if you choose these seats. Who needs a reclined seat when you can just sprawl out across three or four seats that you have all to yourself?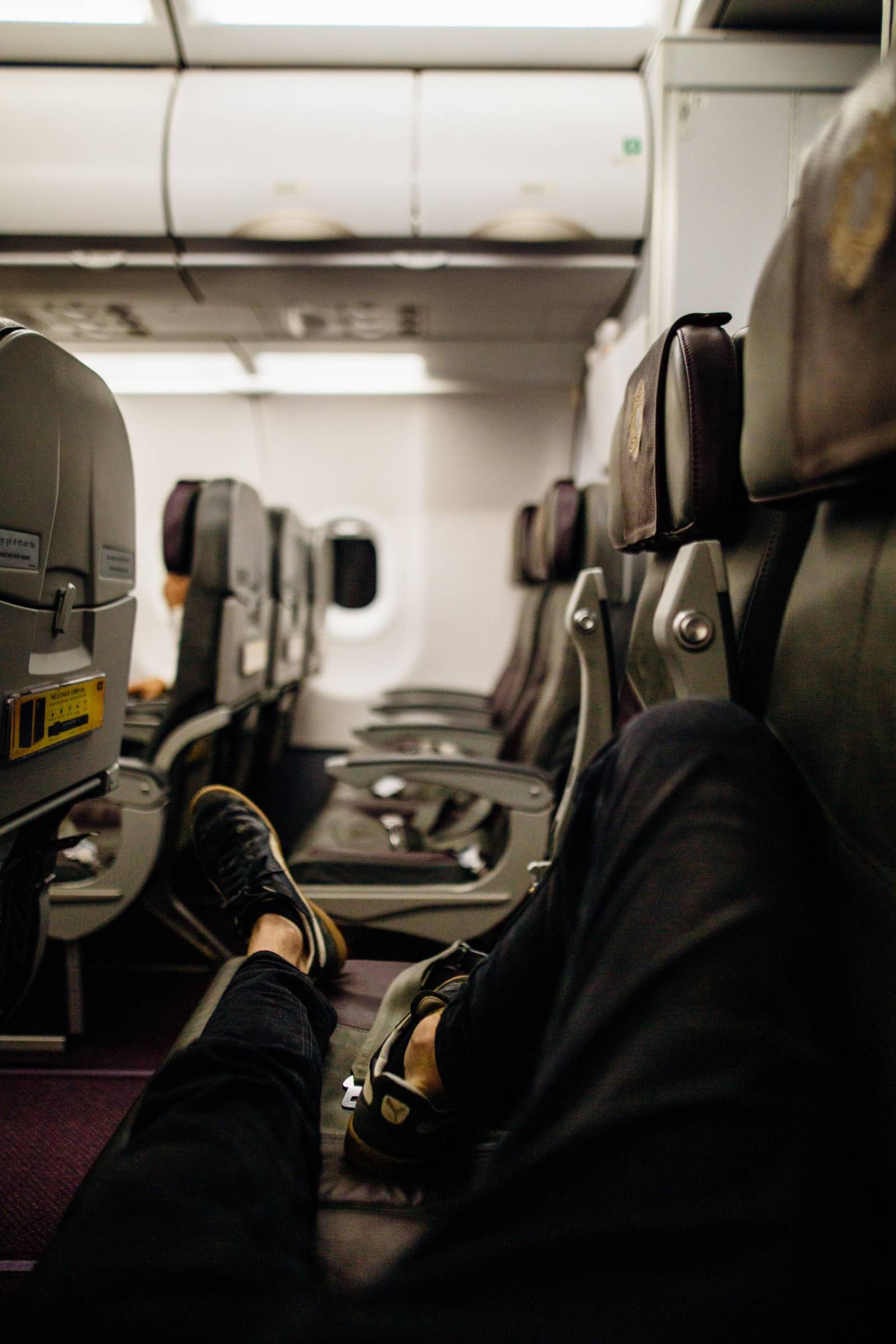 17. Bring Alcohol Sample Bottles on Your Flight
This airplane hack I haven't tried myself but I heard that it works. You can bring up to five or six small alcohol bottles with you on the flight. Keep in mind, they have to be under 100ml each. Nothing like a party in the sky!
UPDATE: It's technically illegal to drink your own alcohol onboard. The TSA points out that there are FAA regulations prohibiting passengers from actually consuming alcohol on board a flight unless it was served to them by the "certificate holder operating the aircraft." Passengers are still known to do this discreetly (not something I would personally do). But, to each their own. Just don't say I didn't warn you.
16. Book Your Flight, Ask Your Boss After
For most airlines, you have 24 hours after you've booked a flight to cancel it if you choose. So, book that flight, and then talk to your boss later.
15. Pack Instant Oatmeal
I'm the snack QUEEN, so this airplane hack is a MUST! I never fail to bring snacks with me on every flight. Most airlines serve food full of processed carbs, sugars and unhealthy fats, which can leave you with backed up bowels and feeling sluggish once you arrive at your destination. For this reason, I always pack nuts, fruits, crackers, veggies and dark chocolate. I also love bringing a packet of oatmeal and Your Super superfood mixes. Then I ask the flight attendant for some hot water and a bowl, mix it all together, and I've got myself a healthy breakfast. It's a good feeling knowing I have an endless supply of healthy goodies I can munch on throughout my flight. Mmm, snacks.
Get my favourite Your Super mixes for your next flight including: Super Green, Energy Bomb, Chocolate Lover and Forever Beautiful! Use our discount code HOPSCOTCH to save 15% on any purchase.
14. Pack Peppermint and Lavender Essential Oils
If you're someone who's a nervous flying like me, dabbing a little bit of lavender oil on your temples, at the back of the neck, or simply smelling it can really calm you down. Plus, it can help you go to sleep. Peppermint oil, on the other hand, is really great for headaches and clearing your sinuses. I really love the essential oil travel pack from Saje because they are already diluted for direct skin use. Just be sure to go easy on the amount you use so it doesn't bug the people around you. To be safe, you can inhale the oils directly from the bottle without putting it on you. That way it can still work its magic but the smell won't linger.
13. Pack a Hydrating Face Mask and Moisturizer
Planes are very dry places. Stay moisturized and hydrated using face masks so you look refreshed when you arrive at your destination. I really love Origins Drink Up Intensive because it's clear so no one can even tell you're wearing a mask.
12. Know Your Airport Wi-Fi Passwords
This airport hack is a life changer. Here is a link to containing all Wi-Fi passwords for airports all around the world! You're welcome!
11. Check Out SeatGuru Or SeatMeastro
Before choosing your seats, check out SeatGuru and SeatMaestro. These sites provide aircraft seat maps and seat reviews, so you can tell which seats on your flight have more leg room, provide power outlets, are closest to the washroom, etc. This will help you choose your seat wisely.
10. Exercise the Day Before Your Flight
Exercising as close to your departure as possible will help you fall asleep on your flight and make you be less agitated, anxious, and fidgety. Plus, it will help with circulation, which is always good when you're spending hours sitting in one spot.
9. Splurge on a Lounge Day Pass
If you're on a long layover and don't already have access to lounges, purchasing an airport lounge day pass is 100% worth it. With a pass, you'll have access to unlimited food, drinks, internet, showers, and a place to just hang out and relax before your flight.
8. Bring Two Golf Balls and a Tennis Ball on Your Flight
This airplane hack will make economy feel like business class. Place your tennis balls between your back and seat and move your body side to side for a nice back and shoulder massage. It feels so good! Then take the golf balls and place them under your feet for a nice foot massage. This is also really good for circulation.
7. Bring Chocolates or Candies
No, they're not for you! They are for the flight attendants. A small gesture can go a long way. You'll be treated a little extra special, given extra drinks, treated extra nicely, and sometimes even upgraded. Most importantly, you'll be remembered as that really thoughtful passenger with the goodies.
6. Overweight Bag? Wear the Extra Weight
If your luggage is overweight, take out as many clothes as you need to and just put them on! Once you go through security, you can put those extra clothes in a reusable bag (which can have multiple uses throughout your trip). No need to pay extra to check extra luggage. It's sneaky, but this travel hack has never failed me.
5. Check-In at the First And Business Class Line
If there's a long line in the economy check-in counter, and you see an empty business class line, see if the business class agent will take you. Most likely they will help you because they're not helping anyone else.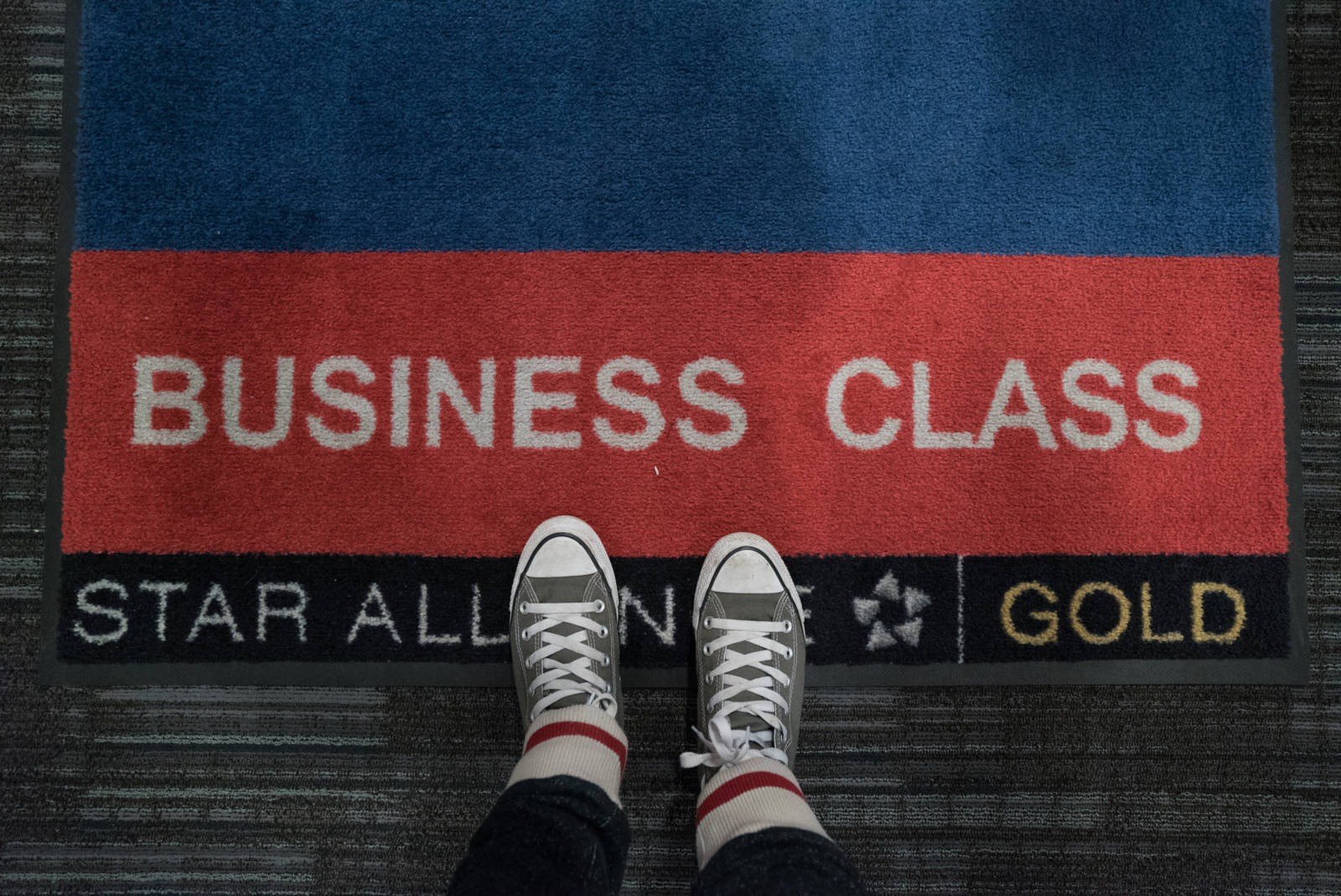 4. Put Extra Items in a Reusable Bag
For most airlines, you're allowed to bring one carry-on bag and one personal item such as a small backpack or purse. If you end up carrying a few extra items, you'll have no problem going through security. However, the gate agents may get a little strict and ask you to check your carry-on. To prevent this from happening, place the extra items in a reusable bag. This bag can also be used later for laundry or shopping in at your end destination. If you do this, most likely, the gate agents will think you bought something from one of the stores and won't ask you to check anything.
3. Lift Your Aisle Seat Armrest
This is an airplane hack not many know about. You can actually lift the aisle seat armrest! Do this by pressing the little trigger located underneath the armrest. This will give you more leg and knee space, which is especially great if you're tall.
2. Check-In Ahead of Time
If you check-in ahead of time, you can sometimes get your boarding pass emailed to you. This will save you time if you're traveling with carry-on only because you can go straight to security once you arrive at the airport.
1. Make Your Flight Confirmation Your Phone Lock Screen Image
This airplane hack will also save you time. If you're checking in and printing your boarding passes at the airport, you can screen grab your flight confirmation and make it your lock screen. This way, you don't need to search through e-mails trying to find your flight information.
--
I hope you find these airport and airplane hacks useful for your next trip. Happy travels!