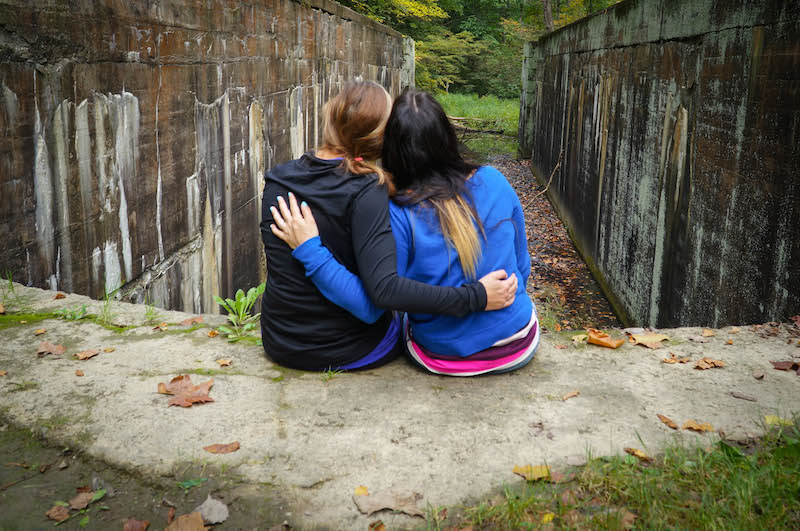 Traditionally, the first year of marriage is supposed to include a new ring, a new home, maybe a new pet, and why not throw a new baby in there too.  I sometimes feel that long gone are the years of freedom, when you could simply walk down the street and catch up with your best girlfriend. Maybe go for a run and talk about the latest Kardashian scandal, or catch up about life's most "glamorous" topics: hair, make up, and fashion.  Between all the wedding planning and work schedules, romantic time and couples dinners, I find myself asking: Where did all the girl time go?
So, when my best friend and colleague Kristen asked me to join her on a girls' adventure abroad, I thought to myself: "Leave the men at home?…Hell yes!!" An all-girl retreat was exactly what I needed to detox from this past year's craziness.  So, we left our new husbands behind and headed for Cleveland. "Cleveland?" the customs officer asked me, "A girl's weekend where?" The officer's reaction was not unlike mine own. What does one do in Cleveland? Do we really know anything about our destination?  Setting of the Drew Carey show, home of the brown and orange, and the birthplace of Lebron's career. Is this really a trip for the ladies? The answer: YES!
Day One:
We arrived in Cleveland and were quickly greeted by our hosts from Positively Cleveland.   As friends who like to be active, I was excited to see that we had quite an ambitious weekend ahead of us.  Our tight timeline would include cycling and stunting, site seeing and water sports, and a variety of dinning experiences. We were shuttled to the Aloft Hotel, and choose to forego our separate rooms so we could room together dorm style. This would permit obligatory pillow fights and bed jumping – as all women over the age of twenty-five tend to do. 😉
After unpacking, we boarded our luxury bus to be fitted for our Bikes at Ohio City Bicycle Co-op (OCBC). The OCBC is a non-profit volunteer driven bicycle education centre. A big shout out to Jim for giving us a tour of the facility and for allowing us to take a ride on the Buddy Bike! This was by far our Dumb and Dumber moped-like moment of the weekend.
After being fitted, we made our way to Nano Brew Cleveland for drinks and apps. Do yourself a favour and try their in-house pumpkin spiced beers… delicious! I was also very partial to the brewer's yeast potato chips. After social hour and in-house bar games, we walked to Market Avenue (a must see) where we enjoyed dinner on the patio at Great Lakes Brewing Company.
We were fortunate enough to be blessed with amazing weather. The nighttime energy was all around us: skateboarders and polka bands, café patios and street performers.  I even had an impromptu skateboard lesson on how to do an Ollie.
Next we travelled to Ray's Indoor Bike Park. Ladies and Gentlemen, do not miss this exciting place. Young and old, adults only or family vacation, this was one of the most exhilarating experiences. We arrived just in time for opening night to view the demo team of young riders flipping and stunting in one of the most dynamic sports I have ever seen. The park is full of mountain biking and BMX activities. Courses are colour coated to fit a variety of novice to advanced level riders, and are heavily marshalled by the in-house cat Squizz.  Ray himself gave us a tour and let us "get some" down the ramps. Kristen was a natural on the green course. I however needed a little more coaching. Regardless, we worked up a sweat in no time at all. My favourite part of the tour was watching the BMX riders go to town on the park's Transferland ramps. They put on an explosive show for everyone in the building. The indoor park is open from October to April and houses a variety of riders from across the world.


Day Two:
What's better than waking up to enjoy breakfast at the West Side Market Café? Kristen and I excitedly ate our breakfast, greatly anticipating the West Side Market that was conveniently adjoined to the café.  The Market is a city hotspot and celebrated its centennial birthday in 2012. The Market is full of energy and home to some of the most appetizing fresh food. Our hunt for the perfect mango was a success amidst a variety of different produce. If you are lucky enough, you may even get a glance of Food Network's Michael Symon, shopping for the Market's finest.
Next stop: Kayaking. Now I consider myself an avid water sports junky, so an opportunity to get on the water while in the heart of the city spoke to both Kristen's and my own curiosities. We headed to Rivergate Park and under the instruction of Clevelands' Metroparks outdoor staff we hit the Cuyahoga River. Be sure to watch for large freighters on your treks as the river is shared with massive iron ore transport ships. We only had time for a quick paddle, but learned a great deal about the historical monuments visible along the way. I encourage visitors to enjoy a riverside lunch at Merwin's Wharf while watching the local rowing teams practice along this crooked river.  Not too far from Rivergate Park, visitors can also enjoy Metroparks tours at the Lakefront Nature Preserve. Special thanks goes to Wendy, Rachel, and Matt for introducing us to the diverse landscape along the Lake Erie shoreline.
The main attraction on this trip came on our last event of the day. We were finally going to do some cycling! With our OCBC bikes in tow we participated in NEOCycle's first ever Night Ride.  With approximately fifteen hundred other riders, Kristen and I rode our way from the Edgewater Park festival hub to Cleveland Memorial Shoreway on an eight mile loop. This is a great way to take in the amazing views of the city skyline, local monuments, and stadiums. Whether you are visiting, or you are a Cleveland native, I highly recommend that you participate in this event next year. Families can enjoy the off-road races, BMX show, and food trucks during the day, and then party into the evening with live music.
Day Three:
I can honestly say that by this point I was exhausted! However, my second wind was not far off. Our last event on the itinerary was a visit to Cuyahoga Valley National Park. This was the hidden gem of our trip and my favourite part of the girls' weekend. This National Park is on the cusp of Cleveland and is home to the Cuyahoga Valley Scenic Railroad. At Rockside Road station we boarded the train, enrolled in the Bike Aboard program, and travelled to the next station.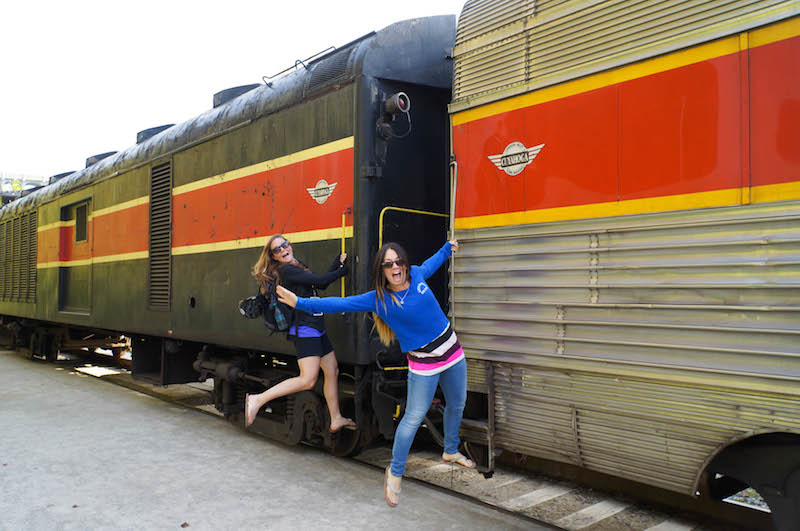 We then unloaded the train and biked the next eighteen miles to Pennisula station. The lush forests and riverside paths make it very difficult not immerse yourself in nature. Being that this was the end of September, we were lucky enough to see the fall colours in full bloom. Kristen and I could not get enough of the park and we would definitely return to spend a full day in the area. On our train ride back to Rockside Road station, the staff aboard gave us a historical biography about the area and more information on the other programs the railway offers. Our goal for next time is to enjoy the wine tours and/or possibly the polar express winter railway.
Kristen and I had an extremely memorable time in Cleveland, and from this review, you can imagine we plan on returning again soon. Thank you to the team at Positively Cleveland for making our girls' weekend a jam-packed experience, and a special thanks to Scott Peacock for giving us full reign to video everything the city has to offer.
Looking forward to blogging about many more Hopscotch girl adventures soon.
Where have you travelled with your best friends?