I don't think I've ever met a traveller whose bucket list didn't include the Galapagos and with good reason! These magical islands located off the coast of Ecuador are home to some of the most fascinating wildlife and plant species on the planet. In fact, the Archipelago de Cologne (the official name of these islands) is where Darwin's theory of evolution began. But, what you need to know about these islands is something that changed me and my connection with wildlife. Keep on reading to find out what that is…
I was lucky to be invited on a trip to the Galapagos by  Flight Centre and G-Adventures. For the 9-days in Quito and the Galapagos, I would be an "honorary flightie" and experience the G-Adventure Galapagos Island Hoping Experience. Afterwards, I would share my experience with you. Here we go…
After meeting my group at the Atlanta airport, we boarded our 5-hour flight to Quito, Ecuador where we would spend the next couple of nights before heading to the Galapagos. I spent only one full day in Quito, but quickly fell in love with it. Myself and my fellow flightie Natalie, spent the day walking around the city, getting lost and eating delicious street food. We even rode the Quito Teleferico, one of the highest aerial lifts in the world, to get the best view of the city at 4050 metres (13,290 feet) above sea level.

After a 3-hour flight from Quito, we arrived on the island of Santa Cruz where we took another hour-long bus ride followed by a 20-minute boat ride to the city centre to check into Hotel Villa Laguna.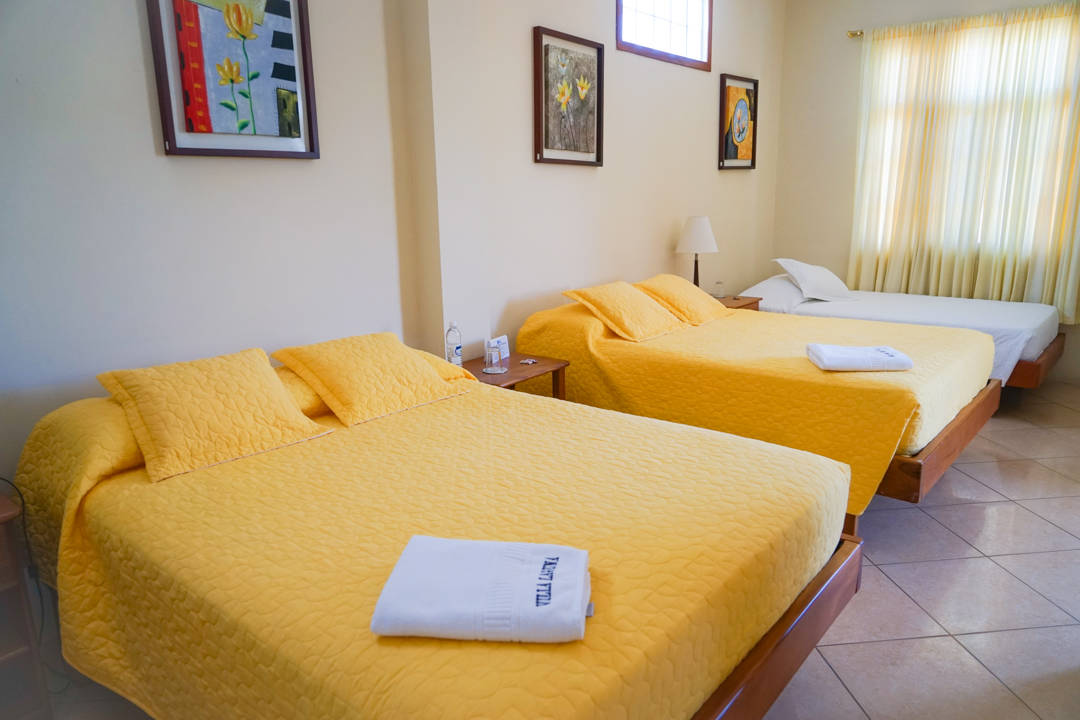 Within seconds of stepping from the boat to the dock, I spotted my first sea lion lounging on a bench, soaking up the sun without a care in the world. I had literally envisioned this exact moment for years, and lo and behold it was suddenly my reality. I couldn't contain my excitement and knew I was in for a real treat over the next 7 days.
I quickly discovered that it is difficult not to run into a sea lion, marine iguana or Galapagos crab. This is especially true near the beach or water. These beautiful creatures make up half the population of the Galapagos and the other human population appreciates and respects that. Never have I witnessed the kind of relationship between man and wildlife, the way I have in the Galapagos.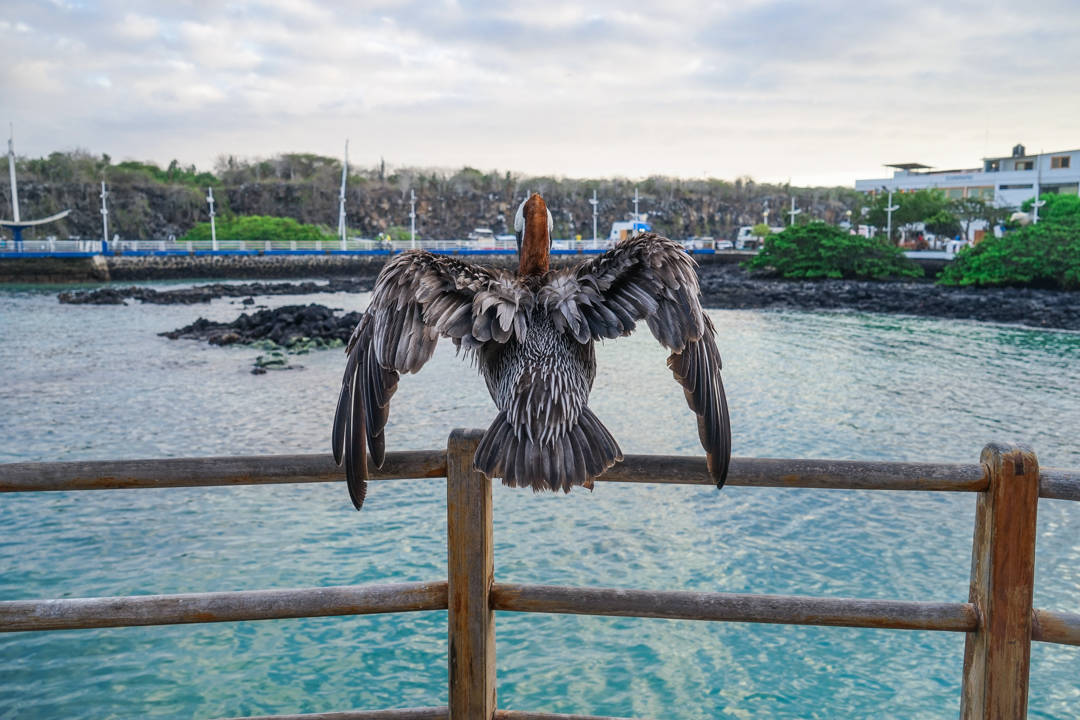 The people and wildlife of the Galapagos live among one another in a beautiful harmonious way. The people do not get too close, touch or feed the wildlife and strongly enforce visitors to do the same. Why? If humans start feeding them, they'll become dependent on this, when they are in fact capable of finding their own food. There are a couple of reasons why you shouldn't touch the wildlife. The first is because of the bacteria and smell from your skin which can interfere with the relationship between the mother and the offspring and even cause infections. Mother sea lions for example, will abandon their young if they pick up an odor from a human. Also, a sea turtle can get an infection when something foreign transfers from your skin through the protective coating that layers their shell. This can cause tumors and other infected growths on the turtles. The turtle population has been on decline and Galapagos has programs set into place to sustain their future. The picture featured below is of a worker from a Giant Tortoise Breeding Centre on Isabela Island which raises baby sea turtles and releases them when they reach maturity.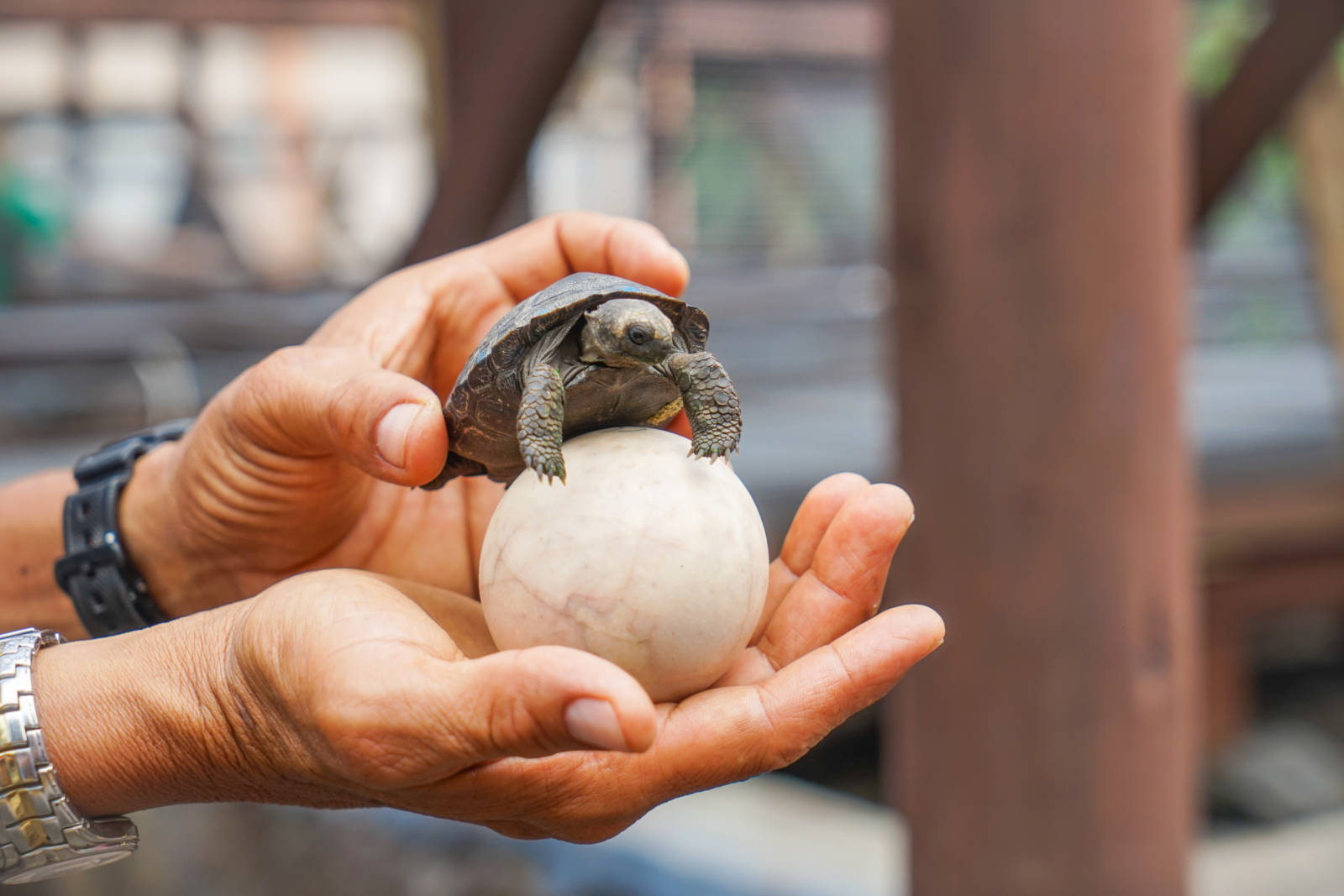 Although it can be hard to resist cuddling a cute sea lion, you'll quickly realize how more amazing it is to witness them from 2 feet away. Since the people on the island give the wildlife a respectful amount of space, none of the species are fearful of humans. Never have I witnessed such wild creatures act so gentle, curious and playful towards humans without the reward of food or a scratch behind the ear. Instead of running away, little lizards or sea lions will come right up to you without hesitation.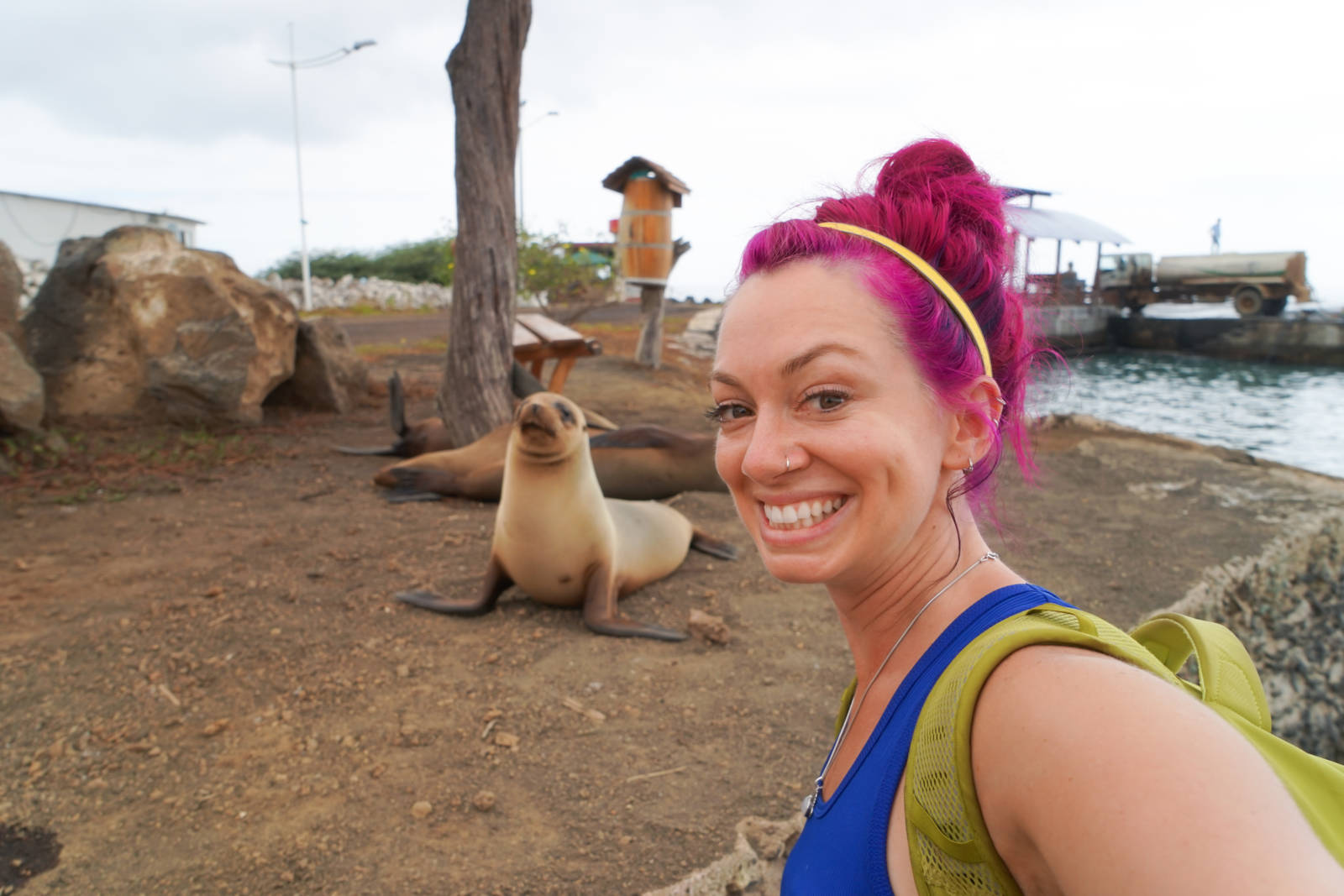 The Galapagos Islands are special in so many ways, and one other thing that really stood out to me were the endemic plant specifies I got to know and understand. I also must mention that Santa Cruz was COVERED in the deliciously scented Palo Santo trees. Since Palo Santo is one of my favourite scents in the whole world, I was overly enthusiastic about this. You could literally gently rub the bark of the Palo Santo tree and get that beautiful smell on your fingers which you can then dab onto your wrist and neck. Nature does it all, even hands out perfume samples.
I was also surprised with how dry the terrain is on each island I visited (Santa Cruz, Floreana and Isabela). There were cactus everywhere!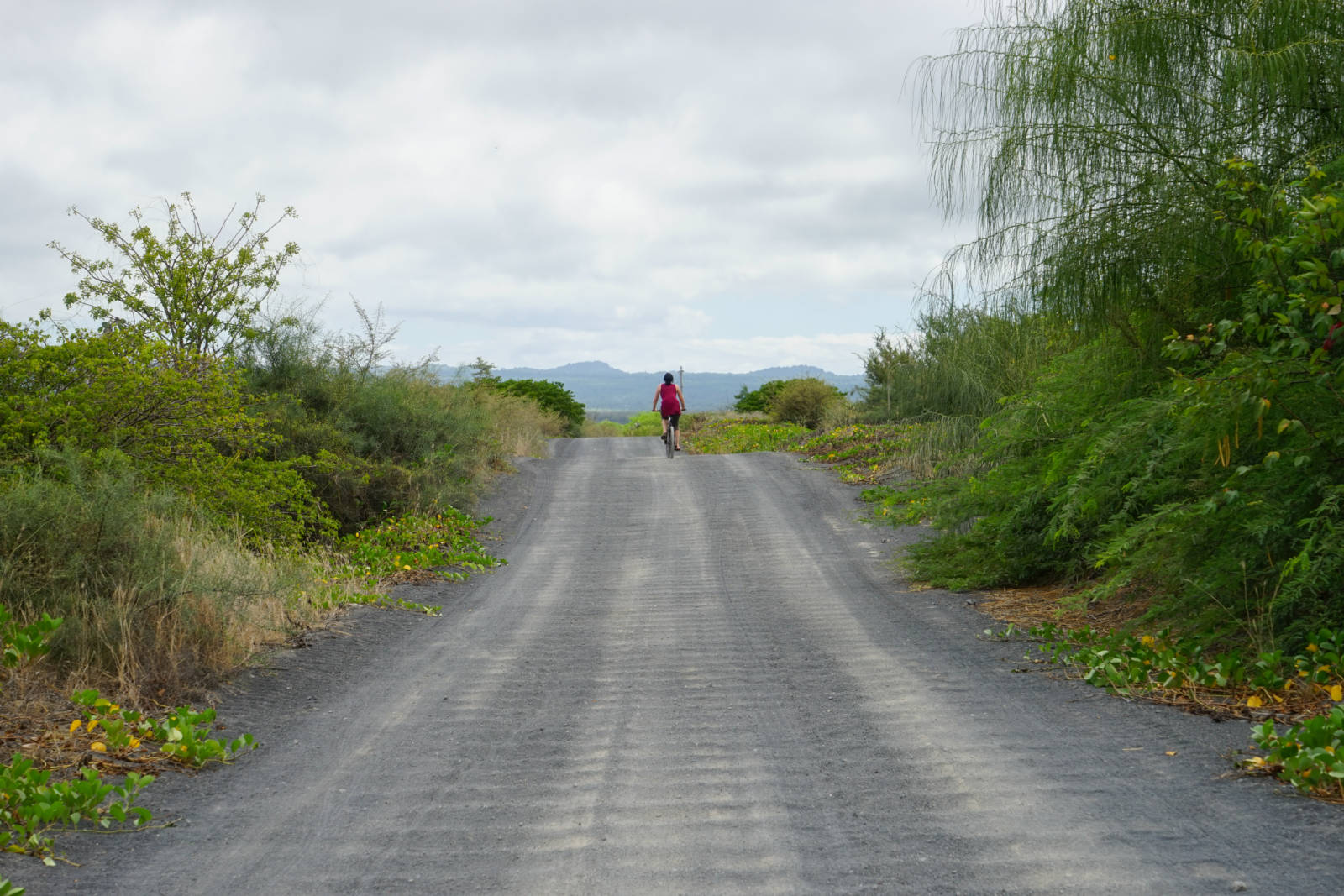 Out of the three islands I visited, I do have to say that Isabela was my favourite. I really loved the laid back vibe here. It reminded me of my time living in Paraguay, the way the locals hung out with each other outside, dirt roads and hidden shops. I also had one of the most incredible travel experiences of my life on this island. I especially loved the hotel we stayed on Isabela Island called Volcano Hotel.
One morning, I decided to get up extra early with two other "flighties" and headed down to the lagoon. Since we got there so early, we only had to share this large lagoon with 2 other travellers. We put on our rented snorkelling equipment, which costs $5 for the day, and jumped into the lagoon. As we swam around, we spotted many beautiful fish and even an eagle ray…..and then a penguin….and another….and a marine iguana going for a morning swim….
Then this magical morning turned even more magical…
A baby sea lion jumped into the lagoon and played with us for a good hour. I would blow bubbles in the water and he would love it! He would do flips and spins all around me and swim alongside me as I tried to mimic his moves underwater. Even the sea lion's mother jumped in for a morning dip. I don't think I've ever giggled so much. I actually sounded like a 6-year old school girl with anew best friend. It was one of the most special moments of life, that I'll always remember.
My experience in the Galapagos changed me for the better. It has ingrained in me a next level connection with wildlife and made me much more aware and sensitive about how these beautiful creatures are treated around the world. It's also made me want to be more active in supporting wildlife conservation projects like the one I visited recently in Thailand. We are so much more similar than we may think, and it's important that we protect and care for each other.
I want to travel with more purpose, and that is to help creatures who don't have the voice to speak out. I believe every animal should be wild and free and not be held in captivity, unless they are injured and being cared for. Once rehabilitated, they should be released back into the wild where they came from rather then continue to reproduce and then their offspring also live in captivity. There are many places around the world helping to protect wildlife, and I want to be part of that. I WILL BE A PART OF THAT. After all, travelling with a larger purpose is the best kind of travel and the Galapagos Islands reminded me of that.
What does meaningful travel mean to you?
***
A special thanks to Flight Centre Canada and G Adventures for inviting on this trip as your honorary flightie.