Time to welcome in the new year and start planning your next vacation. You can book an all-inclusive resort, which is more convenient and saves the excessive planning, or you can choose DIY (Do-It-Yourself) Travel and open opportunities for unexpected adventures. Resorts are the ideal style of vacation for some travellers, while others crave the spontaneity of a flexible trip. If both of these vacations sound like you, then make it a combo of the two; which is exactly what I did in Cancun, Mexico.
The first half of my trip was spent at the all-inclusive Hyatt Ziva resort in Cancun. Then I left the resort and took a local bus to a city called Playa Del Carmen where I ate at family run restaurants and slept in a dorm at Hostel 3B. Both all-inclusive and DIY Travel have benefits, and it's up to you to choose the right path for your vacation.
All-Inclusive Resort: $100-300 /day
Benefits:
One Payment

Easy Budgeting

Less Planning

Airport Shuttle

Convenience of Amenities (Spa, Café, Bar, etc)

Staff on Hand 24/7

No Cooking

No Cleaning

Live Entertainment

Health & Safety Regulated
All-inclusive resorts all have the same basic concept – a hotel that offers all-you-can-eat and all-you-can-drink. Where they differentiate is in their location, quality of food, star rating, entertainment, excursions and activities. The country is definitely a huge factor when picking your resort and is subjective to your preference. If you're into food, Mexico has delicious cuisine thus the restaurants and buffets at the resort have quality ingredients. Some resorts claim to be "all-inclusive," but when you arrive you find out it's only about 90% included. Example: The buffet is included but specialty restaurant are at an additional cost.
The Hyatt Ziva in Cancun is 100% all-inclusive and the specialty restaurants offer delicious international cuisine. Families travelling with kids want a resort that is family-friendly, which means that the live entertainment at night is age appropriate, children's menus are available and a shallow pool is on site. For the same reasons, if you're going on a romantic getaway, look into an adults-only resort or one that offers adult sections, like the adult room featured in the picture above with mood lighting and an exposed glass wall shower. Muy sexy!
DIY Travel: $50-250 /day
Benefits:
Less Up-Front Costs

Flexible Budgeting

Create Your Itinerary

Enriched Cultural Experience

Support Small Businesses

Eat at a Variety of Restaurants or Eat In

Less Wasteful

Option to Change Your Hotel and Location

Find Hidden Gems

Mingle with Locals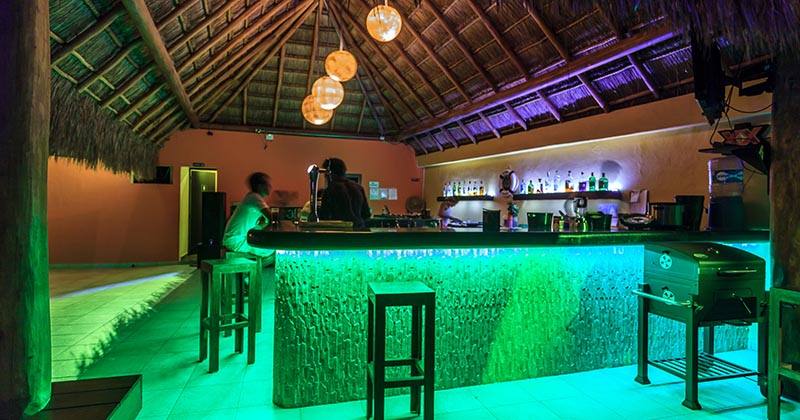 DIY Travel is for those who want the comforts of a vacation with room for adventure. The trick is to plan just enough so you're comfortable, but little enough for spontaneity. After leaving the resort, I went to Playa Del Carmen for the remaining 4 days of my trip. To be safe, I reserved a room online in case I couldn't find a better place. Luckily, I found a great Hostel called 3B which was much nicer than my online reservation. Hostel 3B was central, clean, included a light breakfast had a rooftop bar and was full of young travellers. I spent $14/night for a bed in a dorm and a locker to store by bags. Private rooms are always available in hostels but you won't get to meet as many people when you're alone in a room.
If hostels aren't your thing, there are heaps of hotels and B&B's to choose from. Sometimes the best deals aren't online but in person. For lounging at the beach, you can pay for a sun chair and have a server bring you food and drinks, or you can bring your own picnic to the public beach. For my meals, I looked for restaurants where I saw locals eating; they always know the best spots. My favourite was a family run shrimp restaurant just down the street from my hostel. On this DIY trip, I navigated on my own, booked shuttles, hand-picked each of my restaurants and planned my own leisure activities. Although this trip involved a little more creativity and planning, I was able to eat, drink, relax, and party whenever I wanted for roughly $50 /day.
Which style of trip do you prefer?