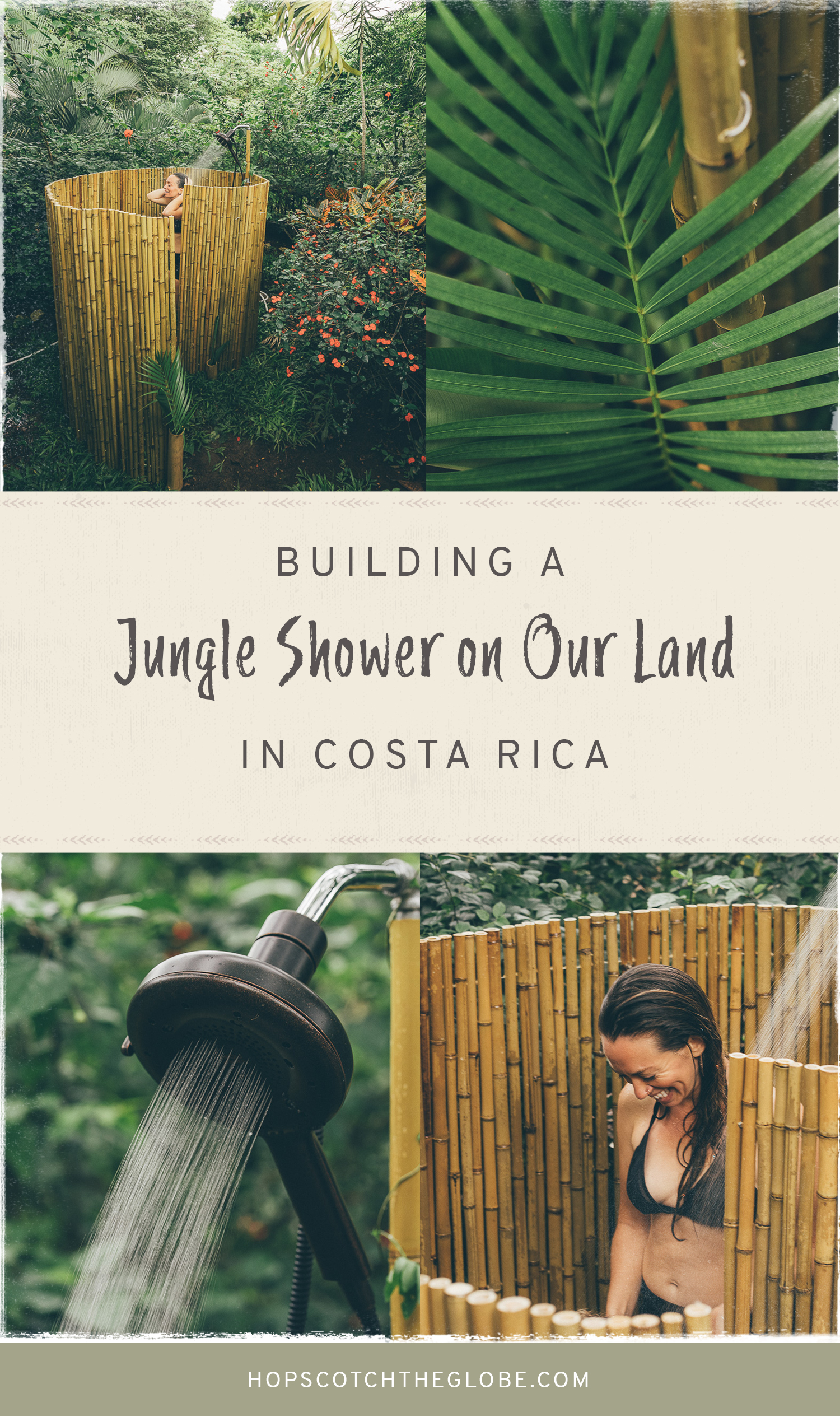 A Short Recap
Now, I know you're here to read about our jungle shower; but first, I want to give some context as to why we're in Costa Rica and how we got here.
In 2020, my husband Siya and I purchased half an acre of land in a new eco-community in Costa Rica. Our slice of this mountain-side jungle is just bare land; no house, no running water, no electricity, nada. Everything we build on the land has to be designed and built from scratch.
Prepping for our big move, we sold our house in Canada and most of our belongings then moved into our 1976 Airstream called Luna. My husband and I, along with our 3-year old daughter and dog Atlas, spent all of 2021 and part of 2022 travelling around Canada and the USA, wearing down the Airstream tires and filling her up with family memories. Our road trip ended in Florida, where we shipped our Airstream and everything inside to Costa Rica! The logistics behind this are honestly award worthy. It's been quite the journey so far.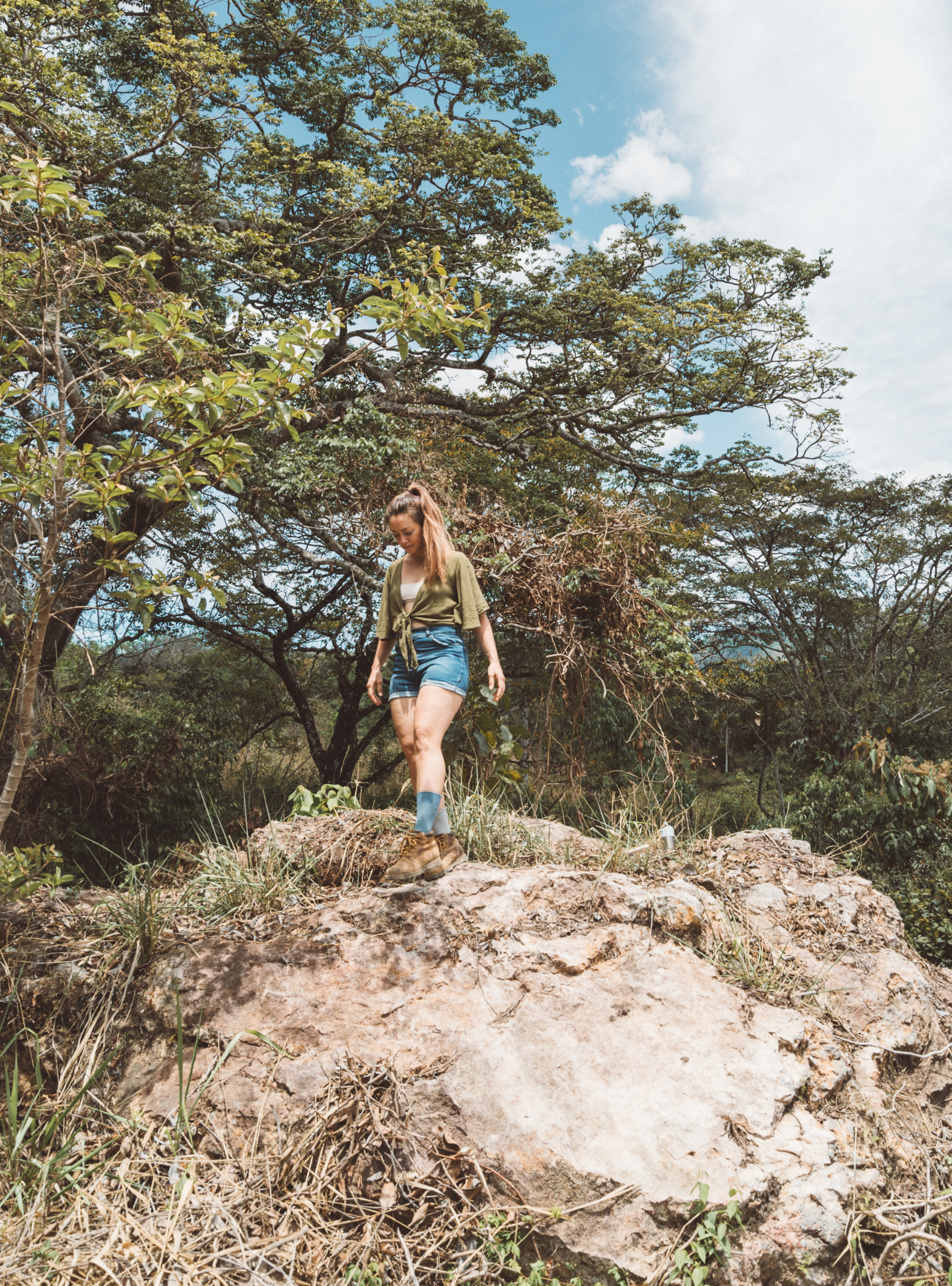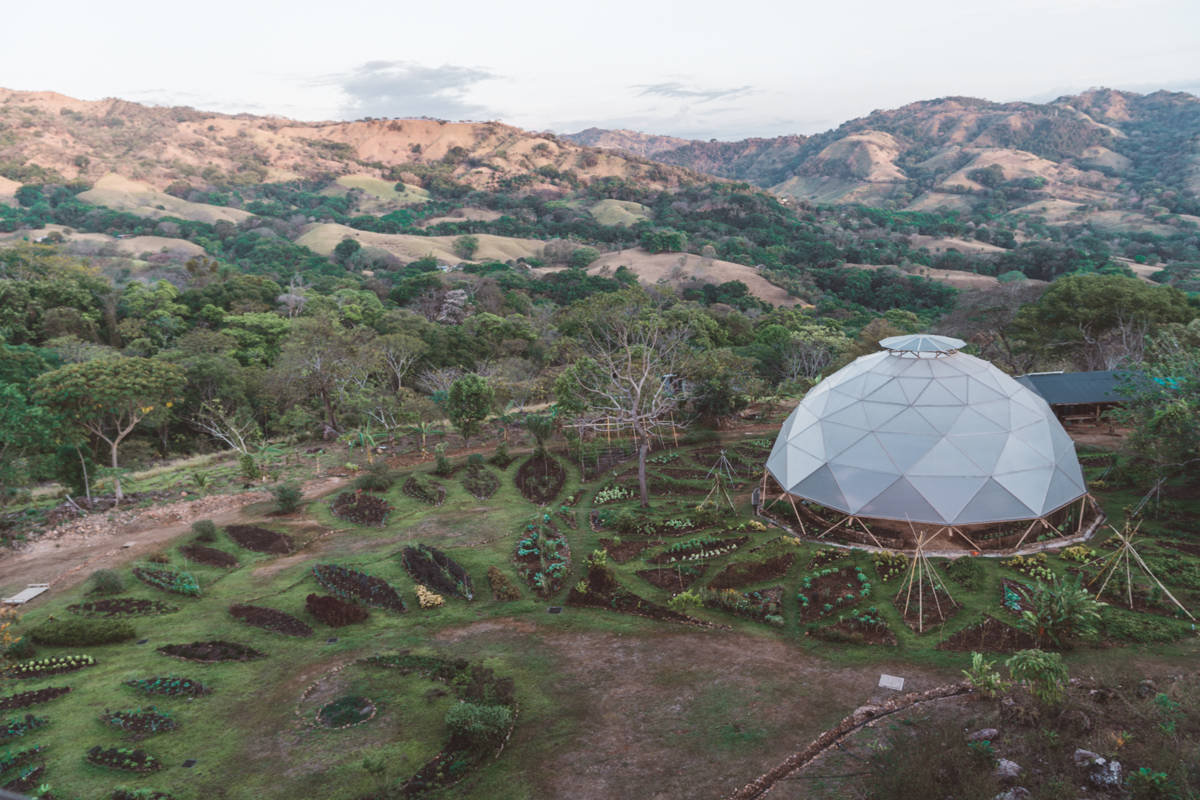 Designing Our Jungle Home and Jungle Shower
Now that we are in Costa Rica, we've been staying in a rental house close to our land while designing a structure for our Airstream to live on. Like so many of us these days, our design inspiration comes from Pinterest. We had so many nights huddled around our laptop, gathering inspiration for what will soon be home. You can see our Jungle House board here.
Since we already had a concept of our home design, we hired an engineer to create the blueprints of what would eventually be our Airstream shelter. Now, this isn't just a boring structure with a simple roof. We are talking yoga-shala vibes; a thatched roof, outdoor kitchen, lounge area, laundry room, washroom and massive loft. We are using local materials and merging the landscape into the design. This will be our home for the next couple of years and then eventually become a rental space. But, more about that later…
When we started planning the layout of our land, the first thing we both agreed on was an outdoor shower. This is a childhood dream for Siya and I. It would be just WRONG to move to a tropical paradise and NOT build an outdoor shower. Naturally, we began pinning every amazing outdoor shower we came across until we found a winner. This is our inspiration, and I think we nailed it with the final result.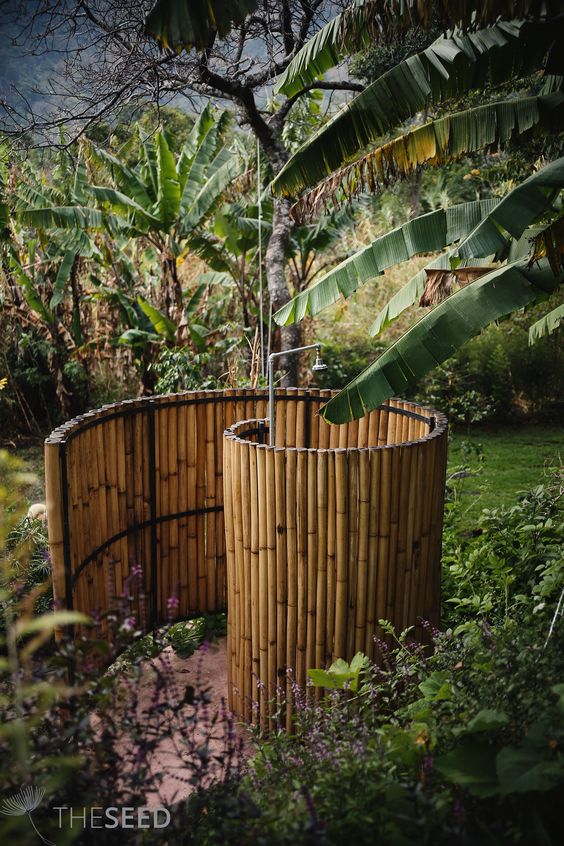 Outdoor Jungle Shower Supplies
This is our first build project in Costa Rica, so it's a learning experience. There aren't any enormous Home Depots around, so you make do with what you can find. We went with ½" galvanized steel piping, as copper pipes aren't sold at the hardware store in Atenas, Costa Rica. We wanted this shower to be elegant but also blend into its natural surroundings. That's why we chose to work with bamboo. Bamboo walls spiralling inwards, give an intimate experience with the jungle while you cleanse. You can feel the sun and the wind on your naked body while watching toucans and hummingbirds soar overhead.
We knew the piping would be part of the visible structure, but Siya's idea was to encase the piping in bamboo so it visually blends into the walls. We ordered all of the bamboo from a local company called Bambutico, a family run business with expertise in building furniture and household items with locally sourced bamboo. We paid $300 for the bamboo walls and another $25 delivery…well worth it!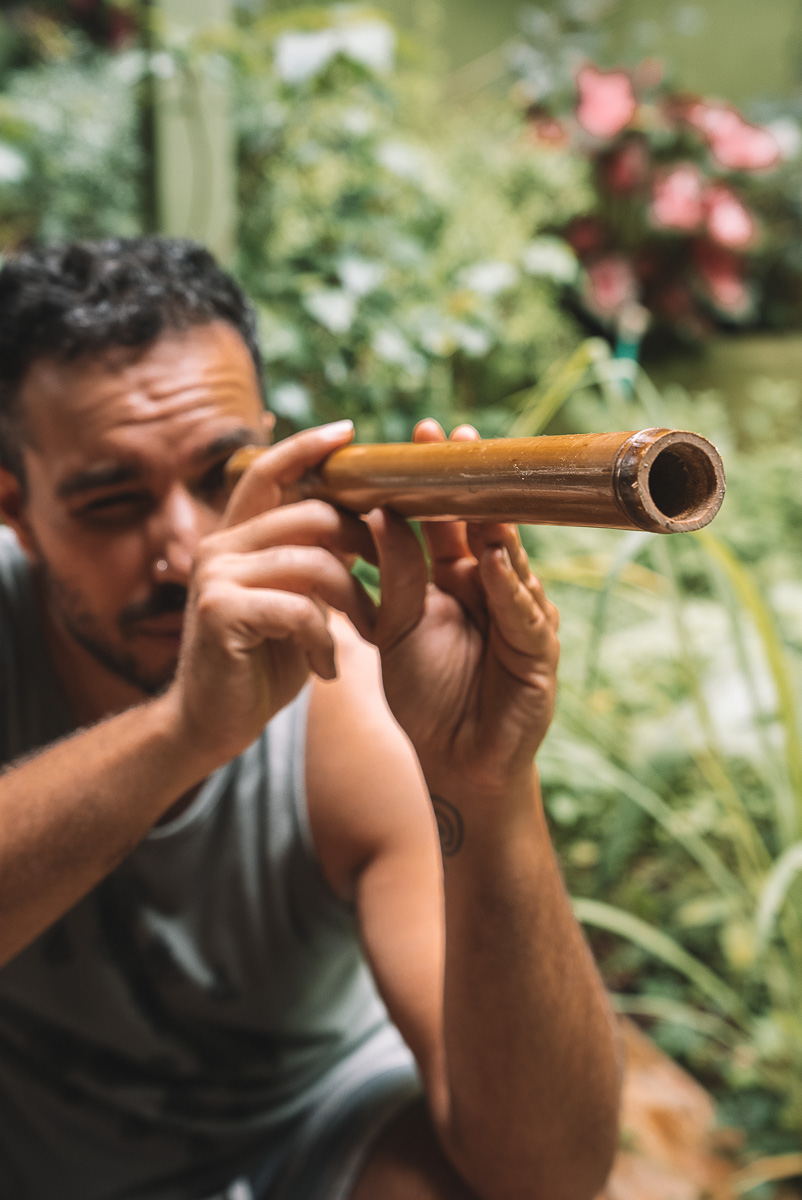 Incorporating the Nebia by Moen Quattro Hand Shower
We wanted to work with bamboo because it's a sustainable building material, very durable, and is grown local here in Costa Rica. This shower build needs to not just be beautiful, but made in an environmentally conscious way. With that in mind, we had the perfect shower head to give us a spa-like experience, while conserving water – the Nebia by Moen Quattro Hand Shower. If you haven't showered under a Nebia shower head before, you're missing out! We installed one in our Airstream as well as our house in Canada. Now, we're adding the Nebia by Moen Quattro Hand Shower to our jungle shower!
Some of the awesome features about the Nebia by Moen Quattro Hand Shower include:
You use half the water you would with a typical shower system WITHOUT sacrificing any comfort.
To date, the Nebia community has saved over 400 million gallons of water!
Nebia by Moen Quattro has 4 different spray modes, so there's something for everyone!
It's great for washing your kid (or dog!), and is made with Ocean Recycled Plastic components.
It's super easy to install.
It's affordable, starting at just $119.
We also included the Nebia Double Shelf, Quick Dry Earth Mat, Self-Care Kit and bath towels to complete our outdoor jungle shower. You can shop all Nebia products here and use NEBIASUMMER to get 10% of all Nebia products. Valid only through the month of July.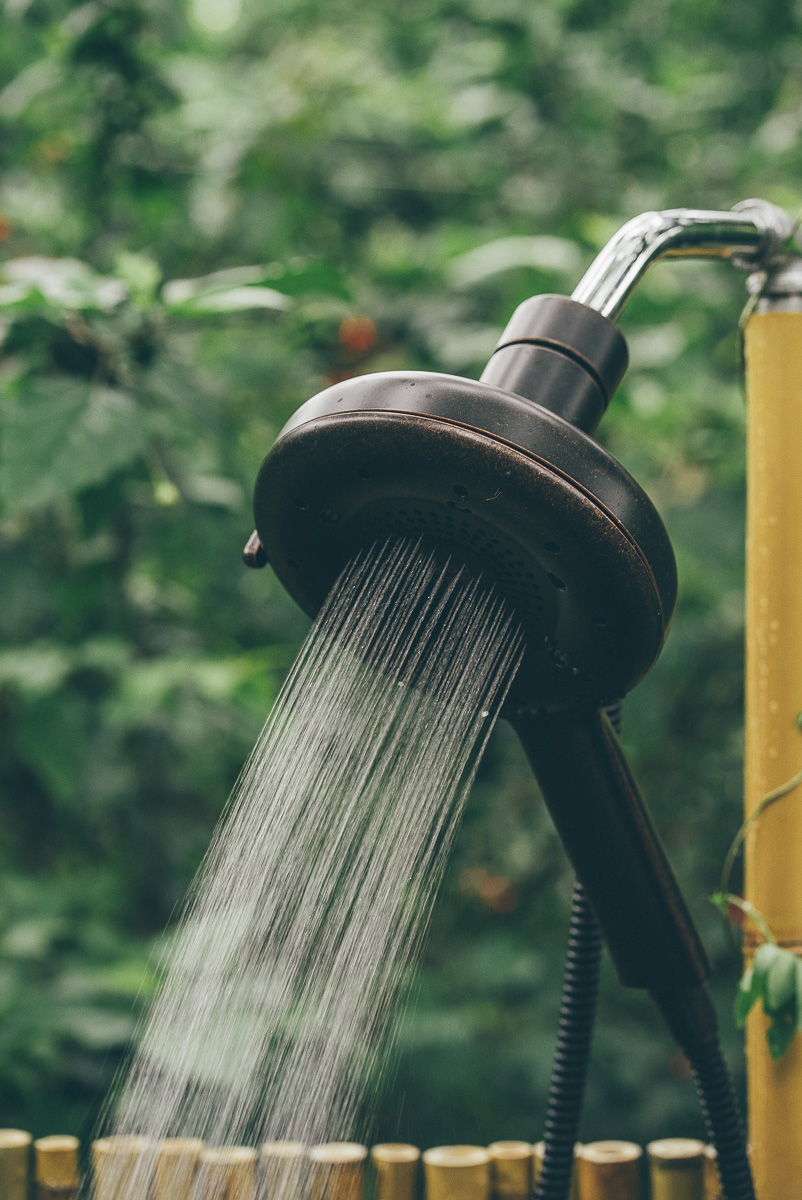 Putting All The Pieces Together
Once we got the plumbing to work and the bamboo wall was delivered, we put all the pieces together and got wet! This entire build was put together in the backyard of our rental house in one weekend. We decided to build it here because there's no running water on our land just yet. But we were too excited to wait to build the shower, so we decided to do so at our rental house. Eventually, we will move our jungle shower to our land where it will permanently live.
The most challenging part of the entire build was moving the 200lb bamboo wall into its spiral position. The easiest part was attaching the Nebia Hand Shower. That part only took a few minutes. We may have squealed a little when we turned the shower on for the first time. Then it was time to get wet, and it's just as magical as we imagined it would be…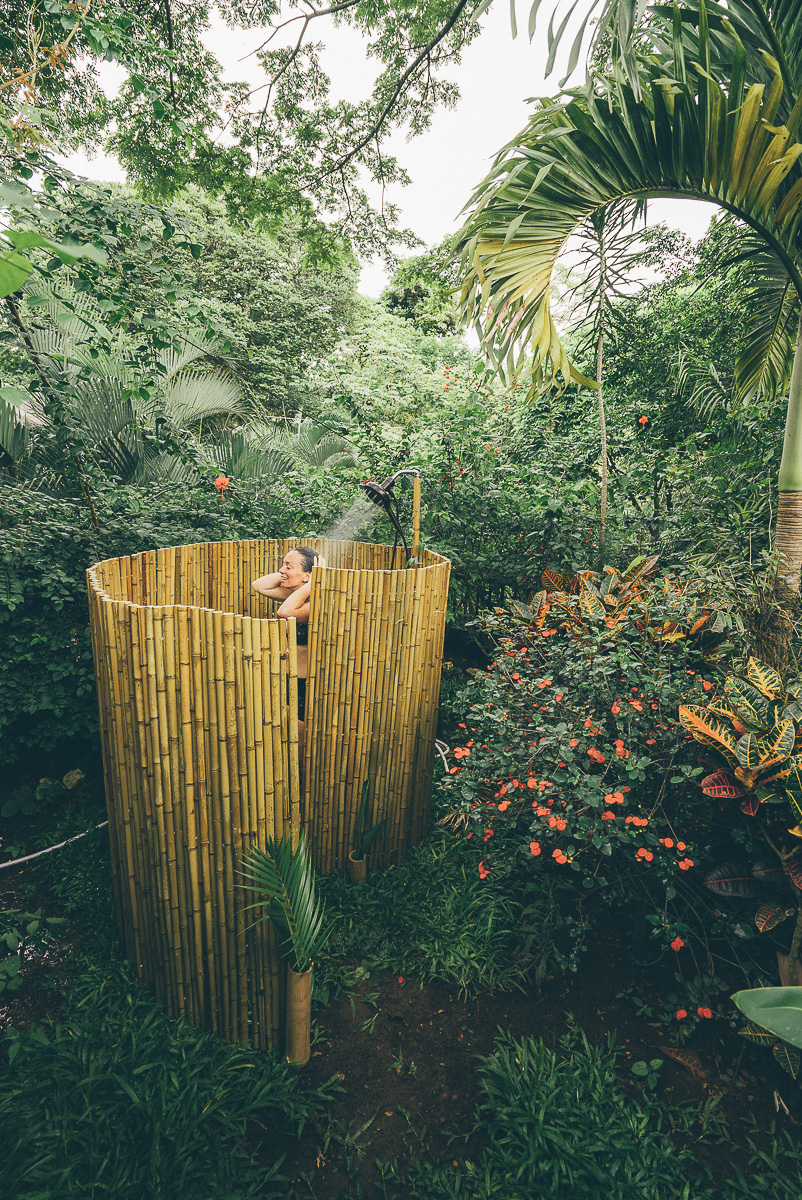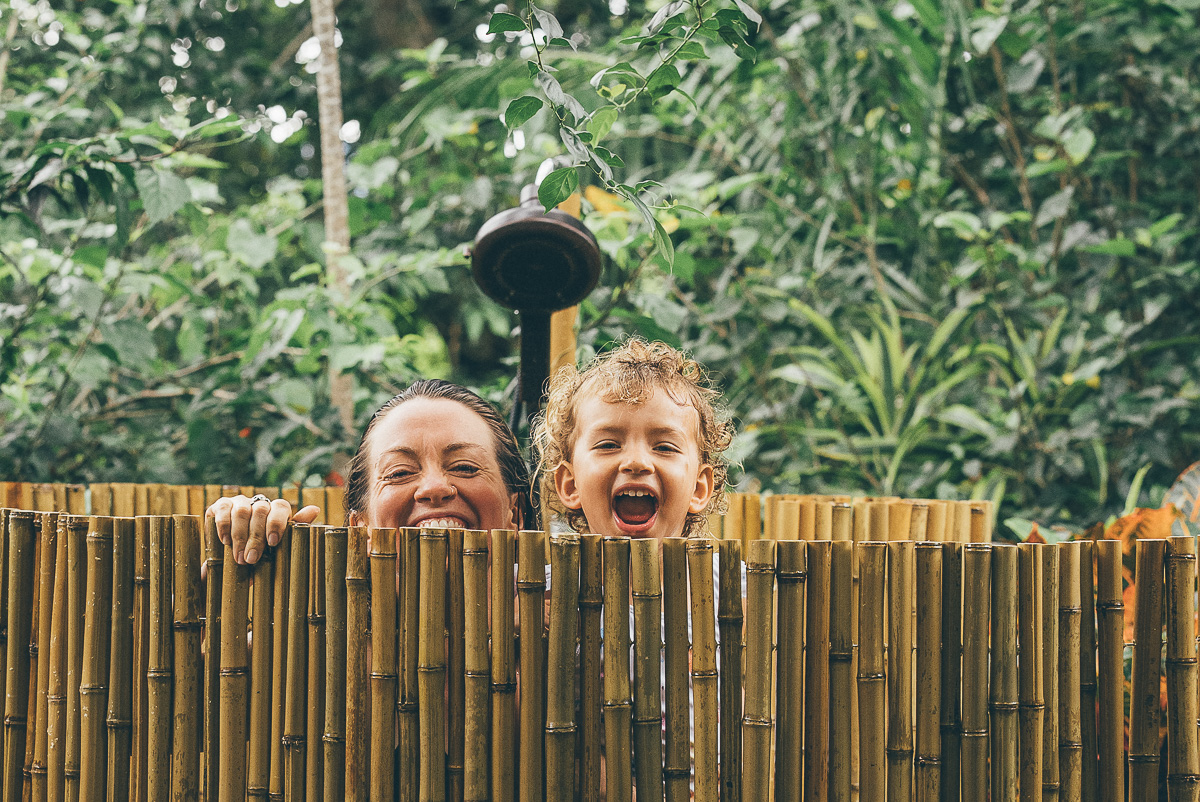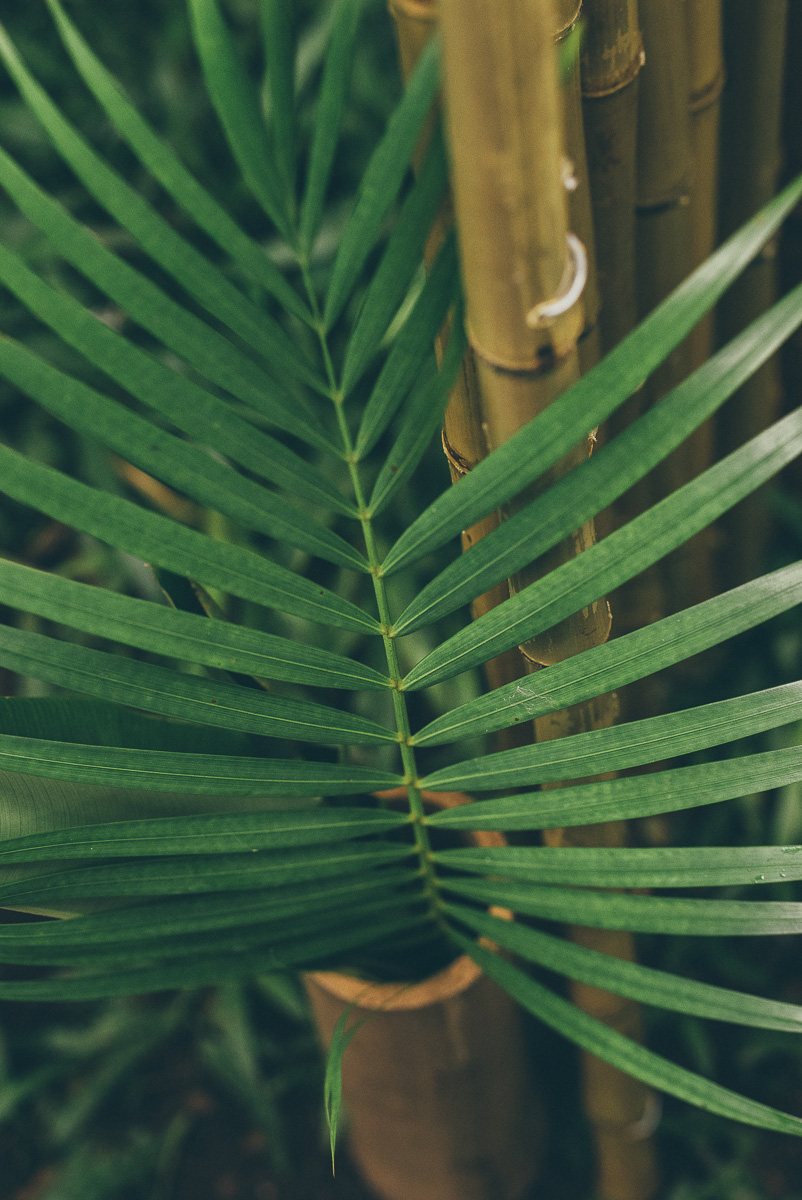 To experience my first outdoor jungle shower experience in a shower WE BUILT, click play on the video below:
---
A special thanks to Nebia for sponsoring this post. All thoughts and opinions are our own.