During my first trip to Thailand, I decided to get a bamboo tattoo done on my foot. I first discovered bamboo tattooing after seeing Angelina Jolie's tribal tattoo done on her shoulder and learned that she had visited Thailand to get it.  Not only is bamboo tattooing a cultural experience, but I have more appreciation for a tattoo that is done in an organic way.
Bamboo tattooing is generally believed to have originated around 3000 years ago during the Khmer period. Mummified remains of ancient tribe leaders in the Philippines have tattoos which suggested was done using bamboo tattooing technique. In Thailand, bamboo tattooing began in the Buddhist temples. Monks and Thai soldiers would receive religious text tattoos from grand master monks for protection, strength, and invisibility.
I'd be lying if I said bamboo tattooing isn't painful. In fact, it's more painful than a tattoo done with a gun since it pierces deeper into the skin. Of course, each individual has a different pain tolerance, and certain parts of the body are more sensitive than others. I have a pretty high pain tolerance but chose to get my tattoo on a very sensitive spot… the side of my foot!
The process of the bamboo tattooing is as so:
1) A fine needle (the width of the needle depends on the tattoo) is firmly attached to the end of a thin piece of bamboo using cotton.
2) The needle is dipped into the ink and gently tapped into the skin.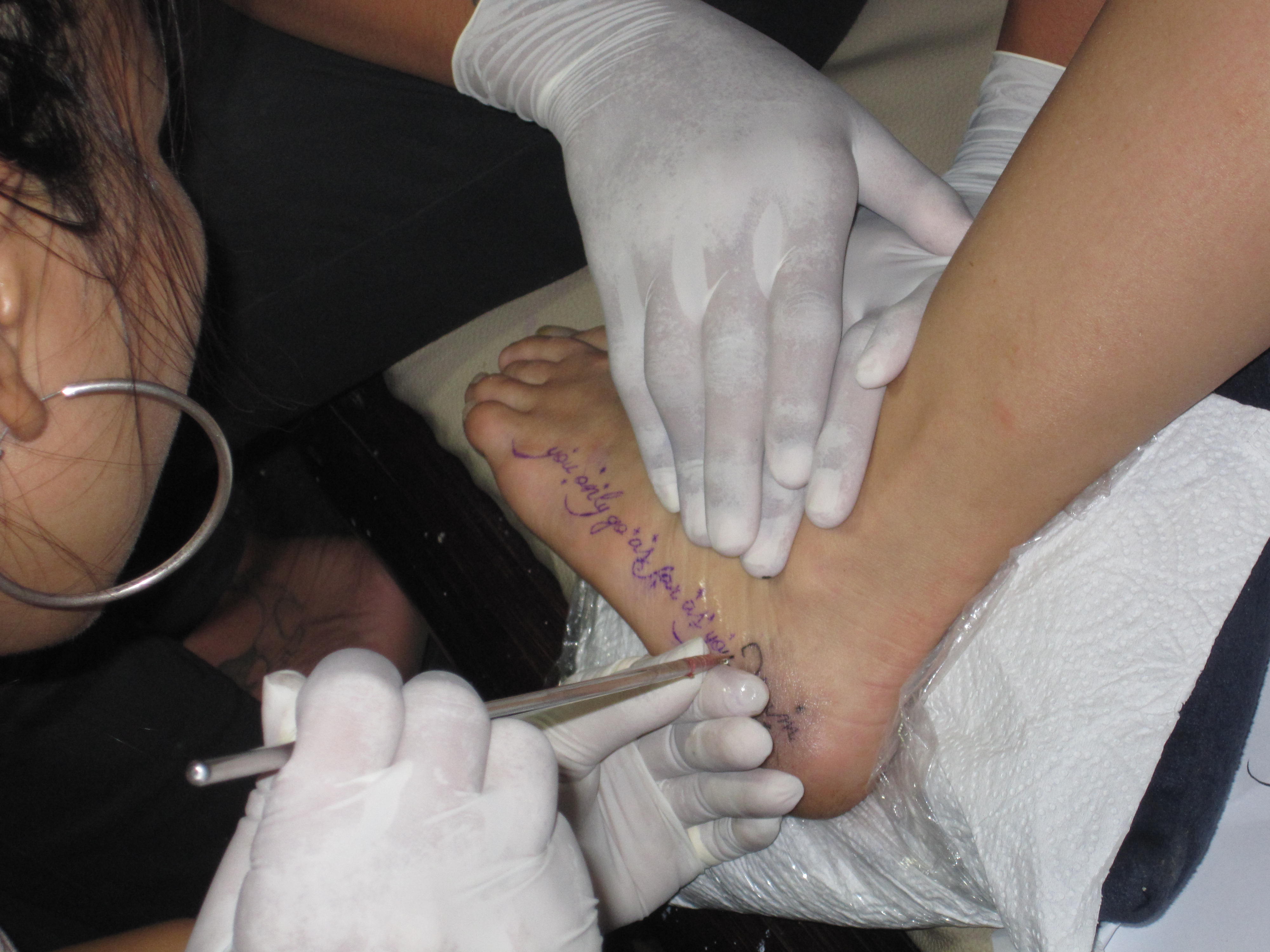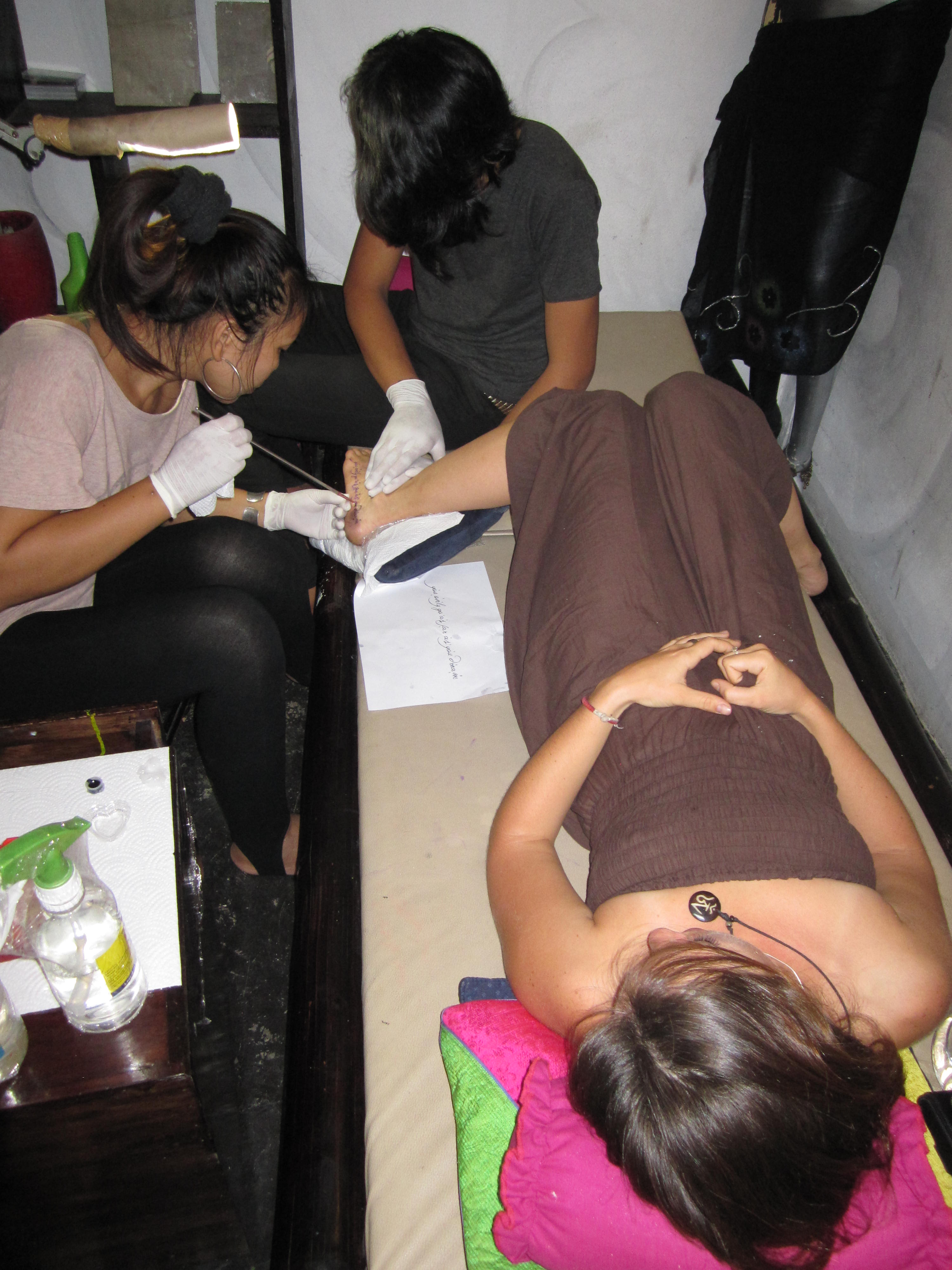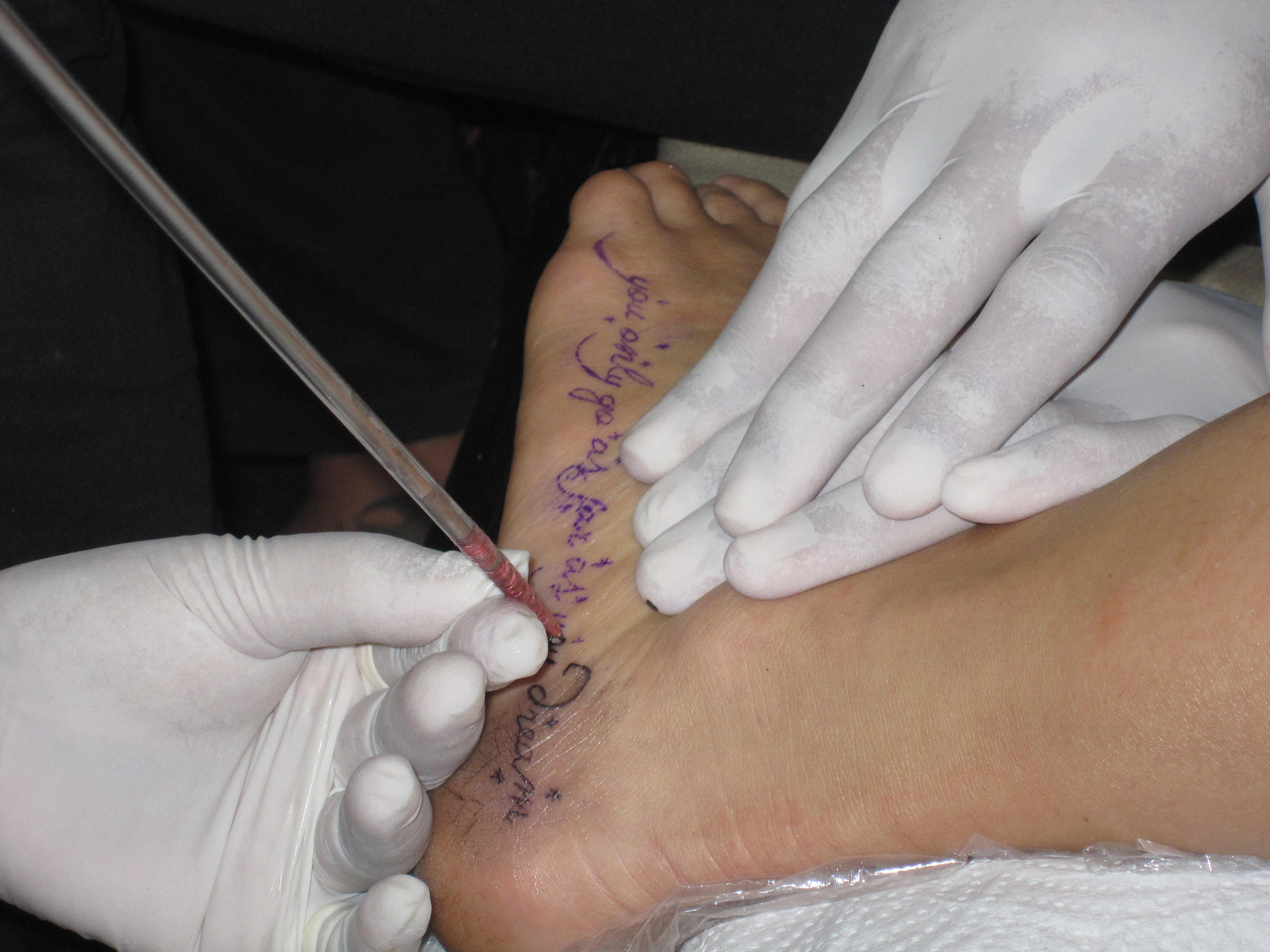 With bamboo tattooing, the skin is punctured but not torn, so there is little or no bleeding.  There is no scabbing as with most machine tattoos, resulting in a very quick healing process (mine took only a couple of days).  Since there is little or no blood, the colour doesn't push out of the skin like gun tattoos, so the colour stays vibrant.   Bamboo tattoos tend to maintain their colour extremely well, staying bright and strong. Now, I have read that another benefit of bamboo tattooing is that is it SIGNIFICANTLY less painful than a fun tattoo however, I highly disagree with that statement.  I personally thought bamboo tattooing hurt more than a gun tattoo, but regardless, the pain doesn't last forever and the end result is definitely worth it.
Tip – While I was getting my tattoo, I repeated a mantra I learned during my travels in India over and over again to help with the pain.  It worked very well. Find something that you can focus on that will distract you from the pain.  Mind over matter!
This is the finished product: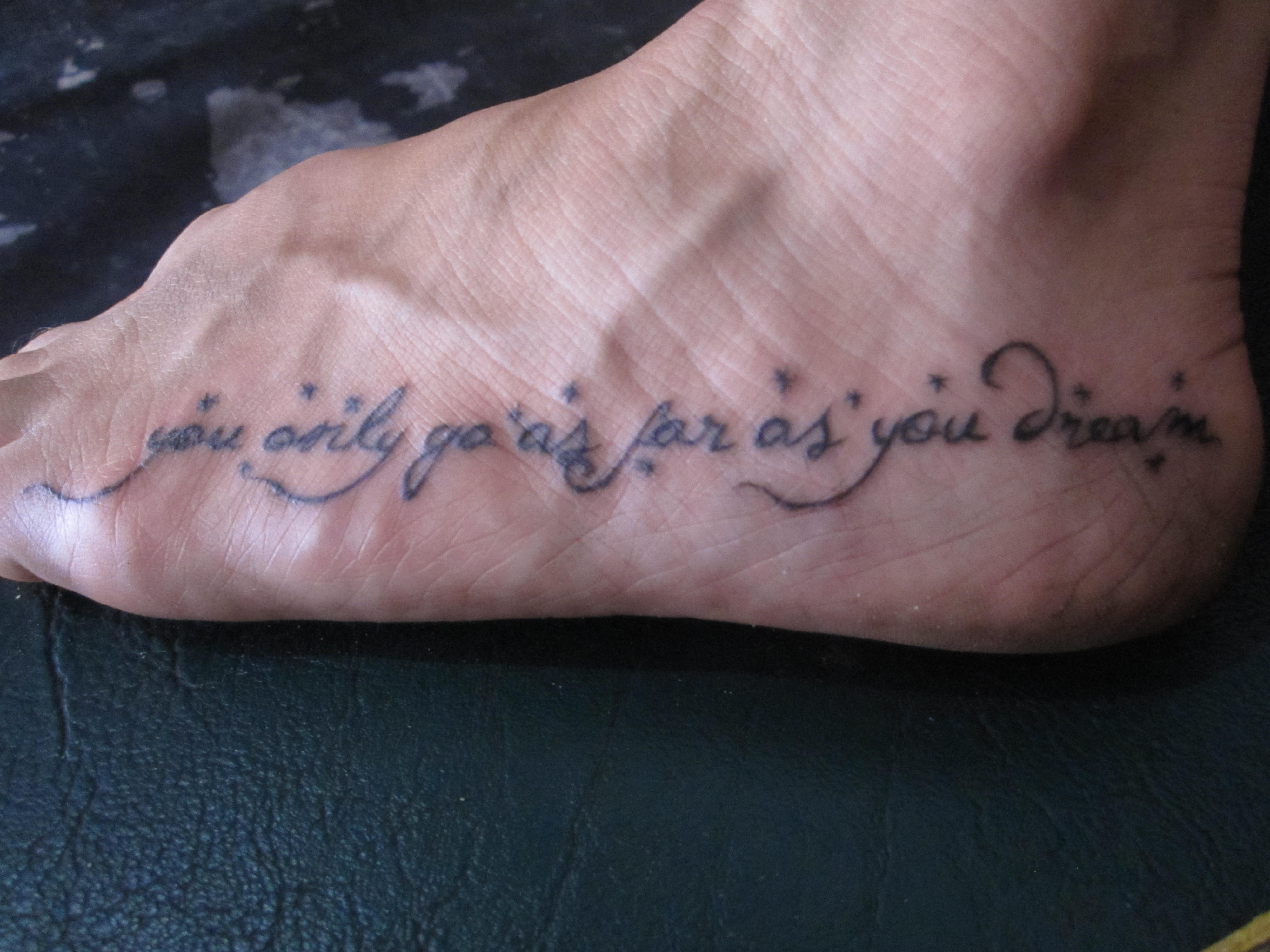 I got my tattoo done at Tribal Tattoo in the central part of Koh Phangan, Thailand.  The lady that did my tattoo (in the picture below) was pretty good, but I would suggests shopping around and looking at different artists' work before committing.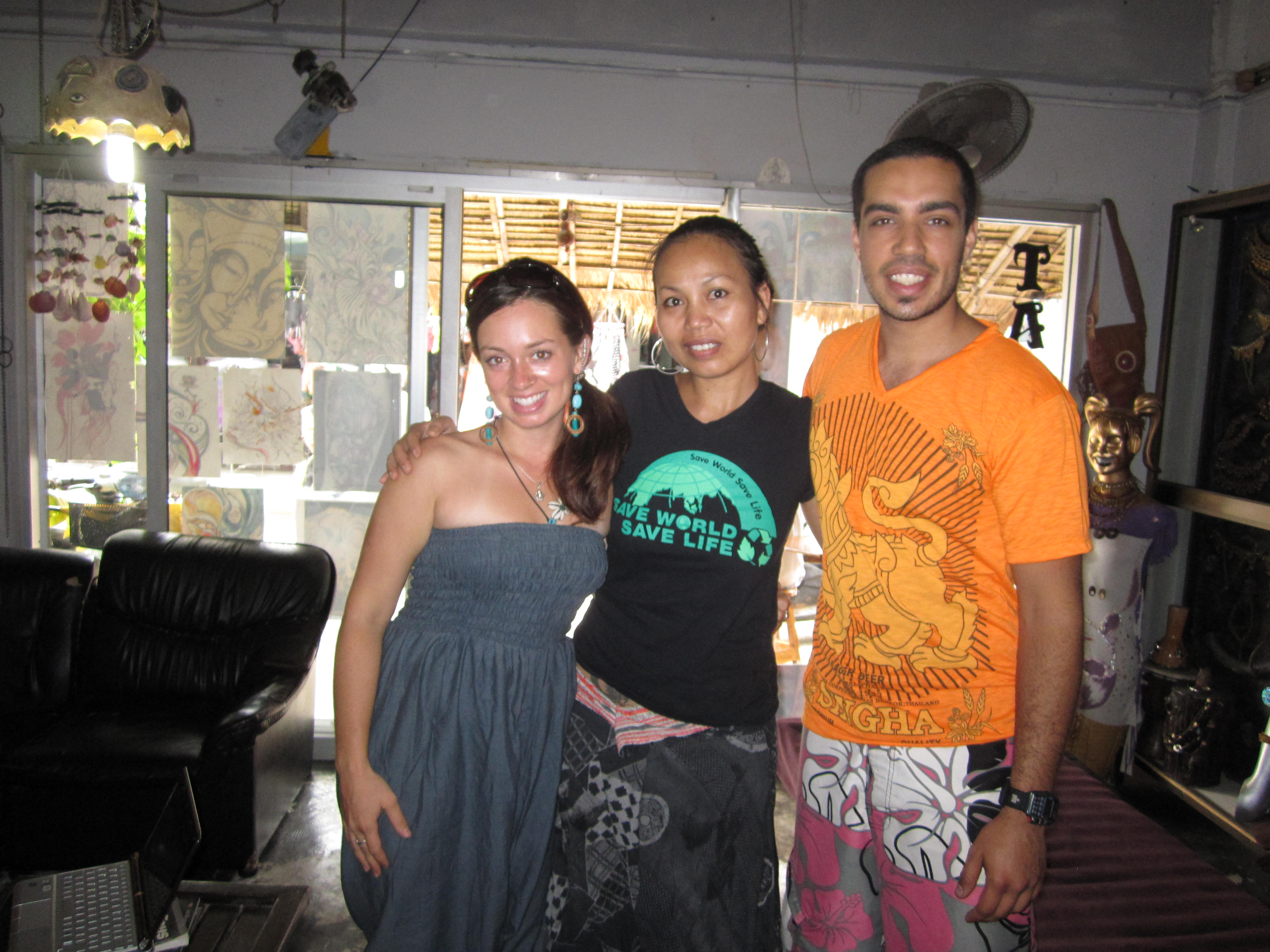 Do you have a bamboo tattoo? Where did you get it done? How was your experience?