Barcelona is the second largest city in Spain and is the capital of Catalonia. If you have been practicing your Spanish, that's great, but you may score a couple more brownie points with the locals if you learn a few words in Catalan too. Most avid travellers I have met have named Barcelona as their favourite European city, and I really can't blame them. The city is bursting with personality! There's so much to see and do that you can easily spend a week here and experience something new and exciting every day. The following are ten top awesome things to do during your visit to Barcelona:
Visit The Sagrada Familia
Although this masterpiece has been in the works since the first stones were laid in 1882, it has yet to be finished. When you visit this Cathedral, you'll understand why. From the beautiful facades of the exterior to the amazingly designed interior, there's no doubt that this is the icon of the city. Never have I been blown away by architecture like I was stepping up to this work for art. Local architect Antonio Gaudí is an artist like no other, and the Sagrada Familia is just one example of that. Even if you're visiting Barcelona for a day, a visit to this Cathedral should make it on your itinerary.
Explore the City Centre
There are so many places to enjoy at the heart of Barcelona. From food markets to amazing shopping areas to the historical district, there's much to explore. Ciutat Vella will have many of the older attractions such as the Gothic city, while Example is a district that has some more modernist architecture including some of the best work of Gaudí.
Party it Up at the Local Nightclubs
The locals of Barcelona sure love to party! They have a tendency to go out late with the night only beginning when the clock strikes midnight. The nightclubs offer up every kind of music you can think of from hip hop and electronica through to jazz and live music clubs, with the Ciutat Vella district being at the heart of the night life. During one of my nights partying in Barcelona, I witnessed the most ridiculous open mic night ever. The talent that went up on stage blew my mind! The fact that each artist didn't know the others, yet created this beautiful music together still baffles my mind when I think back to it.
Visit Park Güell
Located on Carmel Hill, this eclectic and diverse park has the stamp of Gaudí all over it. Again, even if you only have one day in Barcelona, Park Güel needs to be on your list of places to visit. Never will you ever walk through a park quite like this one. From beautiful mosaic statues to a stunning bird nest walkway, there's a lot to be admired here. The best time to visit the park is a couple of hours before sunset. You can stroll through the park and then climb the hill just above it to watch sunset over the city. The entrance to the park costs 7 €, so if you're looking to save a few bucks, you have the option of getting in for free after sunset; however, I would recommend paying the money to see the park in daylight as it's difficult to see all the detail when it's dark.
Get a Local's Perspective of the City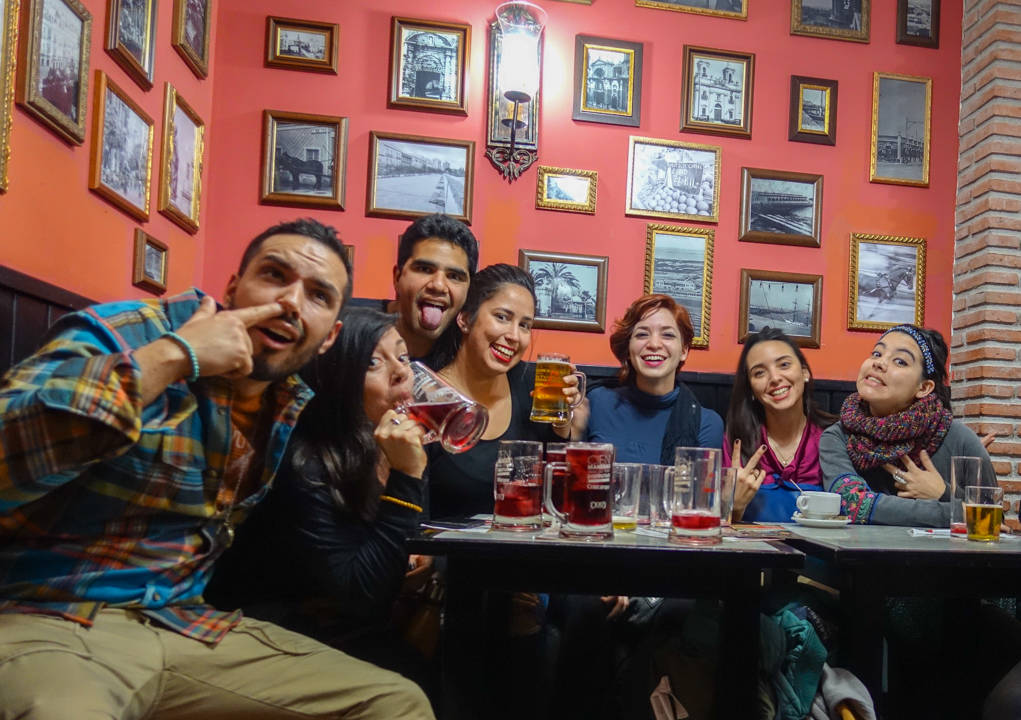 While admiring the tourist attractions is one way to experience the city, it's always nice to experience a new place through a local's eyes. A company called With Locals offers a range of different activities you can enjoy with the help of a local. From art and food market tours to rooftop tapas meals, there are some great ways of enjoying the city from a local's viewpoint here.
Take a Stroll Down Las Ramblas
Las Ramblas is probably the most visited area of the city by tourists. Here, you'll find a range of theatres and shops along this series of pedestrianized streets. The area is lined with trees and people…lots of people. Nonetheless, this is a fun place to explore especially at night when this area really comes to life.
Taste the Fantastic Food
Catalan people are particularly proud of their food, and I don't blame them. You're taste buds are definitely in for a treat with the abundance of fresh seafood, delicious paella and other Catalan classics. The bakeries in the city are also noted for their excellent bread and cakes. Those on a budget can look for the daily menus, which include a two course meal and drink for a low set price.
Visit the Barrio Gotico
Gotico is an old medieval area where some of the oldest architectural sites can be found including the city walls dating from the Roman period and foundations, which are over 2,000 years old. The city has also developed, so there are plenty of shops and modern buildings here as well as the historical sights. You'll also find some pretty incredible street musicians in this area.
Find the City's Hidden Gems
There are some tremendous spots if you venture off the tourist trail which can be found if you have the time to simple explore by foot. If you can, try and find Plaza Saint Philip Neri. This area has a long history and includes a hotel where many A-list celebrities stay when they visit Barcelona. Many Hollywood films have been shot here including Vicky Christina Barcelona. If you have time, head to the rooftop of the hotel located here to have a beer. Although the beer itself isn't that great, this hotel rooftop bar offers the best view of the city.
Take a Walking Tour of the City
There are few better ways to gain an understanding of a city than by exploring it on foot, and the FREE walking tours of the city have plenty of sights to enjoy. From Las Ramblas and the modern sights along the seafront to a look at the Sagrada Familia, set aside a few hours for a comprehensive look around the city.
What would you recommend to see and do in Barcelona?