Often, I sit and and reflect my past travels. Lately, I have been thinking a lot about Indonesia and how magnificent this Southeast Asian country is.  Discovering Indonesia is like stepping into a fairy tale land.  Green moss grows on old monuments and a vast amount of exotic plants are at every turn. It is a land of many cultures, customs, people, animals, plants, artwork and food. The country is made up of 17,508 islands, according to the Indonesian Naval Hydro-Oceanographic office, and 6000 of those are inhabited. In other words, there is a lot to be discovered in this magical place!
After reflecting on my past adventures in Indonesia, I decided that it is necessary to write a re-cap of my favourite things to see and do in the country:
Rent a motorbike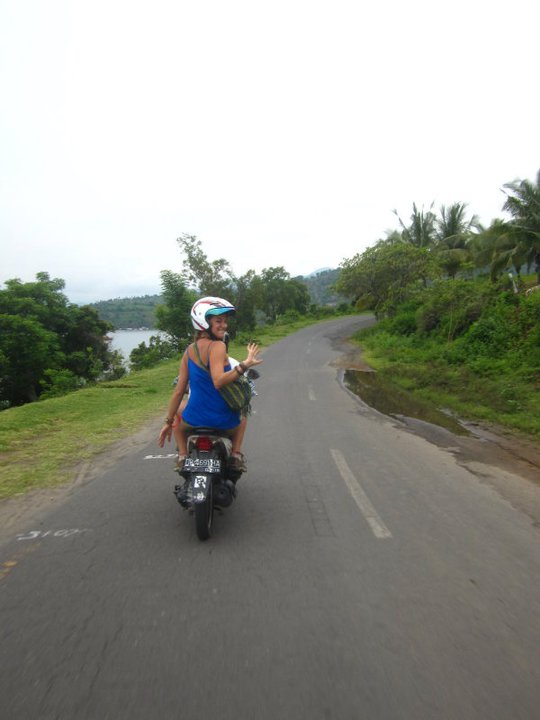 One of my favourite ways to explore a new place is by motorbike. You can rent a motorbike in Indonesia for a few dollars a day. Add a few extra dollars for a tank of gas, and you're good to go. Driving a motorbike is a great way to explore the islands of Indonesia because it gives you the freedom of going wherever you want at a very cheap price. You can discover the islands at your own pace and visit less visited towns and villages.  It's also not a bad feeling to have the wind sweeping across your face as you glide down winding roads encased by palm trees and crystal clear ocean waters. Discovering Indonesia, and South East Asia in general, by motorbike is a cultural experience since it is the number one way the locals get around. So, do as the locals do and rent a motorbike!
WARNING: If you are riding with two people on one bike, make sure you rent a bike with enough comfort and power.  I have a fairly large scar on my leg from a motorbike collision because the bike couldn't handle driving up a hill with two people on it.
Relax on any of the Gili islands
Located just off the northwestern tip of Lombok are the three Gili Islands. My plan was to visit all three of the islands, but I was swept away by Gili Trawangan, and couldn't seem to part with this piece of paradise. Glili Trawangan has been tagged as the 'party island' of the three Gili's, but it is possible to find a quiet retreat from the craziness, which is what I did.
As soon as I stepped foot on this island, I fell in love. What first captured my heart was the fact that the only mode of transportation around the island was by foot, bike or horse and carriage. There are no gas-fueled automobiles allowed on the island. Gili Trawangan is small and takes about an hour and a half to walk around the entire parameter of the island.  The great thing about this is you will never get lost. In fact, if you leave your accommodations and walk straight, it's only a matter of time before you return right back to where you started. If you are looking for a place to relax, swim and spot sea life, Gili Trawangan is the place to be. I spent most of my day collecting shells and snorkeling. The island has the best snorkeling that I have experienced to date. The water is crystal clear and the sea life is abundant. I spent my days swimming along side giant sea turtles and even encountered a shark! The accommodations and dining options on the island are spectacular. Whether you are on a budget or not, every level of accommodation is luxurious. You can enjoy a meal or an ice cold Bintang on a giant pirate ship or in a hut that is surrounded by ocean water.
Get creative!
Indonesia is a country full of artists. If you enjoy being creative and trying something new, take a jewellery making or batik art class. One of the best places to learn batik, is in the city renowned as a centre of classical Javanese fine art and culture, Yogyakarta. It's not difficult to find an art studio around the city that offers classes in batik. In fact, you will be able to find a studio at almost every street corner. I must warn you that there are some people that claim to be batik artists offering classes, but they are merely businessmen/woman and not artists. Make sure you are taking a class with someone who actually knows batik and can teach you're properly. I made the mistake of signing up for a class with someone who claimed to know the art, but who was actually just a scammer who knew nothing. It was fun to try batik nonetheless, but if I could do it all over again, I would shop around and take a class with a professional artist.
While exploring the streets of Ubud, I came across a jewellery store that offered classes in silver jewellery making. I was immediately intrigued and signed myself up. It was such a great experience that I would recommend to anyone spending time in Ubud. Studio Perak was an excellent place to learn this craft at a reasonable price.
Kecak Fire and Trance Dance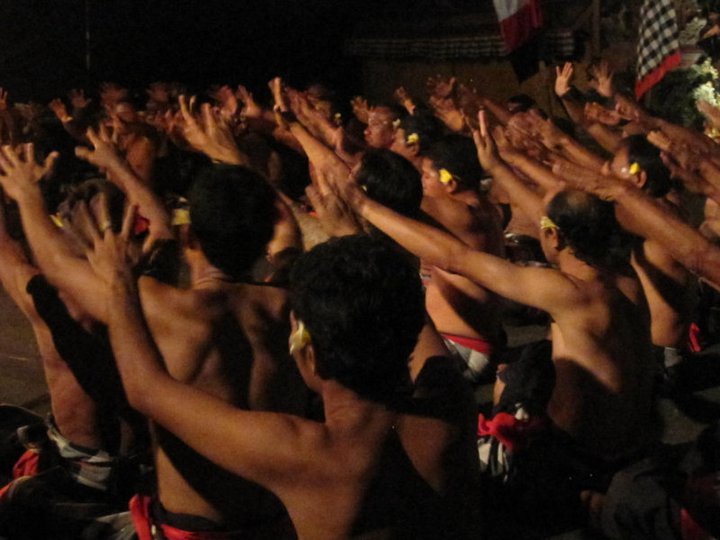 No visit to Bali would be complete without seeing some of the island's colourful traditional dances. All of the dances are unique and meaningful to Balinese culture. Kecak is a dance that tells the story of Prince Rama and his rescue of Princess Sita. The fire dance is where the dancer becomes entranced and is able to dance on hot coals without feeling pain. The Saghyang (trance) dance, which is my favourite, is traditionally performed as an exorcism to promote peace and health within the village. All of the performances were beautiful to witness and a great cultural experience to anyone spending time in Bali.
Take a Bus and Get Lost
No mater where you go in Indonesia, you will not be disappointed. I learned this when 2 friends and myself decided to get off at a random stop in Amed with no plan in mind. We wondered down the streets until we found this hidden gem located along the black sand beach. It was almost like a mini resort, except there were no people around; yet all of the doors were unlocked. We decided to drop our bags in this one cabin that had an amazing loft with a massive terrace that overlooked the ocean. We figured that someone had to return to this "resort" since everything was left unlocked. About an hour or so later, a man appeared and told us that the resort is closed but we could stay for a few nights.  So, we did! It cost us $7 US a night, and we had the entire resort to ourselves. This place was unbelievably gorgeous and definitely one of the top places I've ever stayed in. We had a fantastic time, but wouldn't have had this experience if we didn't take a bus and get off at a random spot in the middle of nowhere.
Eat a Fruit That Smells Like Stinky Feet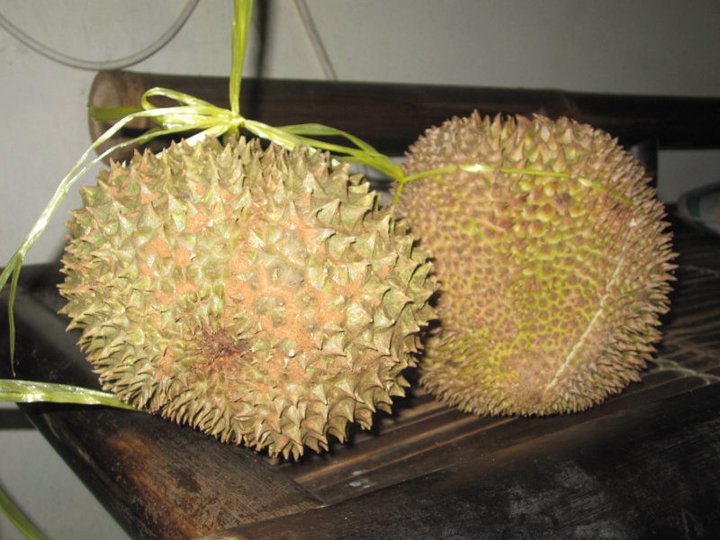 One of the best ways to experience a culture is through food. Looks and smells can be deceiving, which is why when I first came across durian fruit, I didn't expect to enjoy it the way I did. Regarded by many people in Southeast Asia as the "king of fruits", the durian is distinctive for its large size, weird odor, and intimidating thorn-covered hunk.  You will see many shops across Indonesia that solely offers durian. You will also notice that most hotels, hostels and guesthouses have signs in the lobby that say "no durian allowed." This is because the smell of the durian fruit is so strong, and its distinctive smell tends to linger within a kilometer radius of where it is being indulged. The locals have told me that it is a love or hate relationship, but almost all Indonesians love durian. Of course, I had to give this interesting delicacy a try. By smell, I wasn't convinced that I would enjoy it, but one I put a piece of this gooey, yellowish fruit into my mouth, I was surprised by how much I enjoyed it. To me, it was a mixture of garlic and sweetness combined with a taste I have never experienced before. Be warned that your breath will smell fairly raunchy afterwards, and your hands will stink for at least 24 hours. However, if you can get your hands on some coffee grinds, you can rub that into your skin with some water to drastically reduce the smell. Gargling coffee and brushing your teeth a few times in a row will also reduce the stink. Enjoy!
Explore Borobudur
I'm not big fan of popular tourist attractions, but a visit to Borobudur temple in Central Java (near Yogyakarta) is a must!  Borobudur is the largest Buddhist monument in the world and truly is an architectural masterpiece. Along the lower level of the temple, the walls and balustrades are adorned with intricately carved stone reliefs that tell the story of Buddha's enlightenment. At the upper level, stone stupas, Buddha statues and a magnificent view of the city below will surround you.
There is so much more to discover in Indonesia, which means one visit will not be enough. I will need to return in the near future, and then once again after that, and once again after that…you see where I'm going with this.
Have you been to Indonesia?
What would you recommend fellow travellers see or do in this incredible country?