This post is contributed by Cazzy Magennis.
Deciding to convert a van with your partner can be a truly memorable experience. It can also be a dangerous one. Why?
It can be stressful!
We had the most incredible time spending the summer of 2020 converting a Peugeot Boxer. Now, both Bradley and I get to spend years of our lives together driving all around the world in our tiny home on wheels.
If you're thinking to convert a van, I say "go for it!" But, keep in mind there will be downs with the ups throughout the process. Unless you've done it before, learning how to convert a van can feel like a struggle at times. The struggle however, is also what makes the whole experience more rewarding.
I honestly think Bradley and I are a stronger couple after the experience. Keeping that in mind, here are 6 top tips on how to convert a van as a couple and not break up afterwards…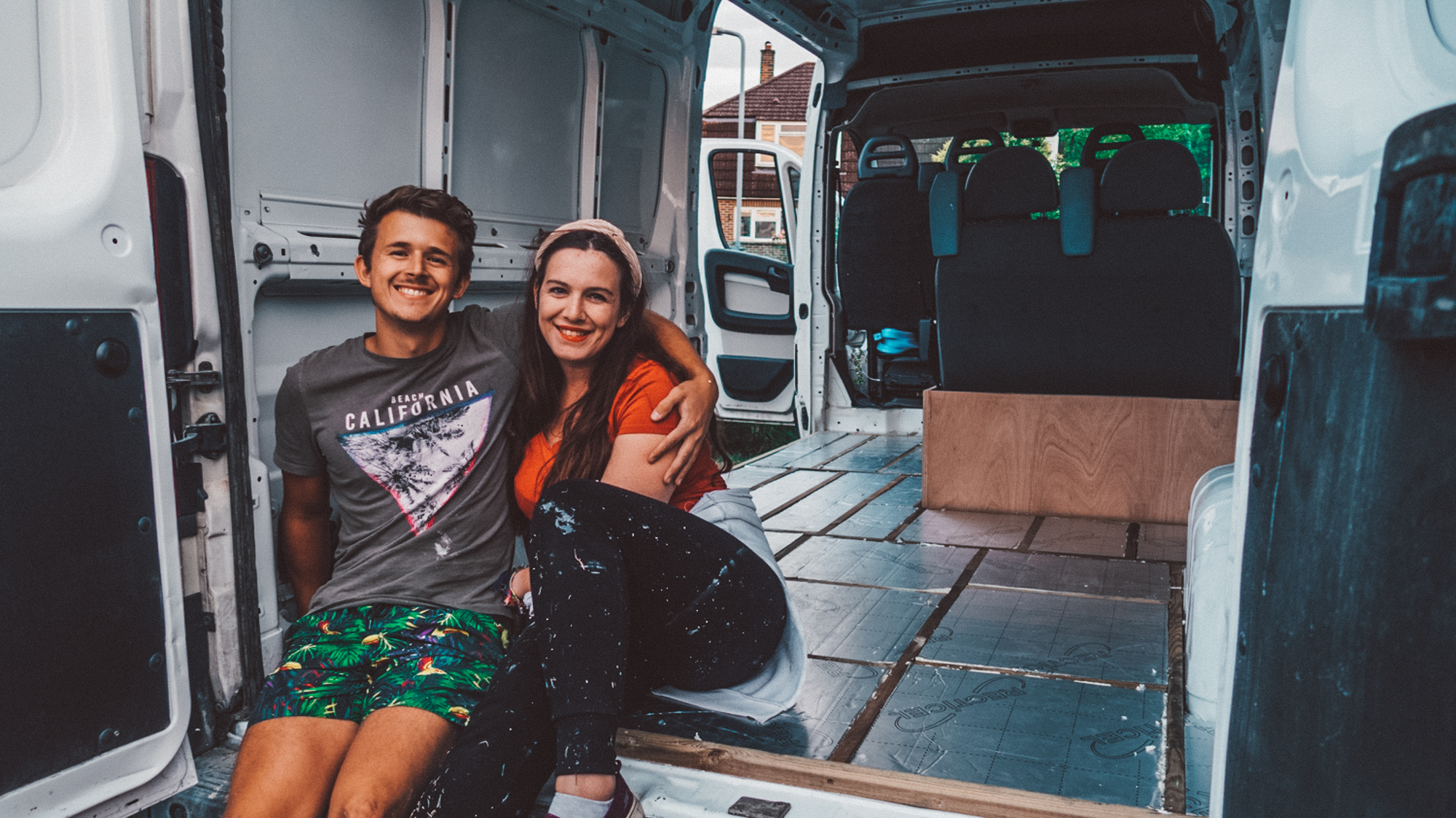 1. Divide Up Responsibilities
When you convert a van, you'll need to make a LOT of decisions. Like, thousands of them. Which colour schemes to use, which heater to buy, what blinds you will use, what solar panels to go for, etc.
We realized from the beginning that if we were ever going to get anywhere, it would be best to divide up our responsibilities and give the other person control over certain areas of the van. Each of us had tasks we were excited for as well as not so much…
We took plenty of time deciding together which van to buy, the rough layout we'd want and whether or not to have a shower. You know, the big decisions.
When it came to smaller decisions, like which shower curtain to buy or which company to buy our batteries from, we divided and conquered. This way, we both didn't need to learn the ins and outs of everything. We could each focus on half of the work knowing the other person had everything else covered. Working this way really saved us time with our build.
Here's what some of our responsibilities looked like …
Cazzy's Tasks
Deciding colour scheme
Picking out exact electrical fittings
Buying finishing touches – curtains, bedding, pillows, etc.
Building the cupboards
Painting everything
Filming the entire process
Bradley's Tasks
Designing the gas system and finding an engineer
Designing the electrical system and finding an electrician
Creating a water system
Building the main structures (or at least figuring how they need to be built)
Making major cuts in the body of the van
We did all of the day-to-day building together. When it came to each new chapter of the van, we knew who would be "in charge" and could boss the other one around!
Only joking… kinda…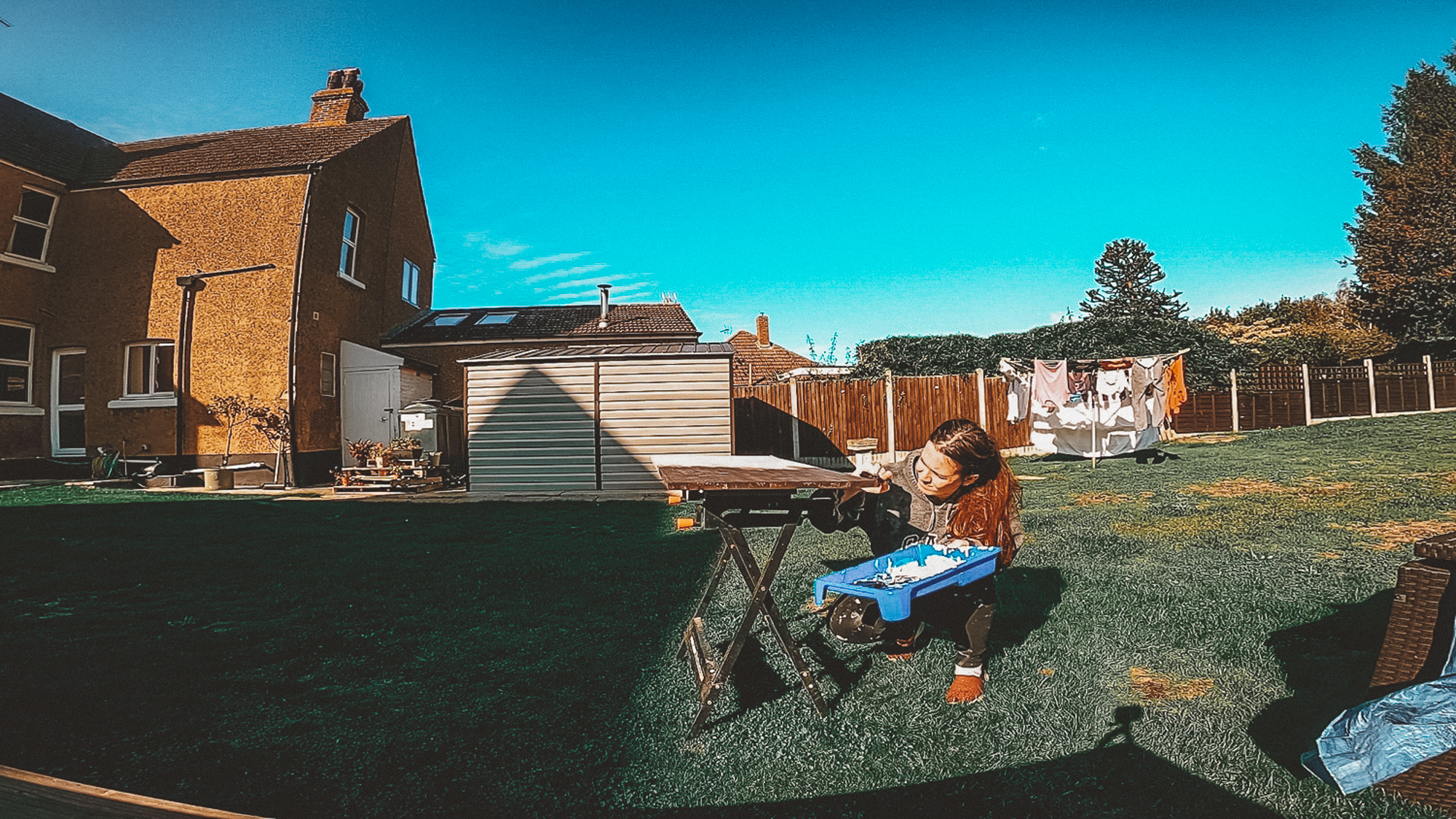 2. Arrange Finances AHEAD of Time
So, we didn't quite live up to this tip ourselves, but I strongly recommend being better than us. It can get expensive to convert a van!
We found it hard saying no to the more expensive items (decent batteries for example). We knew that in the long run, the more expensive ones would last longer and be more efficient.
The problem is, if you don't have a really tight rein on your finances, then it's very easy to go over and beyond your budget. We set aside a budget at the start, but by the end found that we had certainly gone over. Luckily, we had a little bit of wiggle room to play with. If the extra money wasn't there to get us over the line, then it would have been a VERY stressful situation!
How can you be more on top of your finances? Take time to work out exactly how much things will cost rather than guessing.
Our budget planning initially went something like this:
Fridge: "Oh, that will be like £150, surely?"
Batteries: "That should cost us no more than £200."
Oven: "That should cost around £200 I imagine."
Ceiling fan: "That can't be no more than £100."
Turns out, all of these figures are wildly inaccurate. Why? Because proper campervan equipment is stupidly expensive! Most of our cost projections were based on what you would pay for standard household appliances, but this really isn't the case.
For example, an 80 litre campervan fridge costs at least £700 brand new! Crazy right?! So to save yourself from a lot of unpleasant surprises, spend a day or two mapping out prices as accurately as you can and then add a 15% buffer, just in case.
3. Know When the Day Ends
It took us about 3 months, working 6 days a week to complete our van conversion. Our goal was to fully commit and finish as quickly as possible.
On top of the physical labor, we were also spending all of our evenings and mornings on the laptop researching and buying new parts for the van conversion. When it came time to sleep, we would literally dream about the van!
It became an all-encompassing obsession, which can become very stressful. We never gave our brains time to relax and recharge. Eventually we made an agreement that when the day was done, it was REALLY done. No sitting on our laptops till 11 o'clock at night ordering more parts or looking at other people's van conversions online.
4. Make Some Time to Spend Together
Bradley and I have run a business together for the past 5 years. We understand what happens when you get too caught up in the stresses of running a company together. Sometimes you forget that you're talking to someone you love, not just a business partner. It became clear to us from the beginning that we needed to take more time to look after our relationship and not just focus on the van conversion. Finishing work on the van earlier some nights to have a date night at home became a lovely treat. I recommend doing the same.
When you convert a van, there will most likely be stresses that can really weigh heavily on your relationship. There may be disagreements and opposing views that you've never faced before. When you face a challenging moment together, take a step back and remember WHY you are converting the van together in the first place.
5. Create Space for Memories
Building our van together served a very important purpose. Our plan is to live in it for at least the next 2 to 3 years as we drive all the way across the world. Along the way, we expect to be joined by friends and family, spend time in really cool places and meet plenty of new people on the road. We have included plenty of blank walls which we plan to fill up with photos, all encapsulating the memories we build along our journey.
I'm going to assume that you and your partner too have plans to head out on some pretty epic adventures in your new home on wheels. Make space for the new memories and things you'll collect along the way.
Our plan is to bring an old-fashioned Polaroid camera. That way, we can immediately print off pictures and pin them straight on our wall. We have thousands of photos together on our phones and blog, but love the idea of having tangible photos we can check out every night before we go to bed.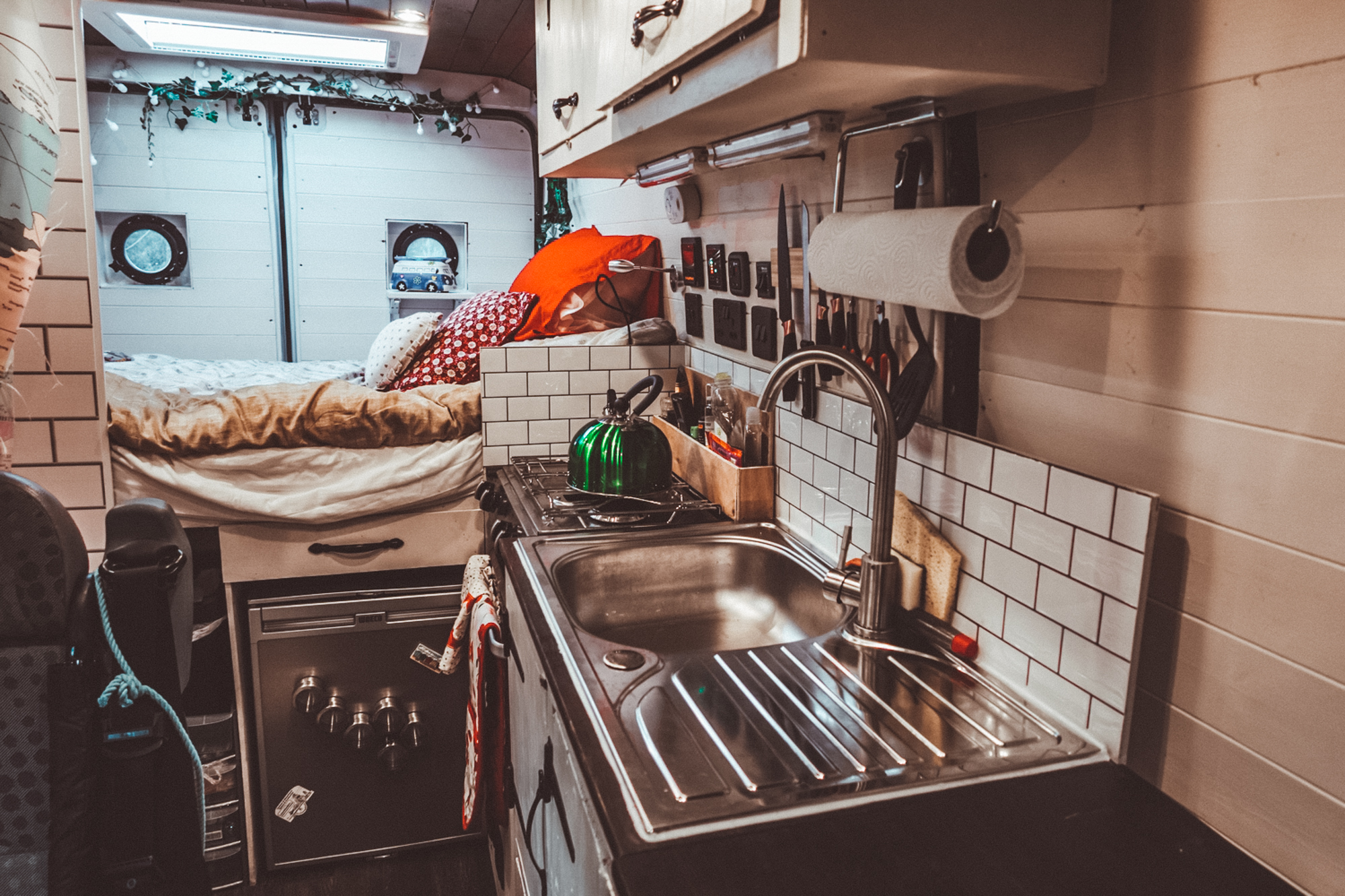 6. Convert a Van Without Taking It Too Seriously!
My final tip to keep in mind after deciding to convert a van as a couple is perhaps the most important. Don't take the whole van conversion process too seriously! Have fun along the way.
I feel like I've painted a pretty serious picture above of what it can be like to embark on this project. But honestly, it is a lot of fun!
Sure, there are stressful and tiring moments. Yet, in the grand scheme of things, these are very few and far between. We had a lot of help from friends and family members and created beautiful memories with everyone involved.
Some days, when it was far too hot and we just couldn't be bothered, we finished up for the day and headed to the beach or went out back for a few drinks in the sun. The build became more than just the build. Looking back, I have so many fond memories from our summer of 2020. Now, we have this wonderful creation to show for it. This makes me super happy every time I think about it.
Final Thoughts on Converting a Van with Your Partner
I hope my advice can be somewhat helpful to anyone looking to convert a van with their significant other.
Sure, there will be challenges along the way, but with the proper planning and a few measures in place, it will be a fun process. Just remember to not lose sight of the end goal, and you will be absolutely fine.
In fact, I would go so far as to say that converting a van as a couple is just as powerful as traveling as a couple. It can really strengthen a relationship. It tests you in new ways and leaves you coming out of it stronger than when you went in! So have fun, and I'll see you on the other side…