It's that time of year again. The time where I share the best travel gift ideas for the holiday season. If you're like me, then you wait until last minute to do holiday shopping. Fortunately, all of the travel gift ideas I share below can be ordered online and sent to your door before the holidays, but only if you order now. These travel goodies have been items I've been really digging this year and I'm confident that the travel enthusiast in your life will love any of them.
But wait, there's more!
Last year, I shared my 2016 gift guide + did a HUGE giveaway. This year, I'm sharing even more travel gift ideas and even BIGGER giveaways! 
Beginning December 11th, and for the next 10 days, Siya and I are giving away one of the items below to one of you!
There are 11 giveaways in total!
To kick things off, we are doing not one but TWO giveaways on December 11th.
How do you enter?
To enter, you must be subscribed to the Hopscotch the Globe newsletter where you'll get instant access to insider travel tips, monthly giveaways, never heard before stories, and so much more! You must also be following me and Siya on Instagram. Each day, Siya and I will be announcing a new giveaway on our Instagram accounts. You'll need to like and comment on these photos plus tag a friend to be qualified to win. So, be sure to head on over to our accounts each day starting December 11th until December 20th and win incredible travel gifts!
All winners will be announced on December 22nd on Instagram and on this blog post. Winners will receive their prize within a few weeks from the announcement.
Now on to my list for the best travel gift ideas for the holiday season...
The Ultimate Vlogging Camera: The Sony RX100 V
The Sony RX100 V is the latest camera of the RX100 series. In my opinion, it's the ultimate compact vlogging camera. It may look like your typical point and shoot camera, but you will be amazed by how powerful it it. This camera has a 1.0-type image sensor, blazing-fast 0.05-second autofocus, super slow motion at up to 960 fps, outstanding 4K movie capabilities, among other great features. The Sony RX100 V is my first choice recommendation for any traveller looking for a light weight, compact, high quality performing camera that takes excellent photos and video.
Giveaway: Sony RX100 V camera ($999.99 USD value).
Note: Must have a shipping address in the US to qualify.
The Art of Travel Vlogging E-Course
Is there someone in your life who would love nothing more than to make travelling the world their job? I can tell you first hand that it truly is the dream job, but it takes more than talent and passion to turn it into a career. I've partnered up with two of the most successful creators in the travel world, Nadine Sykora (Hey Nadine) and Matt Kepnes (Nomadic Matt) to create "The Art of Vlogging," an in-depth course on how to make amazing travel videos, succeed on YouTube, and monetize your hobby.
Nadine and I have been making videos for over 10 years and have a combined 500,000 subscribers and 67,000,000 views (and growing). We've worked with some of the biggest brands, tourism boards, and production companies. We are two of the most successful travel "vloggers" on YouTube and regularly speak at industry events on the subject. This course has over 10 hours of lessons, interviews with top YouTubers and access to a private Facebook group. If you love video and travel and want to turn it into a career, this course will give you the kick start you need.
Giveaway: Instant access to The Art of Vlogging E-course ($269 USD value).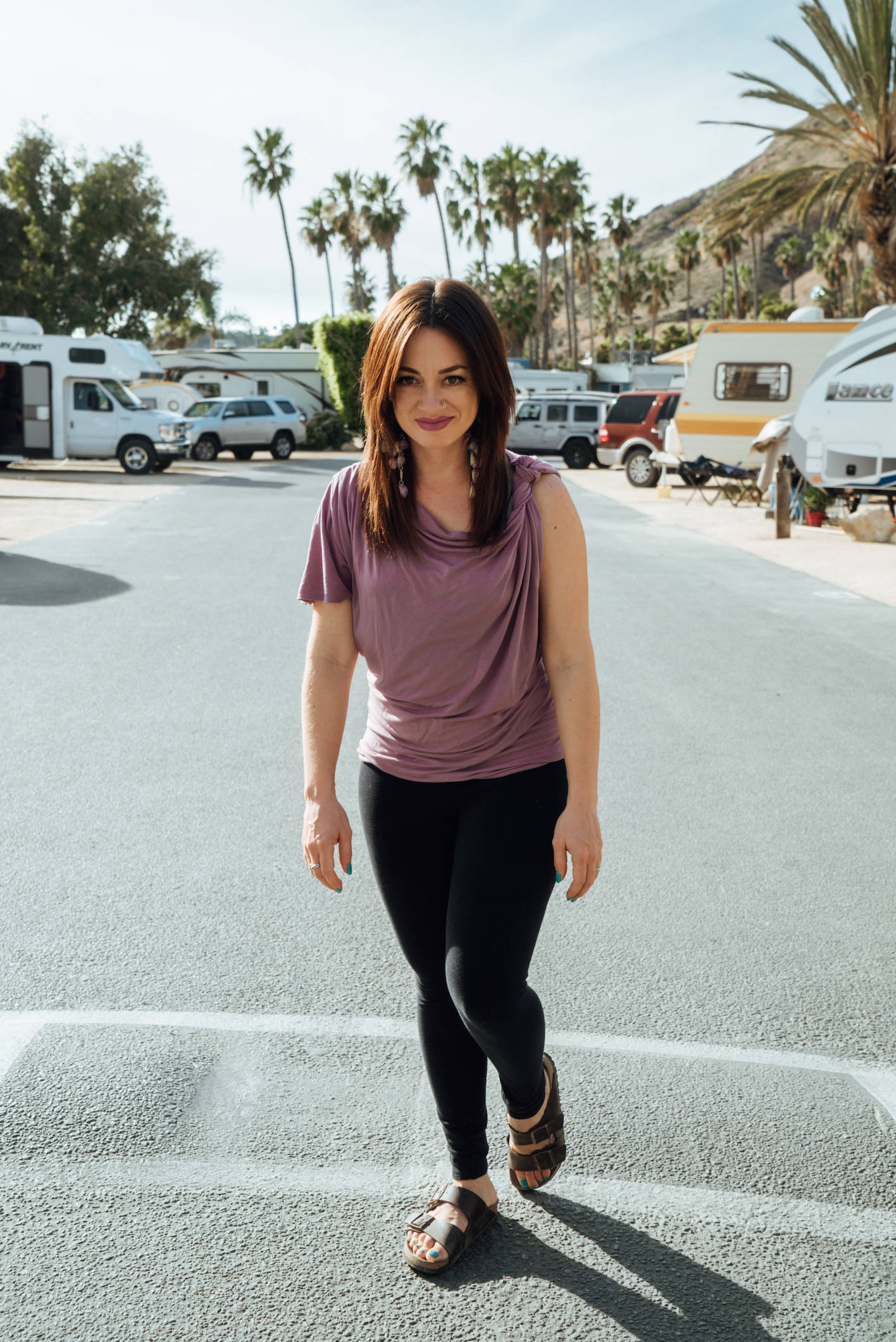 8-Way Eco-Friendly, Minimalist Travel Apparel
Travelling with only a carry-on has greatly improved my travels. Breezing through security, never losing my luggage and spending less time packing are all highlights of travelling with only a carry-on. Encircled creates clothing that will help the traveller in your life pack lighter and do more with less. Encircled clothing is versatile in design without sacrificing style. The shirt I'm wearing in the photo can be warn 8 ways, creating 8 different styles. Did I mention that Encircled apparel is made using high quality eco-friendly material for all of their products?
Giveaway: $150USD Gift Card to Encircled
Hostelworld Stay
If that special someone is planning a trip, why not cover a fraction of their accommodation costs? I've been booking accommodations and checking reviews on Hostelworld for the past 11 years. I've always been a fan. Hostelworld has over nine million reviews across 35,000 properties in more than 170 countries. What I love about hostels is they are an excellent place to meet other travellers. I've met some of my best friends today in hostels during my travels. For those of you who think hostels are only for young backpackers, think again! Hostels are for every age and can be even more luxurious than hotels. Check this beautiful sand hostel I stayed at in Australia. It's made out of sand, built on the beach where you can hear ocean waves crashing along the shore at night.
Giveaway: 200 EUR credit for any Hostelworld booking.
Hopscotch the Globe Swag
Did you hear that there's this SUPER AMAZING travel brand called Hopscotch the Globe that sells apparel? Yes, that's right. We've officially launched our travel shop which currently includes sweatshirts, t-shirt, tank tops and bangs with inspiring and cheeky travel quotes that are sure to spark wanderlust. All material is ethically sources and organic.
You can check out our designs by heading over to our Hopscotch the Globe shop page. All items can be shipped internationally.
Giveaway: $100 USD worth of Hopscotch the Globe apparel. 
Eco-Friendly Travel Bag
A great travel bag is essential! Lo & Sons travel bags are built to travel light without compromising functionality and style. Every single high-quality feature was designed to meet the needs of frequent travellers, movers and shakers without breaking backs in the process. Each bag is thoughtfully designed with features like meticulously placed pockets, compartments for tech essentials, and elements for smooth travels like an adjustable sleeve for sliding over suitcase handles.
Giveaway: Choice between the Hanover Deluxe Travel Backpack ($140 USD value) or Catalina Deluxe Tote ($118 USD value).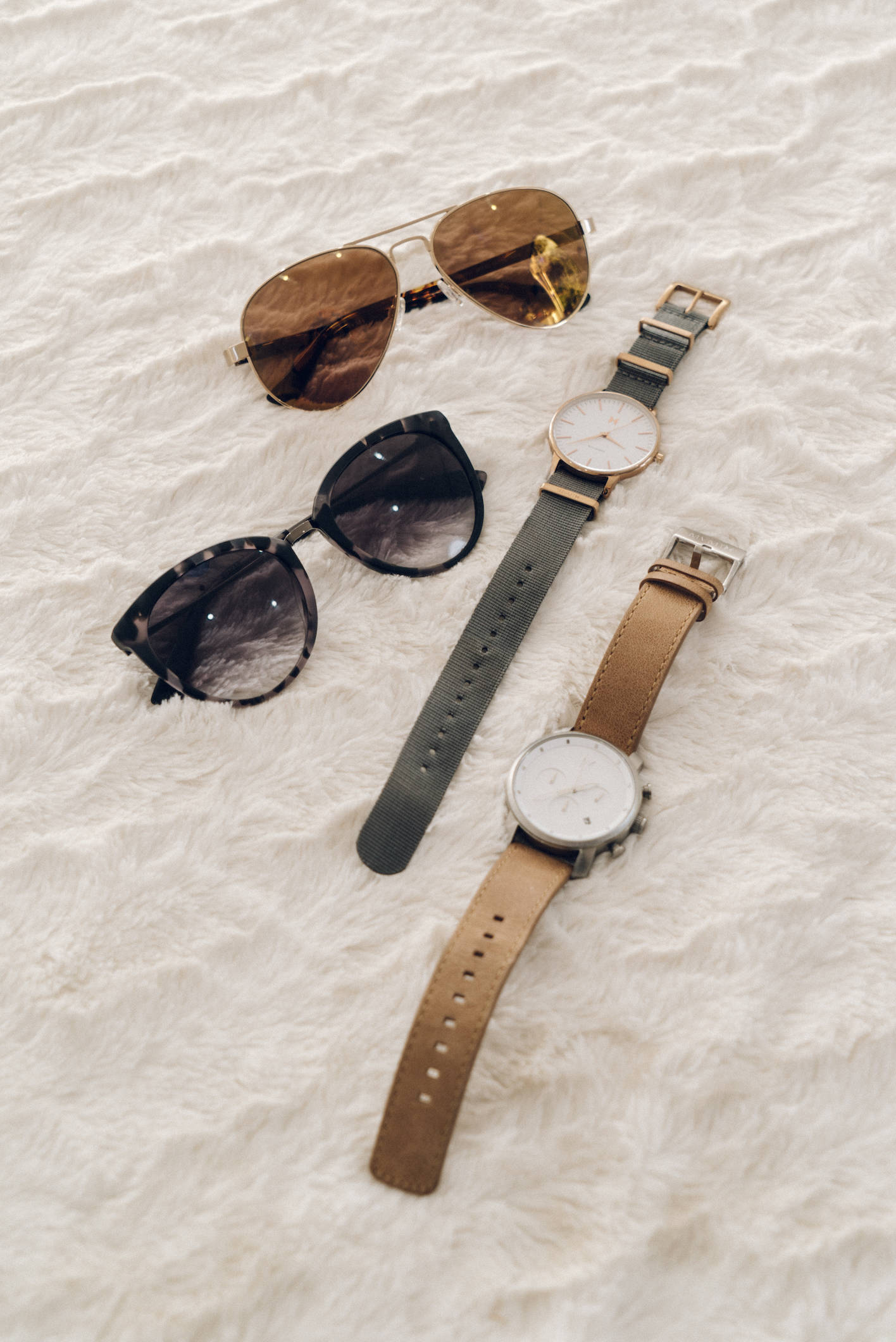 High End Watches and Sunglasses
Every traveller should have a good pair of sunglasses, especially if you enjoying sunshine filled days on the beach. It's also nice to have a watch so you don't have to rely on having your phone on you to know the time. MVMT make premium sunglasses, watches and accessories. They are simple, yet beautiful, designs. Out of the 20 pair of sunglasses I own, my MVMT pair are my favourite.
Giveaway: One pair of sunglasses and one watch of winners choice (approx. $250 USD value).
Lonely Planet Books
The new year is approaching which means it's time to start thinking of 2018 travel plans. Lonely Planet books are guaranteed to inspire and help plan future travels. We've been using Lonely Planet books to fuel our wanderlust and help plan our trips ever since we began travelling 13-years ago.
Too many books to choose from and need to narrow it down? If you know where you're special someone is dreaming of travelling to next, get them a guide book for that country. Some other favourites include:
Best in Travel 2018

Ultimate Travel

Secret Marvels of the World

Where to Go When

The World

Atlas of Adventure

Map of the World
Giveaway: 5 books: Atlas of Adventure, Secret Marvels of the World, Where to Go When, Map to the world, The World ($125 USD value).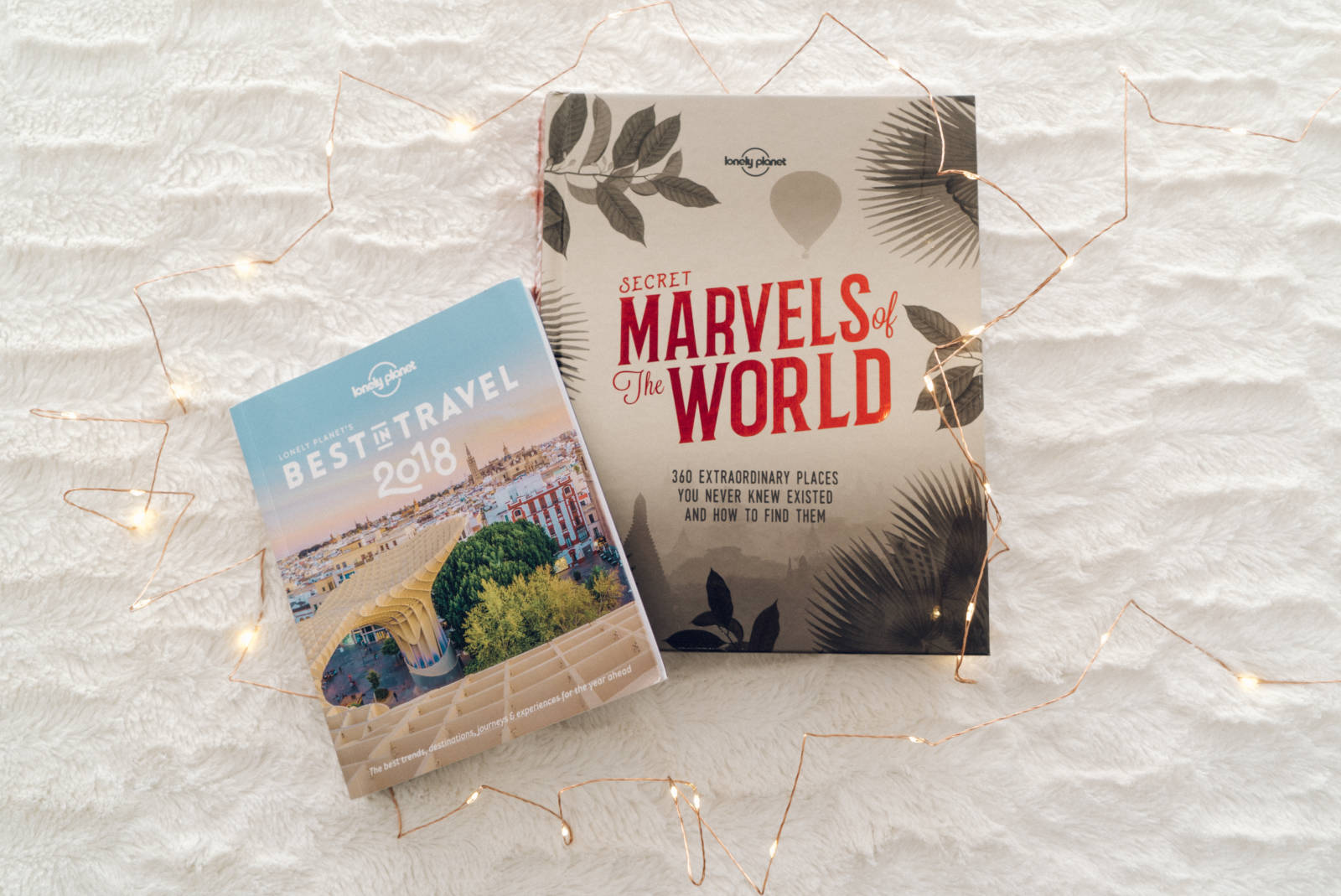 Global Portable WiFi Device + Data
The Skyroam Solis is a small, but powerful device, that makes the ultimate travel companion. It's a global WiFi hotspot that offers UNLIMITED fast, secure data for your mobile, tablet and computer in over 100 countries. You can connect up to 5 devices at once and only need to pay for the days you want to connect. Siya and I have tried several competitive devices which have failed to connect us to the online world where the Skyroam Solis has saved us in so many situations. If you're looking for a way to stay connected no matter in the world you may be, you need the Skyroam Solis.
Giveaway: Skyroam Solis, 5 days of data ($190 USD value).
Lou La Belle Skin Care
Removing toxins from your body isn't just about eating right. What you put on your body is just as important as what you put in it. Over the last few years, I've been way more cautious about the beauty and skin care products I use. Almost everything I use today is made with 100% natural ingredients. Which is why I love Lou La Belle Skin Care products. The founder Alyssa, makes all the products herself and not only do they smell delicious but they work better than many other lines I've used before. Most of her products are 10oml or less, making them perfect for carry-on only travellers.
Giveaway: Enlivin Facial Cleaning Oil, Glow Facial Serum, Lavender Peppermint Body Scrub, Mermaid Waves Sea Salt Texturizing Spray ($100 CAD value).
Learn a New Language with italki
Being a traveller who can speak more than one language is very useful. I can't tell you how many times being able to speak Spanish has helped me during my travels. With italki, you can become fluent in any language by getting 1-on-1 online lessons with a native language teacher. What I love about italki compared to other language learning programs, is that you aren't just learning a new language but connecting with people from all around the world. Through italki, I've learned Hindi from a lovely lady based in India while in the comforts of my home in Canada.
Giveaway: $200USD of italki credit
And a drum roll please...
THE GIVEAWAY WINNERS ARE:
Sunglasses and Watch from MVMT - Selena Clayton aka @ixoxoselena
HTG Swag - Silvia Miranda-Loredo aka @thecompassgirl
Lo and Sons Travel Bag - June Stone aka @junelle22
Lonely Planet Book Bundle - Jay aka @jaydaheat
Skyroam Solis and 5 Day Credit - Ralph and Lou aka @RalphandLou
Hostelworld Credit - Nina Forsyth aka @mountain_bunny
Encircled Gift Card - Kate aka @kategantner
Art of Vlogging E-Course - Marnie Johnston aka @marniejjohnston
italki Credit - Sevgi Mungan aka @sevgimungan
Sony RX100 V - Andrew Ong aka @ando.photo
Lou La Belle Products - Ash aka @Ashbell95
Thank YOU to all who participated in this giveaway. We received so many entries and wonderful messages. You are all truly incredible, and we are so lucky to have you part of our community. Congratulation to all of the giveaway winners. If you didn't win this time, EVERY MONTH we do a new giveaway exclusively for newsletter subscribers. So, if you've subscribed to our newsletter, be sure to confirm your subscription so you don't miss out on upcoming giveaways. PLUS, these newsletters are for one reason and that is to help YOU. Each month, we share additional travel tips, advice, discounts and ways to save hundreds of dollars on your next trip, plus much more! Our goal in 2018, is to make this newsletter the best travel newsletter out there. So stay tuned for much more.
Important: If you are one of the giveaway winners, please send Siya OR I a message on Instagram, so we can work out details for where to ship your gift. Winners MUST claim their prize by 5PM EST on December 23rd!

Which of these travel gifts would you like to win the most?
Which one would make the perfect gift for the traveller in your life?