Right now, there are plenty of people saving up their hard earned money so they can book a trip to the city/town you're from. That may seem bizarre to some of you. The truth is, your own backyard is far more exciting than you may think. Even if you think you've seen it all, I bet you haven't. You don't have to travel far to have an adventure.
While the whole world has pretty much been grounded for the past 7 months, it's given all of us the opportunity to explore more of where we come from. Since June, the fam-jam and I have been road tripping across Ontario, Canada to explore part of the province we've never been including South Georgian Bay. It's made me appreciate my home province so much and reminded me just how much it has to offer. Even though I've lived in Ontario for the past 34-years, not until this summer have I felt that I've actually known this place I call home. It's gone from being an acquaintance to a best friend, and I'm excited to share all of my favourite spots with you!
Last November, we bought a house in The Blue Mountains, which is about 1.5 hours north of Toronto. It's been a lot of fun getting to know our new neighbourhood and surrounding area. This past week, Siya, Kai and I had a full day of exploring in the South Georgian Bay area. It was a perfect family filled autumn day that I'd love for you and your family to also have. Book mark this page and let's get started building your 1-day itinerary for South Georgian Bay.
---
Exploring South Georgian Bay Stop #1: Downtown Creemore
Start your day in downtown Creemore. Yup. It's the little town that brews Creemore Beer. We spent the morning popping into the shops, drinking coffee and indulging in some yummy treats.
The town gives off this laidback-historic-yet-current type of vibe. The buildings are older but the shops themselves are modern and hype. It's a small strip of shops, but there wasn't one I didn't want to go in. Two shops I highly recommend are the Creemore Apothecary and Creemore Refillery. Both stores offer products that are good for your health and the environment.
Creemore Apothecary
Creemore Apothecary is a boutique wellness shop started by Dr. Kate who is a Naturopathic Doctor. She opened the Apothecary to complement her practice and house her favourite natural products for those passionate about healthy living. Before I put both feet in the door, I knew my wallet was in trouble, but that didn't stop me. When it comes to all-natural products that will improve my wellbeing, I'm all in. If you feel the same way, you're going to love this little shop.
All the brands sold are carefully selected and tested by Kate, which I believe is essential as a shop owner. If you have any question about any of the items, Kate will be able to help you by sharing her personal experience. I like that. Every product sold in Kate's shop is made by a Canadian company. Yes, to supporting local!
PS. I kind of regret not purchasing the boobie earrings you'll see above. However, I did walk out with a bag full of goodies. I'm especially loving the Blue Lavender Blend by Blume. It's a yummy caffeine free beverage made up of organic coconut milk powder, organic cane sugar, organic lavender and blue spirulina.
Creemore Refillery
If you've never heard of a refillery before, this won't be the last. I believe (and truly hope) that refillery's become a norm in every city or town around the world.
A refillery is a planet-friendly grocery store offering a convenient, plastic-free shopping experience. You'll find high quality, ethically-sourced products to re-stock your pantry with – without the wasteful packaging that you find at typical grocery stores. Creemore Refillery founder Jacquie Rushlow is passionate about living a life with less plastic in it and encouraging others to do the same.
Now that you know the Creemore Refillery exists, I suggest bringing empty jars and reusable bags with you. This place will inspire you to live a more plastic-free life. Something we all should be making an effort doing.
Bank Cafe
After spending the morning shopping, a much deserved lunch break is in order. Bank Cafe is a favourite in town. You can get great made-from-scratch breakfasts and brunches such as hot pressed paninis, soups, pancakes and A LOT of tasty treats.
Siya, Kai and I all got vegan paninis (mine was also gluten free). A sandwich can just be a sandwich, but this one tasted extra delicious. We also got ourselves lattes (the coffee is good and this is coming from a coffee snob) and a pumpkin tart (holy batman this was GOOD and highly recommended).
---
Exploring South Georgian Bay Stop #2: Clarksburg
An afternoon spent in Clarksburg is a good one. Clarksburg is a cute village in the South Georgian Bay area, located south of Thornbury (which is another favourite village of mine) on the Beaver River. This little village is also the art centre of the region. Theatre kids and artsy types, take note!
Clarksburg is also home to several orchards. Apples were the theme for our visit to the village this time around.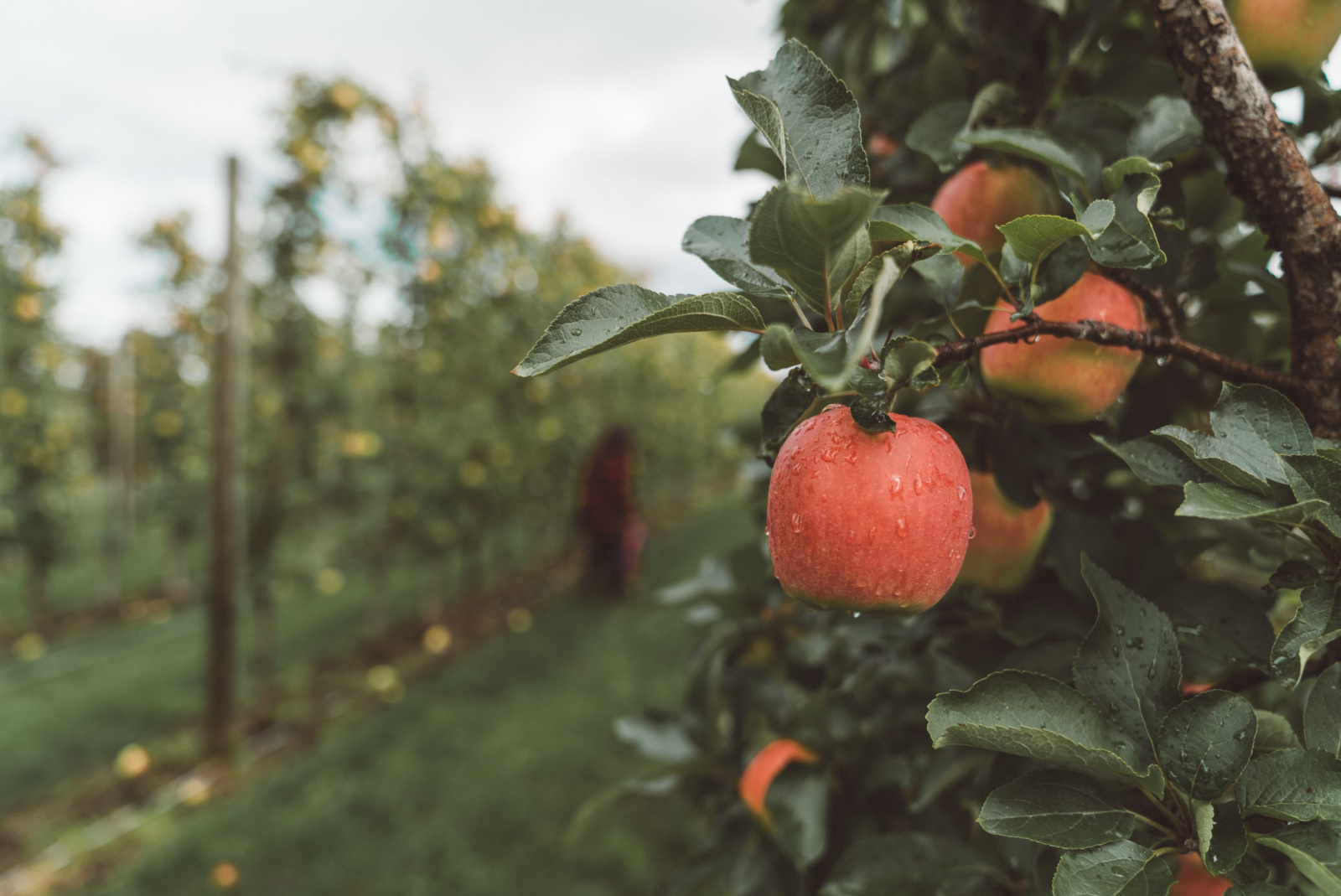 Apple Orchards
Clarksburg is part of Grey County which is Ontario's apple country. This IS the place to fulfill all your apple cravings. No visit to Ontario in autumn is complete without visiting an apple orchard. It's a local tradition we do every year.
There are a few apple orchards in Clarksburg and even more in the surrounding area. I always try and choose organic every opportunity I can. The only apple orchard in the area that has organic apples is Appletop Farm but they don't offer self-pick. They do offer delicious organic apple cider, gourmet apple pies as well as organic wine grapes and grape juice.
If you're looking for an orchard to go apple picking in Clarksburg, Oaklane Orchard is the place to go. It's a family owned and operated 130 acre farm specializing in growing apples, pears and plums. Apple picking is one of my favourite family activities…or couple activities…or solo activity because let's face it, what's better than eating fresh fruit straight off the tree?
Tasting at Gold & Grey Cidery
Oh my cider, this place is delicious! This is coming from someone who doesn't really drink, but put an ice cold cider from Grey & Gold Cider Company in front of me, and it goes down the hatch…followed by a long burp (which is the highest form of flattery in some countries). I was truly blown away by the cider here, and not just because I got a bit tipsy (as you'll see in the photo above). Hey, it's been about two years guys…I'm a breastfeeding mama after all.
As you can see in the photos above, Grey & Gold Cider Company has won a few awards. Typically, when I read descriptions for alcohol, they never taste the way I expect. A wine that contains "notes of chocolate, raspberries and pomegranate" typically just tastes like red wine to me. Every cider I tasted at Grey & Gold Cider Company was exactly as its description read. I could taste every single flavour described. My two favourites were Spruce of the Bruce, which is fermented with locally-foraged, early-spring spruce tips and Cranberry Fennel, the fennel flavour really comes through, and it's delicious!
---
Exploring South Georgian Bay Stop #3: Meaford
Meaford is a municipality in the South Georgian Bay area that has live theatre, concerts, fresh local food, unique shopping, recreational activities, beautiful harbour and waterfront campground, and so much more. For the nature lovers like myself, just a few minutes out of the downtown core you'll find acres of rolling countryside, charming historic villages, secluded beaches and unspoiled natural areas.
Our day ended in Meaford because we were on the hunt for delicious Italian food…and we found it!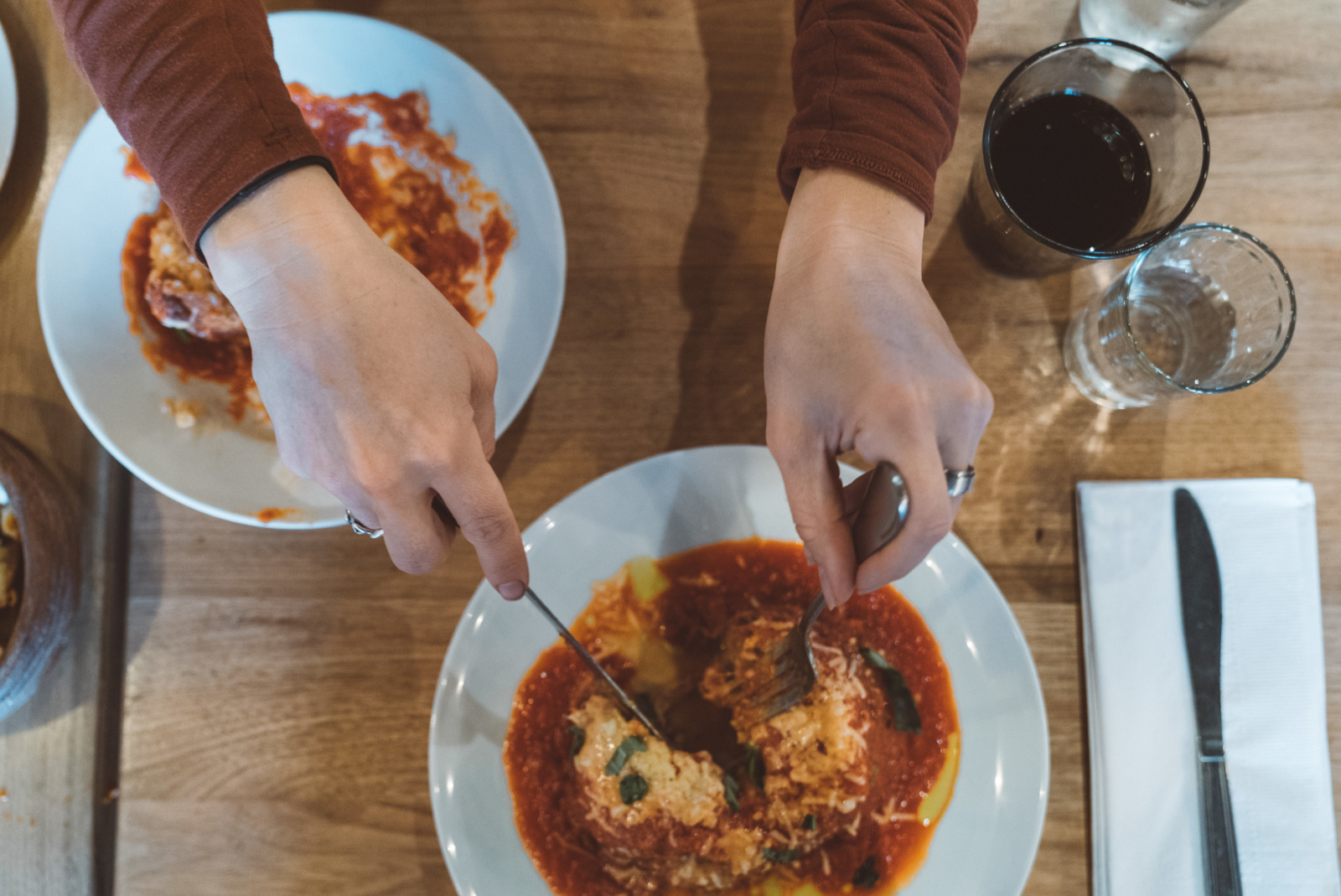 Gio & Fran's Italian Eatery
As the child of a Sicilian mother and someone who has spent time eating her way across Italy, I think that makes me a good Italian food critic. Gio & Fran's Italian Eatery is DELICIOUS! It will not disappoint.
Gio & Fran's is a family-run Italian restaurant that encapsulates true Italian hospitality. I love the small, intimate setting and how every day the menu changes. They offer a broad selection of Italian home-style cuisine, desserts and of course, espresso.
We probably ordered more pasta than we should of, but we really couldn't help ourselves. Me and the fam highly recommend the Truffle Oil Arancini, Eggplant Parmesan and Spaghetti and Meatballs. We will be back…that's 100% for certain. I'm already drooling thinking about it…
Optional Activity – Canoeing down the Nottawasaga River
We were planning to spend part of our morning canoeing down the Nottawasaga River in Wasaga with Free Spirit Tours, but the rain kind of stopped us. We did spend a few minutes just sitting by the river though. It was a great way to start the day in a relaxed and laidback mind-state. We will be back to give canoeing a go. That's the beauty of exploring close to home. You see things you want to come back for, and quickly these once unexplored spots become your favourite.
---
Disclosure: This blog post is sponsored by South Georgian Bay Tourism. As always, all thoughts and opinions are my own.