Have you ever wanted to spend the night in an Airstream? What about a newly renovated vintage Airstream, nestled into a beautiful jungle and only steps away to the beach? Well, in Nosara, Costa Rica you can stay in one! Airstream by the Sea is a unique Airbnb brought to life by Jack – an ex-pilot from the UK who moved to Costa Rica in 2017.
If you've been following us for a while, or familiarized yourself with this site, then you know we are big fans of Airstream Living. So much so, we bought a vintage Airstream just over 5 years ago and renovated it into our tiny dream home on wheels.
Once you buy a vintage Airstream, you automatically become part of this "club." The same goes for other vintage vehicles. Once we bought our Airstream Luna, we became enamoured with all things Airstream. We began seeking out others who had renovated Airstreams too and that's when we found Jack and his two vintage Airstreams on Airbnb. We started following Jack on Instagram and knew that one day we would need to stay in his Airstream Airbnb. Fast forward to a couple of months ago, and we found ourselves in Nosara, filming an episode of Meet Your Host with Jack. We also spent a few nights in Jack's perfectly renovated Airstream Ambassador.
Get to the Know Your Host of Airstream by the Sea
Jack fell in love with Nosara, Costa Rica from the moment he first came to the surf town in 2014. Once he decided to make the big move, he needed to find a way to make an income that would allow him to keep living in Costa Rica. He quickly realized a big gap in the Nosara travel market for accommodations meant for families, solo travelers and young couples. On top of that, there aren't many caravans, specifically Airstreams, in Costa Rica. Jack had an opportunity to provide a unique experience to travelers visiting the country, as well as locals wanting more than just a hotel stay.
Over the course of a year, Jack purchased two vintage Airstream from the US. He shipped them to Costa Rica, renovated and listed them on Airbnb. Of course, there's a lot more to this story, but you'll have to watch the video below to find out…
Now Let's Go Inside This Airstream Airbnb…
Jack has two Airstream's on his property. There's a 31ft 1973 Land Yacht Sovereign and 29ft 1978 Land Yacht Ambassador. Each Airstream is equipped with two beds, a fully equipped kitchen, toilet, shower, workstation, lounge area, television (with Netflix and Prime), air conditioning, WIFI, compost and recycling, small safe and outdoor chilling area.
29ft 1978 Land Yacht Ambassador
The 29ft 1978 Land Yacht Ambassador has an open concept design. There's a queen size bed in the front with a Tempurpedic mattress and hotel quality cotton linens. There's enough storage for several large suitcases underneath the bed and a rotating flatscreen TV mounted to the wall. Beside the bed is a workstation/small dining area.
The kitchen is fully stocked and includes a Vitamix blender, toaster over, double induction cooktop, oven and mini fridge/freezer combo. Across from the kitchen is a couch that doubles as a single bed with more underneath storage. Above the couch is a large pop-out window that connects the interior to the exterior for an open-air feel.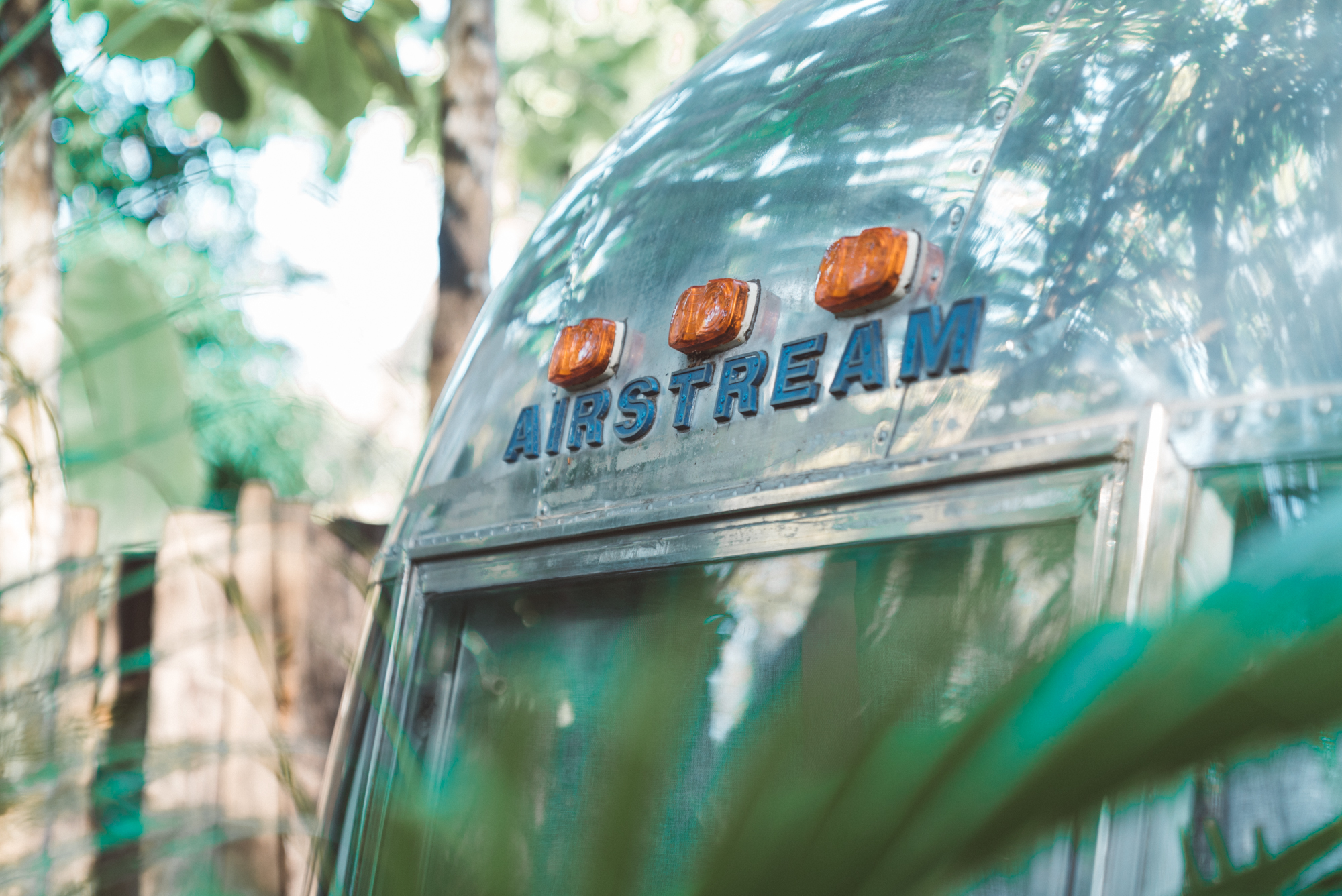 31ft 1973 Land Yacht Sovereign
Although slightly bigger, the Land Yacht Sovereign Airstream has all the same amenities as the Ambassador but a completely different layout. It too features a queen-size Tempurpedic bed. The bed is towards the back, along with an en-suite bathroom, and has a door that separates it from the rest of the living space. Towards the front of the Airstream is a dining area which converts into a double bed. There's also a comfortable workspace, with a standing desk for all your digital nomad needs.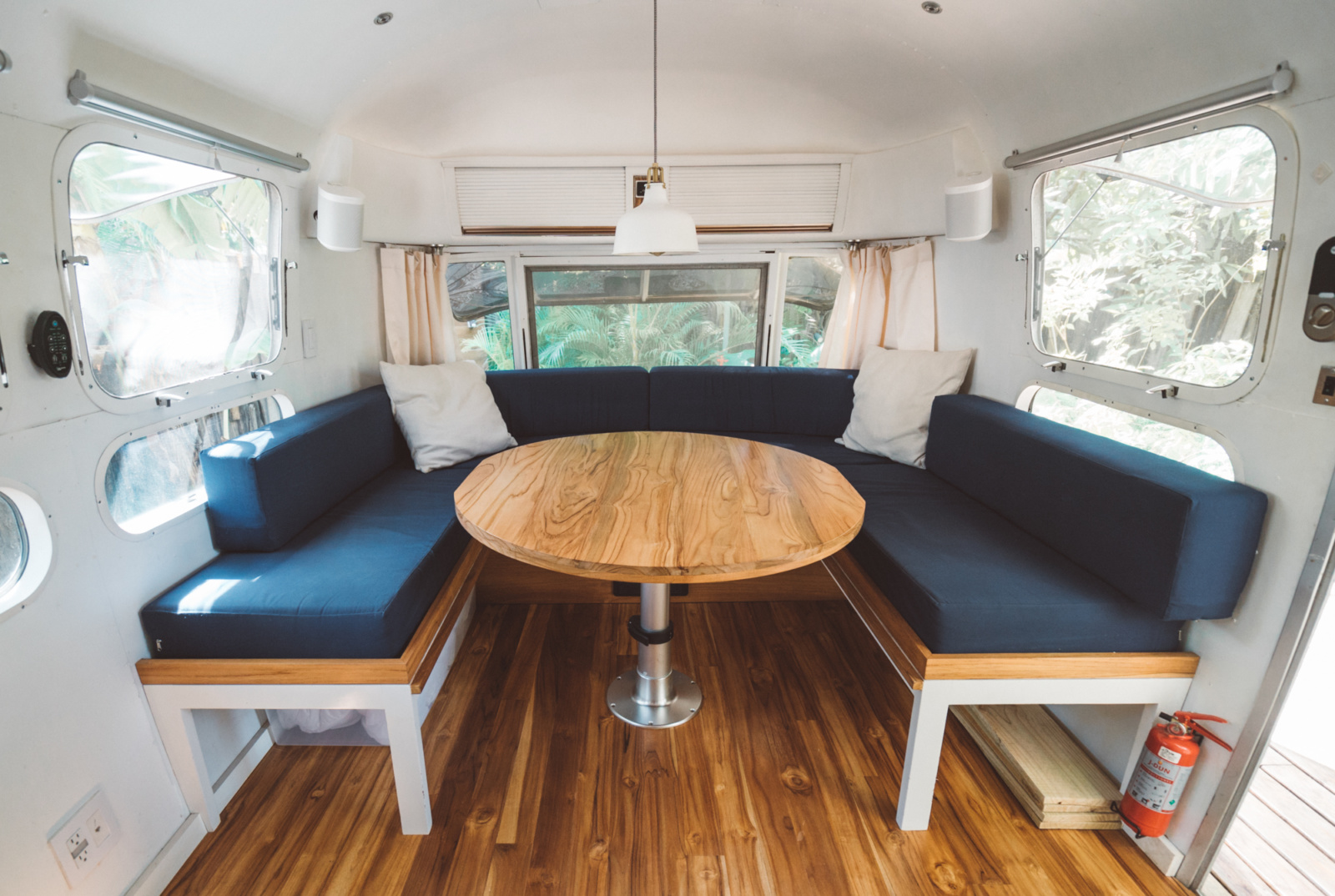 Staying at Airstream by the Sea
Siya, Kai and I spent a few nights in the 1978 Land Yacht Ambassador. From the moment we stepped foot in this Airstream, we felt at home. Mostly because we spend half of our year living in an Airstream. But also because of how cozy Jack made this unique Airstream Airbnb.
Our sleeps were wonderful, and we definitely made use of the Vitamix blender since Costa Rica is home to so much beautiful fruits. It was nice waking up in the morning, spending the day in town and sunsets on the beach (which is only a few minutes from the Airstream). Jack has also built a beautiful deck just off the Airstream that houses a couple of chairs. Around the property are hammocks for a mid-day siesta, outdoor showers for after your surf sesh, a ping-pong table to start the fun, and a firepit and grill area for outdoor BBQing. You could easily spend the entire day lounging on this little slice of paradise Jack has created for guests.
The worst part about our stay was having to leave because it was booked solid for the next few months. That's what happens when you create a unique space people want to stay at.
Meer Your Host
Jack is the first of many unique Airbnb stories we'll be sharing here on the blog as well as our YouTube channel. This blog post is part of a series in partnership with Airbnb called, "Meet Your Host." Throughout the series, we share the stories of Airbnb hosts and how they turned their unique stays into thriving businesses.
In episode one, we share how we made $10,000 in our first month of being Airbnb hosts. While episode two share's Katrin's story of Green Moon Lodge – a magical dome home in the jungle of Costa Rica. We've got more episodes coming your way, so you'll want to subscribe to our YouTube channel and newsletter, so you don't miss out. If you've ever thought about hosting on Airbnb, this series will definitely inspire you to get started.
Interested in Becoming an Airbnb Host?
For those who already have a unique space:
Do you have a unique space to rent out? It can be a tiny house, yurt, renovated airstream, container house or other interesting accommodation. If your answer is yes, then you're sitting on an awesome business opportunity! Airbnb has been seeing a huge spike in bookings under its "unique stays" category. If you're interested in becoming an Airbnb host, you can sign up and start hosting your own unique space right away.
For those who don't YET have a unique space:
If becoming an Airbnb host is something you've been thinking about, but you don't yet have a unique space, you can still make it happen. Do you have an extra room in your home you can rent out? Perhaps, you have some land you can build an additional structure on? The possibilities of what your unique Airbnb can look like expand as far as your imagination
To learn more about becoming a unique Airbnb host, be sure to subscribe to our YouTube channel for more videos in this series. You can also connect with an Airbnb Ambassador and learn how to create a successful listing by signing up for an Airbnb webinar.